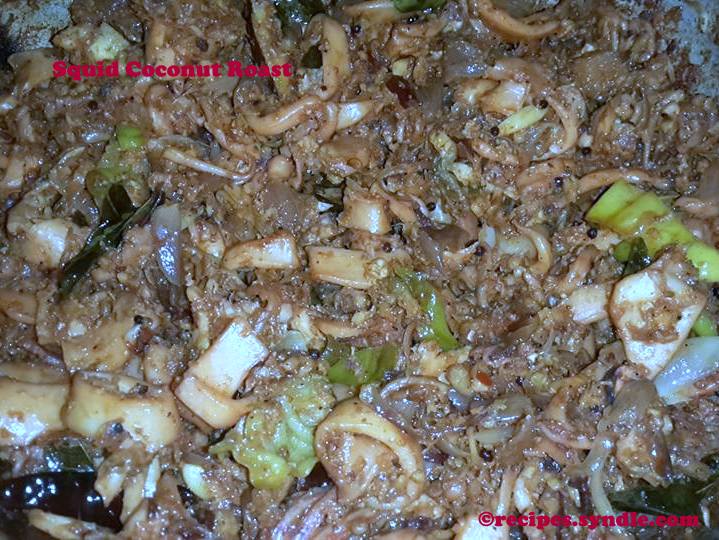 When i write about fish recipes. Its  difficult not to mention that we keralities are die -hard carnivores and fish is a staple among non vegetarian population. There are serveral different  ways of  making fish, most common ways are making curries, frying the fish and stir fries. Squid( kanava, koonthal) is popular among the sea food lovers of kerala. Calamari fries is popular receipe in restaurants. This is not deep fried but a dry preparation with squid cooked along with crushed coconut and spices. Cleaning squid is the difficult part .It is a delicious  side dish  with rice, give this receipe  a try, you will surely love it.If you have never tried squid /calamari before its time  to give  it a try because  this un believably easy to make  receipe  is packed with protein and flavour , no matter how old you are ! You will really enjoy it . so here comes the way of making kanava/koonthal thoran, which my family absolutely love to have with boiled rice. Hope you all enjoy this simple yet tasty squid stir fry as much as we did!
 Ingredients
Squid/calamari/kanava/koonthal(cooked along with turmeric powder, black pepper powder, and salt-500 grams
Turmeric powder-1/2 tsp
Black pepper powder-1 tsp
Salt-to taste
Shallots(small onion )- 5 tbsp,chopped
Ginger- 1tbsp,chopped
Garlic-1tbsp,chopped
Green chillies-5 split in length wise
Curry leaves
Chilly powder-1tbsp
Coriander powder- 1 tbsp
Garam masala- 1 tsp
Grated coconut- 1 cup
Fenugreek powder- 1/4 tsp
Tamarind juice- 1 tbsp 
Mustard seeds- 1/4 tsp
Coconut oil -2tbsp
Dry red chillies -2pieces
Cleaned squid with black pepper powder, turmeric powder and salt to taste and cook it in pressure cooker for 1 whistle or in frying pan in slow flame with out adding water, squid will give off water while cooking.
 How to Make Squid Coconut Roast.
Mean while coarsely blend the above ingredients listed masala(grated coconut mix along with chilly powder, coriander powder, garam masala, fenugreek powder and tamarind juice)( as on pic)and keep it aside.
Heat coconut oil in a frying pan and splutter mustard seeds  chopped shallots, green chillies, ginger, garlic chopped, and curry leaves. stir it till onions get transparent.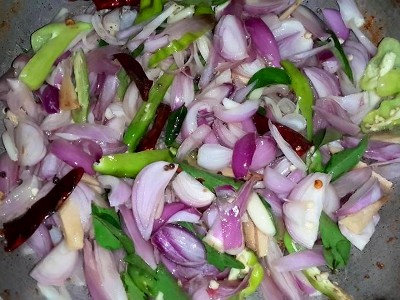 Add coarsely grounded coconut mixture,salt and sprinkle little water over medium heat and saute until the raw smell disappears.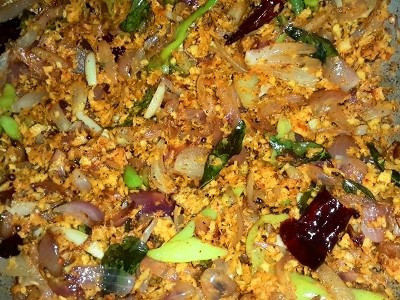 Add cooked squid and mix well, lower the flame and saute for 3- 4 mintues on a low heat.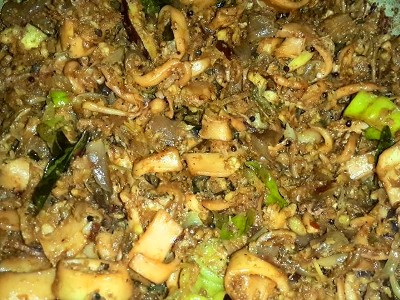 serve it with hot boiled rice along with curry and ENJOY!!!!