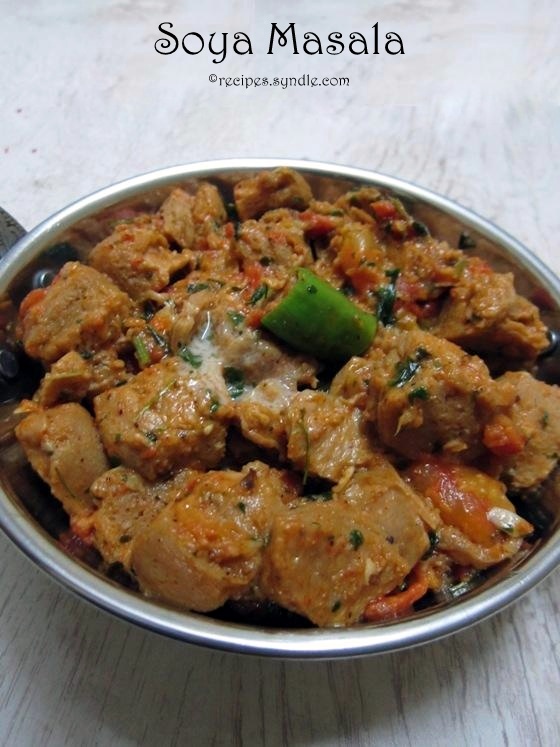 Hello buddies. Today I am sharing a very simple side dish recipe for rotis. It's is soya masala recipe. Soy protein is very good for those who do not eat meat. So not only this is a delicious recipe but also a healthy one.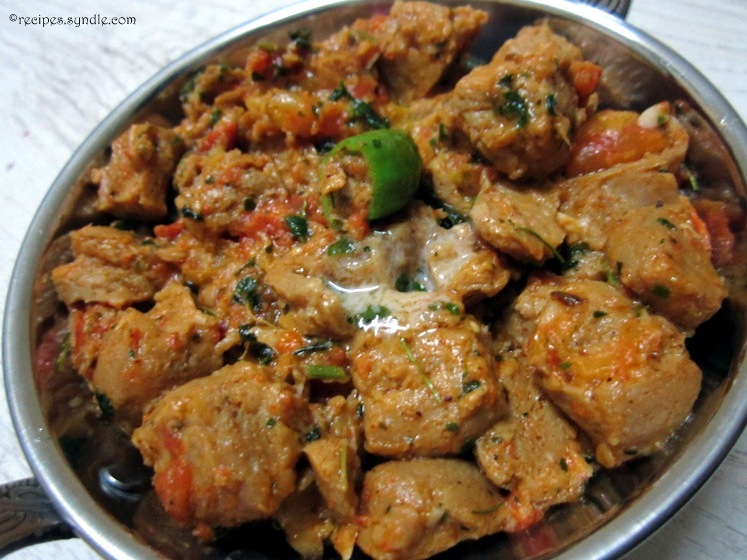 The gravy base is made with tomatoes flavored with butter. If you are health conscious, you can surely use oil instead. Let's get started with the recipe of soy chunks with step by step pics now. This recipe yields 2 to 3 servings. For the purpose of measurement, 1 cup = 250 ml.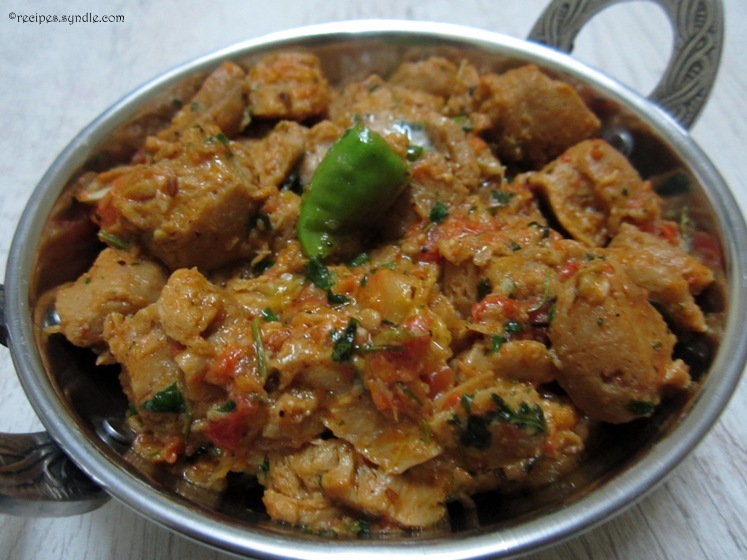 Ingredients
Soy chunks – 2 cups, boiled
Tomatoes – 3 large, chopped
Garlic – 10 cloves, crushed
Ginger – 1-inch pieces, crushed
Green chilies – 4
Coriander leaves – a handful, finely chopped
Kasoori Methi – 1/2 tbsp, lightly toasted and crushed between your palms
Kashmiri red chili powder – 1 and 1/2 tsp
Turmeric powder – 1/3 tsp
Coriander powder – 1 and 1/2 tsp
Cumin powder – 1/2 tsp
Garam Masala – 1/3 tsp
Butter – 4 tbsp
Fresh cream – 2 tbsp
Water – 1 tsp
Bay leaves – 2
Salt – to taste
How to Make Soy Chunks Masala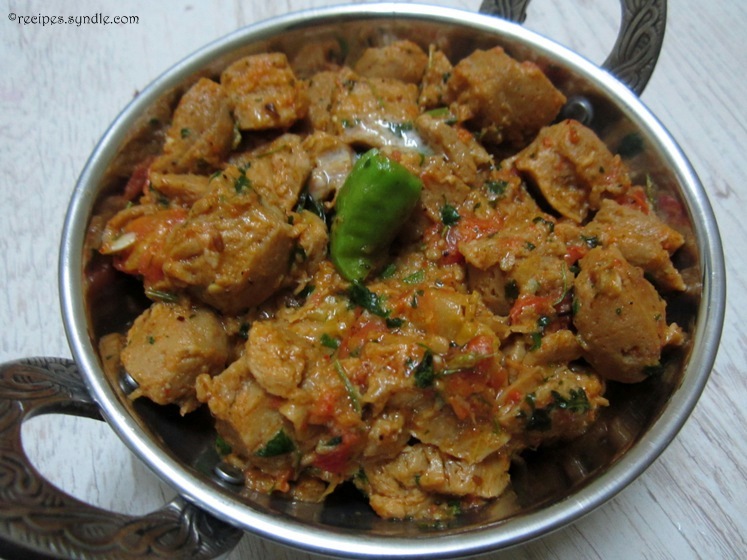 Soak the soy chunks for half and hour. Pressure cook it with some salt for 3 whistles. After that wash it under cold water. Squeeze the soy chunks to get rid of the excess water and keep them aside.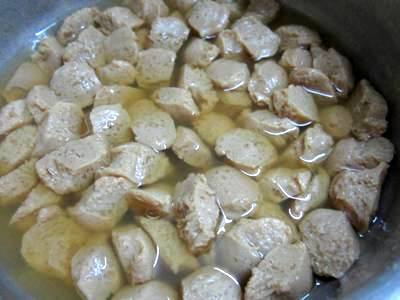 Heat a skillet and add to it the tomatoes, some salt and bay leaves. Cover the skillet with a lid and cook the tomatoes for 5 minutes till they release water and become soft.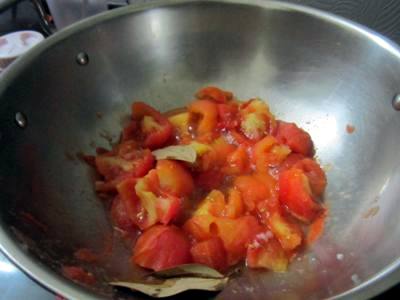 Then add in the crushed ginger and garlic. Mix well.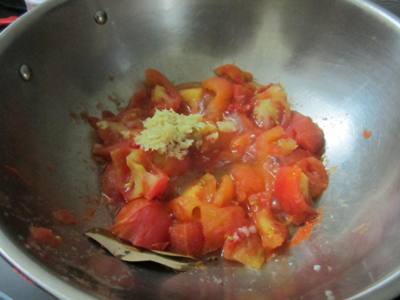 Add in the 3 tbsp of butter and mix well. Saute for a minute till the raw smell of ginger and garlic goes away.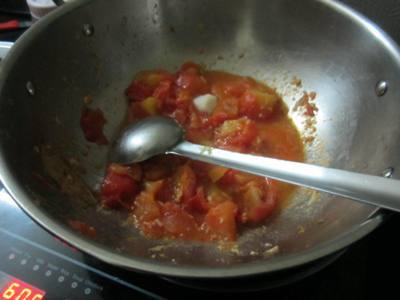 When the butter begins to separate and the moisture has dried out a bit, add in the turmeric, kashmiri chili powder, garam masala, cumin powder, coriander powder and mix well. Saute for a minute.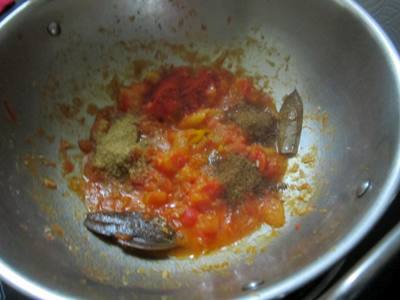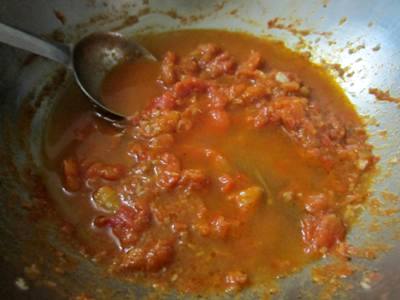 When the water comes to boil, add in the soya chunks. Mix well.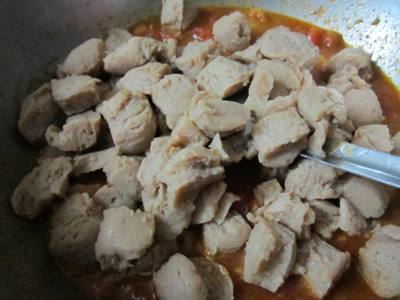 Cover the skillet with a lid and cook the soya chunks till they becomes very soft on low to medium heat. They will lose the raw smell and absorb the flavors of the spices. It will look like this after 10 minutes.
Let it cook for another 10 minutes with the lid on. It will look like this then. The oil will have separated. Increase the heat and roast the soy chunks for a minute or two. Check the seasoning.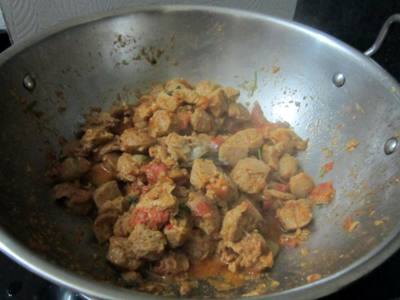 Add in the green chilies, kasuri methi and coriander leaves. Mix well.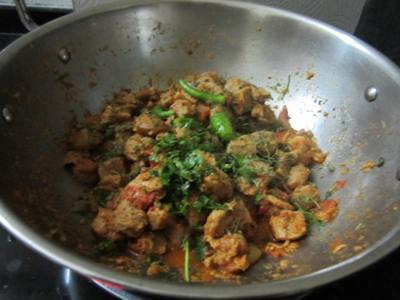 Add in the fresh cream and the remaining 1 tbsp butter. Mix again.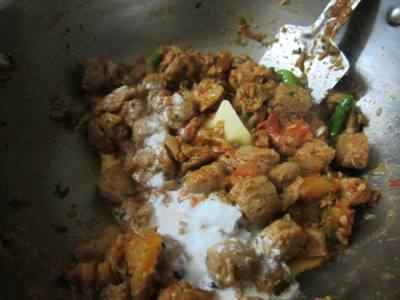 Soya Masala is ready. Serve hot with phulkas or rotis. Enjoy.