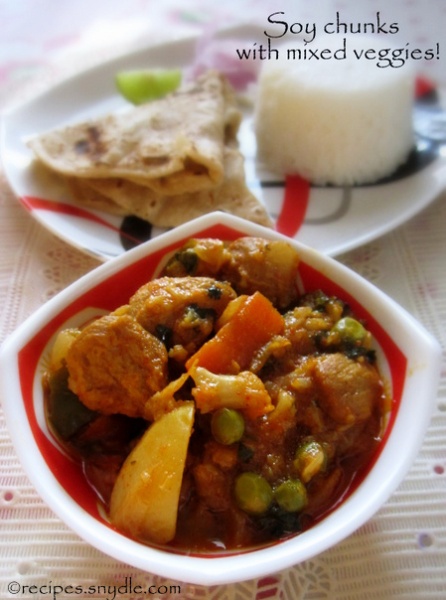 Hello foodie buddies. Time to cook something healthy for the family! I'm here with yet another delicious and nutritious recipe, consisting of soy and veggies, full of goodness! This one is basically a Sindhi recipe, and needs to be nicely sautéed for a little longer time. But you will be happy with outcome and the taste will justify the few extra minutes in the kitchen. I have added whatever veggies I had in my kitchen. You can certainly add veggies of your choice. I prefer mini soy chunks than the normal ones, because they get cooked faster and absorb the flavors better. This recipe yields 4 servings.
Ingredients
Mini soy chunks – About 30 chunks
Onion – 2 medium, finely chopped
Tomato- 1 large, finely chopped
Green peas – 1/3 cup
Potato – 1 large, diced into cubes
Cauliflower – 1/2 cup, cut into small florets
Cabbage – 1/2 cup, finely shredded
Carrot- 1, diced
Capsicum – 1, diced.
Ginger – 1/2 inch piece
Garlic – 8 flakes
Green chilies – 2
Red chili powder – 1 tsp, or adjust as per your tolerance.
Turmeric powder – 1/3 tsp
Kitchen King Masala – 1/2 tsp
Salt – To taste
Thick cream – 1 tbsp
Water – 3/4 cup
Lime juice – 1 tsp, or as per your taste
Coriander leaves – For garnish
Cumin seeds- 1 tsp
Bay leaf – 1
Cloves – 2
Cinnamon stick – 1
Oil – 3 tbsp
How to Make Soy Chunks with Mixed Veggies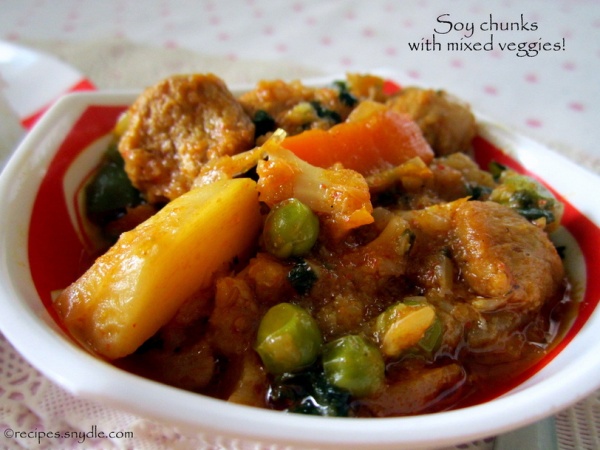 Soak mini soy chunks in boiling hot water for 5-10 minutes; squeeze the excess water out of it. Keep aside. Finely crush the ginger, garlic and green chilies together. Keep aside.
In a pressure cooker, heat oil, add cloves, bay leaf, and cinnamon stick. Let it sizzle till it is aromatic. Add in cumin seeds and let it splutter. Add onions and fry it on a low to medium heat to caramelize it to brown color. Take care not to burn the onion.
Add crushed ginger-garlic-green chilies and fry for a couple of minutes till the raw smell disappears. Toss in the tomato and cook till tomatoes are tender. Mix in the turmeric powder, red chili powder, kitchen king masala and salt. Fry for a minute.
Now mix the veggies and mini soy chunks, sauté for 5-7 minutes. Sprinkle some little water if needed. When the oil separates, water and adjust the salt. Adjust the amount of water depending upon your pressure cooker. Cook till 3 whistles. Turn off the flame. Let it stand till the pressure is released on its own. Check for consistency. We don't want it to be runny. We need thick gravy. If you feel it's not thick enough, you can keep it on the stove for the water to dry up, with the lid open.
Mix in some fresh cream. Then sprinkle some lime juice and garnish with coriander. Serve hot with rice or roti. Soya Chunks with Mixed Veggies is ready. It goes well with both rice and rotis.