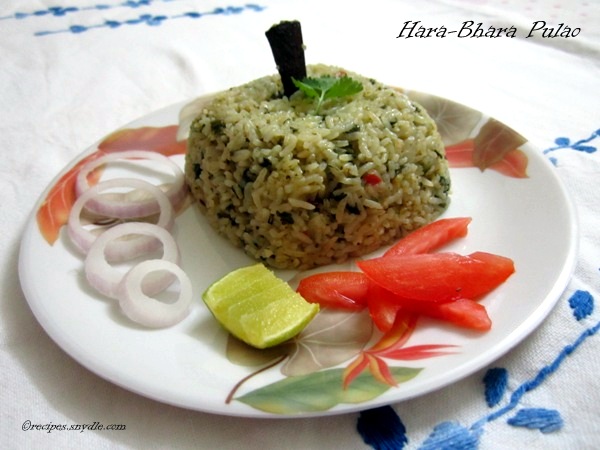 We Indians happen to love our rice. It doesn't matter which part of the country we belong to, our love for rice is eternal. The versatility of rice is the reason behind our undying affection towards those long and fragrant grains of milky-white goodness. Have it plain, temper it with cumin, make biryani and pulao or simply make a dessert with rice; it tastes great anyway. I love the idea of toying with veggies and spices while I try to weave magic in the kitchen on lazy days. Pulaos are a quick fix. They are nutritious and filling.
Today I'm sharing the recipe of Hara Bhara Pulao. This pilaf is more on the aromatic side, so it goes well with chicken curry or stir- fried veggies of your choice. It has no powdered spices like red chili or turmeric.  Just a green paste of….??? Well check out the recipe!  🙂
This recipe is for 4 servings. For the purpose of measurement, 1 cup = 250 ml.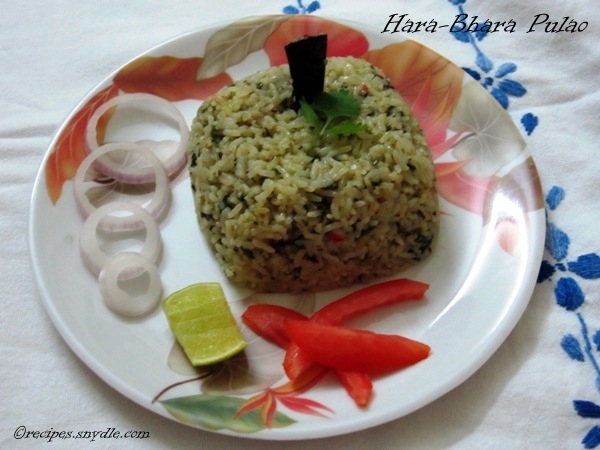 Ingredients
Long-grain basmati rice – 1 and 1/3 cups, washed and soaked for 30 mins
Spinach – 1 cup, packed or half a bunch, finely chopped
Onion- 1, finely chopped
Tomato- 1, finely chopped
Bay leaf- 1
Clove- 1
Cinnamon stick- 1
Cumin seeds- 1 tsp
Salt- To taste
Water- 4 cups
Oil- 3 tbsp
For Grinding to a Paste
Coriander leaves- 1/3 cup, packed
Green chilies- 2 (Or adjust as per taste)
Garlic- 4 to 5 cloves
Ginger- 1/2 inch piece
How to Make Hara Bhara Pulao
In a heavy-bottom pan, heat oil, add in the clove, bay leaf and cinnamon stick and let it sizzle for a few seconds. Then add cumin seeds and let it splutter.
Add onions and fry till onion just starts turning golden. We don't have to fry it till completely golden. Then add the ground paste and fry till the raw smell disappears and it becomes aromatic.
Add in the chopped spinach and fry for a minute. Add tomatoes, salt and fry till tomatoes are a bit soft.
Mix in the rice and sauté for 3-4 minutes. This is important because it helps the rice get nicely coated with the spices and get the color of it. As oil starts separating, add water. Adjust water as per the variety of rice you are using, generally rice : water in the ratio of 1:2 is fine. Adjust salt if needed.
Bring it to boil. When a little water is left, cover the pan with a lid and cook for 5-7 minutes or till the rice is cooked. Turn off the flame. Let it stand for 8-10 minutes. Then garnish with coriander leaves and serve hot with your favorite curry and salad, or simply just with raita. Enjoy!