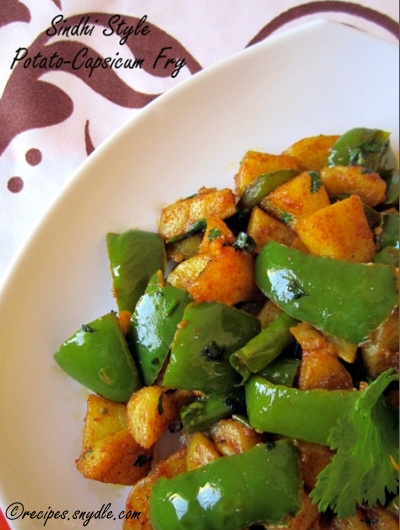 Have you ever tried cooking lunch while listening to your favorite music? It has such a restorative effect on the nerves! So, if you haven't ever let your hair down while stirring the soup or tossing the noodles, do give it a try.
Today's recipe is of Potato-Capsicum Fry or Aloo-Shimla Mirch Ki Sabzi. This side-dish is a Sindhi-specialty, made in every Sindhi home. You know what my Mom says? She says that I must be able to cook our staples, if I want to find myself a good Sindhi groom! Now that's comical I know. Nevertheless, that is the logic Indian parents follow! So, I have learned to cook many Sindhi dishes, because you know I am so keen on marrying a fine Sindhi guy! *Sarcasm* 😀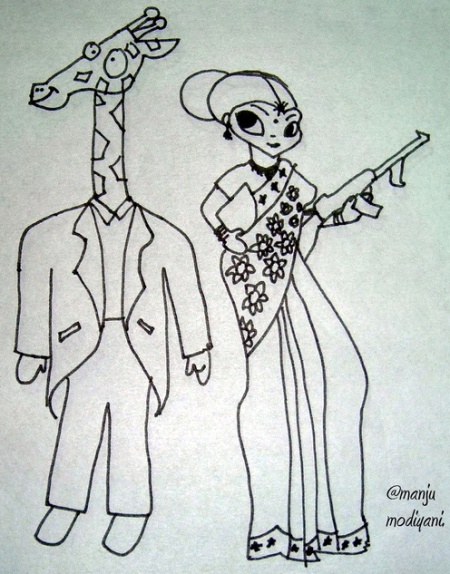 Ok no kidding. It was only my own wish and my willingness to learn to cook new recipes. Now, let us come back to it. I have stuffed myself on this delicacy ever since I was 3 years old! I can still recall the old days when I sat across the kitchen counter with my coloring book and a pack of crayons as Mom cooked. Mom gave me some fried potatoes and capsicum before adding spices to them. And I would joyfully gobble on them as a starter! The spicy ones would be had with rice and daal.
I made these yesterday while singing along to Ron Pope's 'A Drop in the Ocean' and 'How to Save a Life' by Fray. I tell you, Grey's Anatomy has the best soundtracks!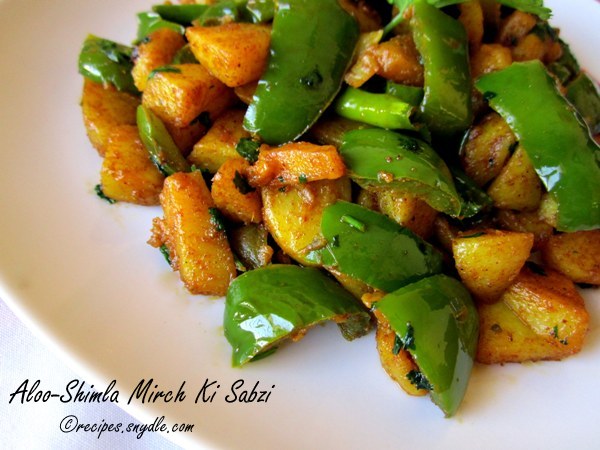 This dish pairs up really well with tridaali daal and jeera rice. Tridaali daal is made from using 3 varieties of pulses and jeera rice is the rice with a tempering of cumin seeds and green chilies. I will share these recipes soon! For now, let us see how to make Potato-Bell Pepper Fry… Sindhi-Style!
Ingredients
Potatoes- 5, medium
Capsicum / Green bell pepper – 3, medium
Oil- For frying
Red chili powder- 1 & 1/2 tsp
Turmeric powder- 1/3 tsp
Coriander powder- 1 tsp
Dried mango powder AKA Amchur powder – 1/2 tsp
Garam Masala – 1/2 tsp
Salt- To taste
Green chilies- 5
Cilantro – Finely chopped, for garnishing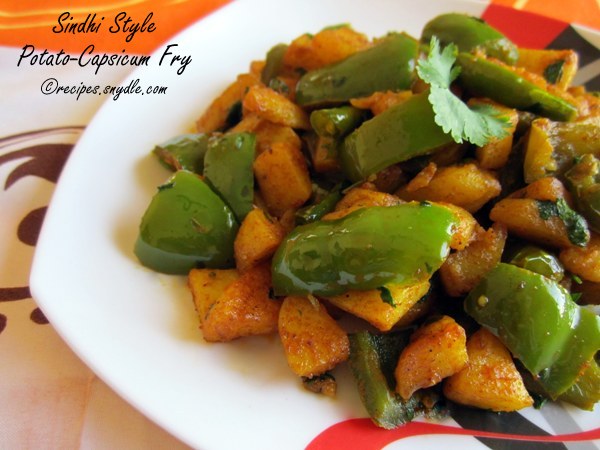 How to Make Potato-Capsicum Fry?
Heat enough oil in a skillet. Make sure the skillet has a heavy bottom. The oil should be sufficiently hot. If the oil is not hot enough, the potatoes tend stick to the skillet and soak up a lot of oil.
Add potatoes to the oil. Do so very gently and carefully, because the oil often splutters around.
Allow the potatoes to fry in hot oil for 6 to 7 minutes. Then stir them around and allow them cook further for next 6 to 7 minutes. Carry on this process for a couple of times. The potatoes should be golden and cooked. You must avoid too much stirring and tossing the potatoes. Otherwise they will crumble and lose their shape.
Throw in green chilies. The chilies are a delight to bite into; crunchy and tangy!
Toss in the capsicum. Stir around well to ensure the oil coats the capsicum well.
The capsicum takes little time to be done, may be around 4 minutes. It should retain the fresh green hue.
You will need to get rid of the remaining oil, which you can use later on for cooking something else. You can take the veggies out onto a kitchen towel and move them into another skillet. The oil coating the veggies is adequate to cook the spices.
Get the veggies back on low flame. Season them with salt and spices. Toss everything well and cook for 2 minutes. The veggies should be evenly covered with the spices.
Garnish with cilantro and it's done! Serve hot with daal-rice or roti and pickle.