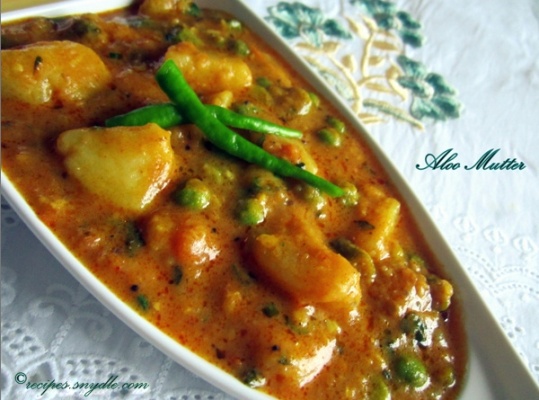 Restaurant Style Aloo Matar Recipe
Aloo Matar is the timeless classic of India's culinary world. It is a delicious curry consisting of green peas and potatoes. This is one of the most loved Indian recipes. The vegetarian lot out there can swear by this delicacy. I made this curry restaurant style. Home-style curries were beginning to irk me!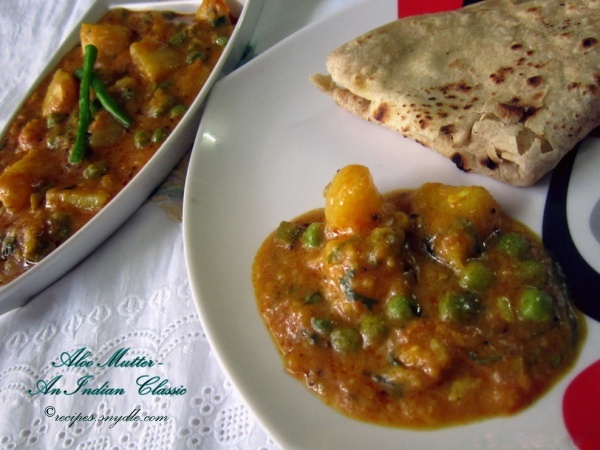 The different flavors amiably mingle with each other. The gravy is rich and thick. You will need some fresh cream. The casein in cream will quash the piquancy of spices to some extent. So, I flung in some more chili for a right amount of hotness, to make sure the dish won't turn out plain.
Aloo matar masala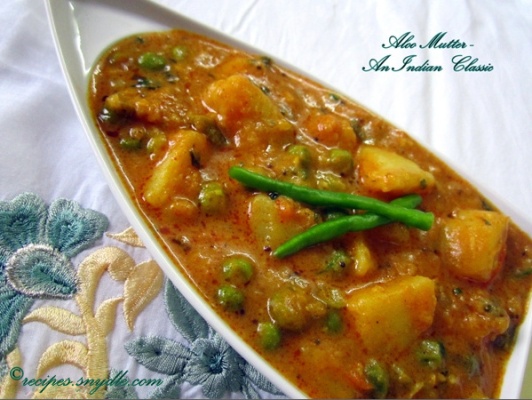 Ingradients
Tomatoes- 4 medium, chopped
Potatoes- 2 medium, diced
Green peas- 1 cup
Green chilies- 3, chopped
Garlic paste- 1 tbsp
Ginger paste- 1/2 tbsp
Red chili powder- 2 tsp
Turmeric- 1/3 tsp
Coriander powder- 1 tsp
Dry Mango powder (Amchur)- 1/2 tsp
Garam Masala- 1 tsp
Salt- To taste
Cumin seed (Jeera)- 1/2 tsp
Mustard seeds- 1/2 tsp
Cilantro- Chopped, for garnish
Kasoori methi / Dried fenugreek leaves- 1 tsp
Cashewnuts- 15
Thick cream- 2 tbsp
Water- 1 cup and some more to boil the potatoes
Oil- 2 tbsp to
HOW TO MAKE ALOO MATAR IN RESTAURANT STYLE
Place the diced potatoes in a pan and add good amount of water to it. Sprinkle some salt. Simmer the potatoes till they are partly cooked. Remove them from water and set them aside. You can also use fresh green peas. Boil them for 5 minutes.
Soak the cashews in some hot water for an hour. Using the same water, make a fine paste of cashews. Set aside.
Use a nice heavy-bottom pan. Heat oil in the pan fling in the mustard seeds and let them sizzle.
Spoon in the ginger and garlic paste, green chilies and sauté till the raw smell disappears. This will take a few seconds. Take care not to burn them.
Toss in the chopped tomatoes and cook till they become soft. The oil will now begin to separate. It's time to add the spices -turmeric powder, red chili powder, coriander powder. Season it with some salt as well.
Add in the boiled potato dices and cook for 6 to 7 minutes. Add a little water if the mixture seems too dry.
Toss in green peas and cook for 5 minutes. Now add a cup of water and bring it to bubble. Pour in cashew paste, dried mango powder / amchur and garam masala and mix really well. Adjust the salt at this point.
Stir in the fresh cream, chopped cilantro and dried fenugreek leaves / kasoori methi. Allow the curry to simmer for a couple of minutes. Don't forget to lightly roast the kasoori methi and crush it between your palms before adding it to the curry. Serve hot with rotis or naan.