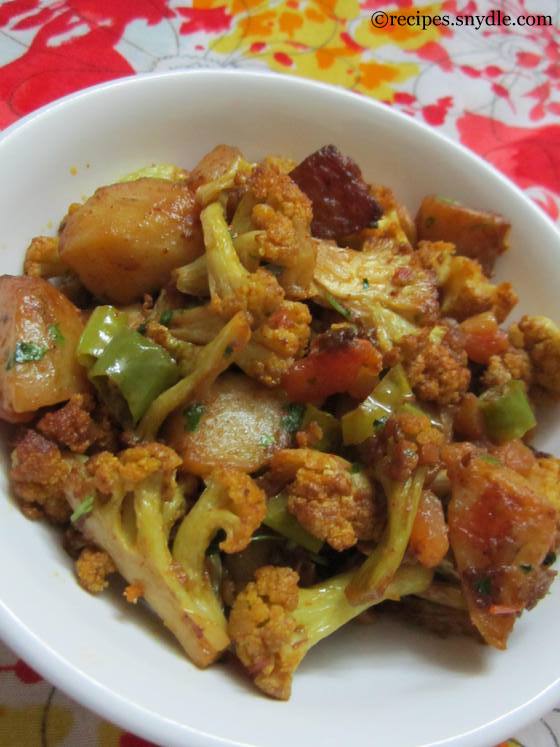 Aloo Gobi Recipe with Step by Step Pictures.
Aloo gobi is one of the most popular Indian vegetarian recipes. It makes a delicious side dish for rotis and rice-dal. The potato and cauliflower bits are fried and then seasoned with zesty spices that fill your house with the mouthwatering aroma.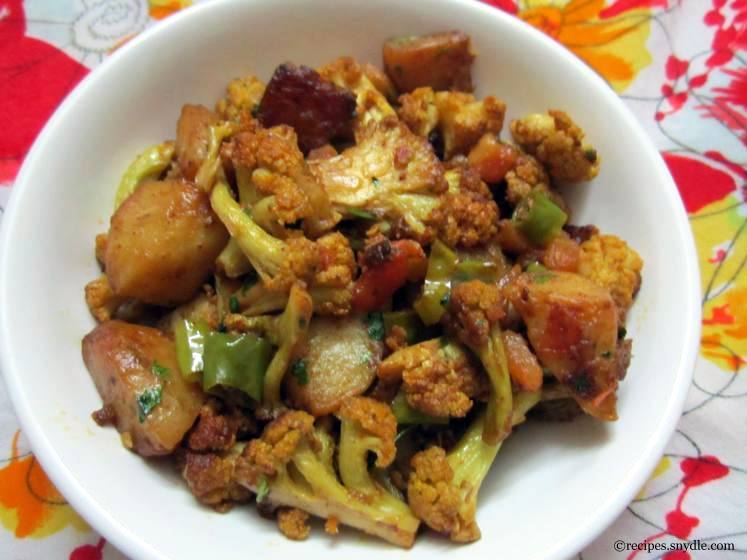 Every household has their own special way to make this dry side dish. I am sharing the recipe of Sindhi-Style Aloo Gobi just the way it has always been made at my grandmother's place and later at our place by Mom. I have learned this recipe from my Mom.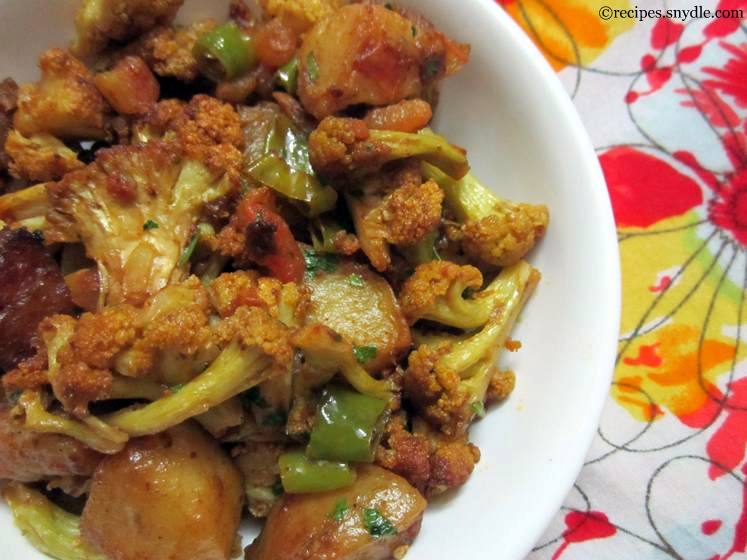 This recipe is easy and quick. Therefore, if you are looking for easy dinner recipes, you must put this on your list. You can serve it with just rotis if you don't wish to go through the trouble of making dal and rice. Just rotis, curd, and this tasty aloo gobi recipe are just enough to make your meal delightful and nutritious.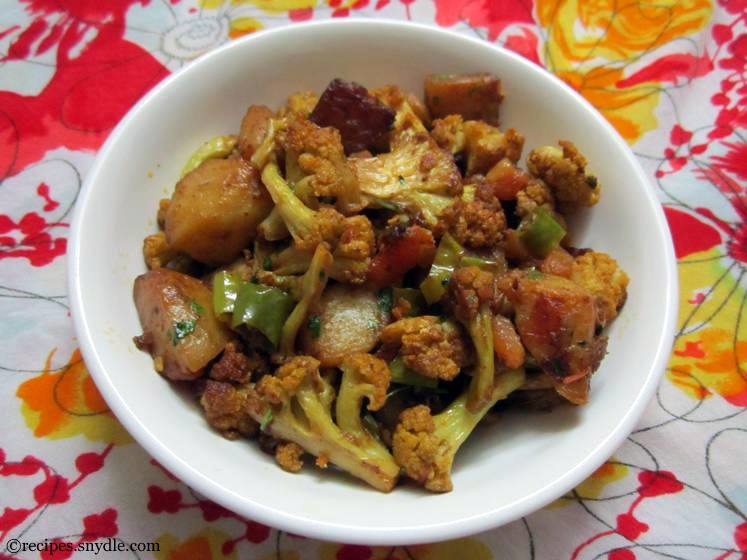 Let's start with the recipe of aloo gobi now. This recipe yields 3-4 servings. For the purpose of measurement, 1 cup = 250 ml.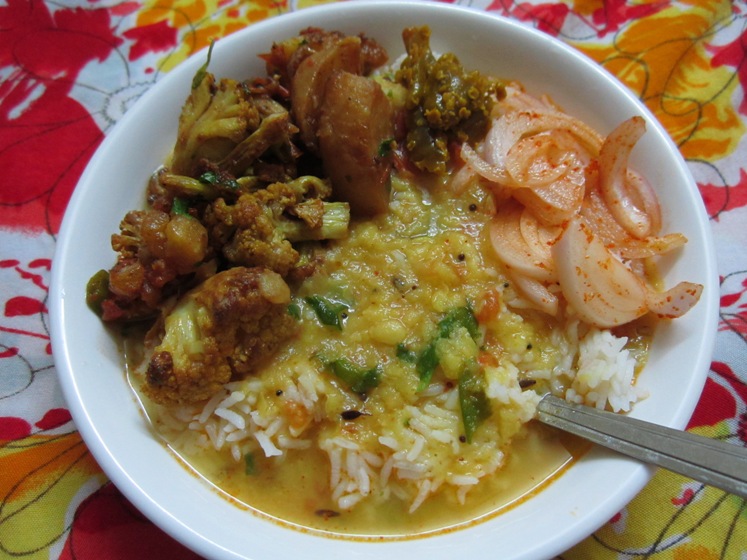 Ingredients
Cauliflower florets – 2 cups, cut into medium size bits
Potato – 2 medium, diced
Tomato – 1 large, roughly chopped
Green chilies – 3, chopped
Coriander leaves – a handful, finely chopped
Oil – for deep frying + 1 tbsp
Red chili powder – 1 and 1/2 tsp
Turmeric – 3/4 tsp
Salt – to taste
Garam masala – 1/2 tsp
Sugar – 1 tsp
Lemon juice – 2 tsp
How to Make Sindhi-Style Aloo Gobi
Wash and pat dry the potato and cauliflower florets. Heat sufficient oil in a skillet and deep fry the potato and cauliflower till they are 80 percent cooked. Remove them onto a plate lined with kitchen towel to drain the excess oil.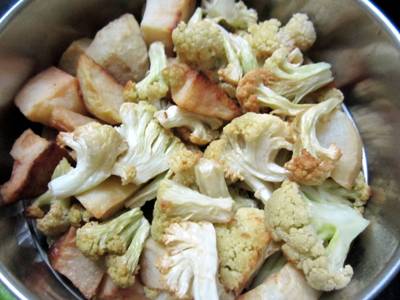 In another, skillet heat 1 tbsp oil on a medium heat. Add in the red chili powder and turmeric powder. Take care not to burn the spices.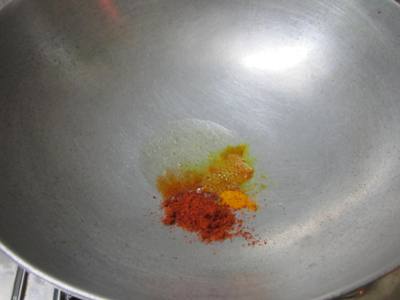 Add the deep-fried potato and cauliflower. Sprinkle salt and garam masala. Mix well.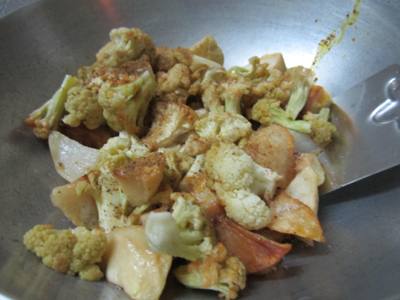 Add the tomato and green chilies. Mix well. Sprinkle some water if the mixture looks too dry.  Cover the skillet with a lid till the veggies are completely cooked and have absorbed the flavors of the spices.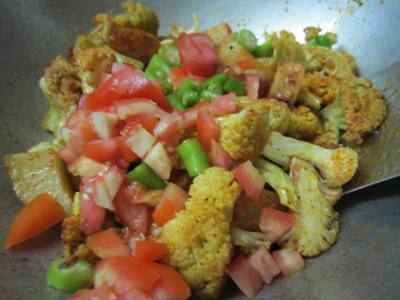 Finish off with coriander leaves, sugar, and lemon juice. Mix well and cook for another 2 minutes.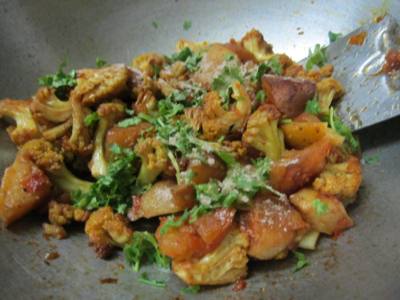 Turn off the flame. Sindhi-Style Aloo Gobi is ready to be served. Have it with roti or rice-dal with some curd and pickle on the side. Enjoy!