Rava kesari is a very tasty and very popular Indian dessert.  It is very easy to prepare and makes use of very few ingredients namely rava / semolina (cream of wheat), sugar and ghee.  This is such an easy dessert which can be prepared in a jiffy.  This is available in all the restaurants in South India.  The softness of kesari depends on the amount of ghee added.  You should be very liberal in adding ghee.  For 1/2 cup of semolina, you should add minimum of  3 tablespoons of ghee to get its texture.  Here I have added 5 tablespoons of ghee.  The more amount of ghee you add you get more softer and tasty kesari.  The addition of color is upto your choice.  You can either add kesari color which is orange in color or add pineapple color (yellow color).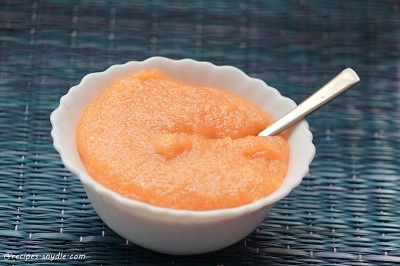 Ingredients required
bombay rava / white rava  – 1/2 cup
kesari color / orange food color – a pinch
sugar  – 3/4 cup
water – 2 cups
ghee – 3 – 4 tablespoons
cardamom powder  – 1/4 teaspoon
cashew  – 10
Method
1.  Dry roast rava for a few seconds till it gets slightly heated.  Transfer it to another plate and keep it aside.
2.  Grease a plate with ghee on all sides and keep aside.
3.  In a pan, add ghee, and roast cashews till it starts changing color.  Remove them and keep aside.
4.  In the same ghee, add rava and roast well.  Roast the rava in medium flame for 2 – 3 minutes.  Roast till you get a nice aroma and then transfer it to a plate.

5.  In the same pan, add water and bring it to boil.  Add a pinch of kesari powder / food color to it.  Once the water starts boiling, reduce the flame to low, and then add roasted rava.  Take care to stir continuously while adding rava, it should not form lumps.
6.  Keep stirring until most of the water is absorbed and the mixture starts to become thick.  Cover and cook for few minutes.

7.  Now add sugar and mix well. When you add sugar, the mixture will become watery.  Keep mixing till the entire sugar gets mixed with the rava  and the mixture starts leaving the sides of the pan.  Then add cardamom powder, roasted cashews and mix well.

8.  Immediately pour the contents to a greased plate.  It will get set as soon as it cools.  Cut into desired shape and serve.