Idli is a very healthy breakfast dish made in South India.  It is served with chutney and sambar.  But the process of making idli requires soaking, grinding and fermenting which takes a lot of time.  But this idli recipe is an instant, easy to make and healthy idli made with oats.  Take care to roast oats in low flame till you get a nice aroma.  Otherwise, idli will be sticky. The addition of carrots make it more nutritious.  You can also add other vegetables, roasted nuts according to your taste preference.  The addition of baking soda is very important.  It acts as a leavening agent.  You can also make use of fruit salt as an alternative for baking soda.   Oats as we all know is very healthy, rich in fiber, helps in controlling cholesterol, blood pressure, it also helps to reduce type II diabetics.  Oats contain manganese, selenium, phosphorous, fiber, magnesium and zinc.  It is also rich in carotenoids, tocols, flavonoids.  Now to the recipe..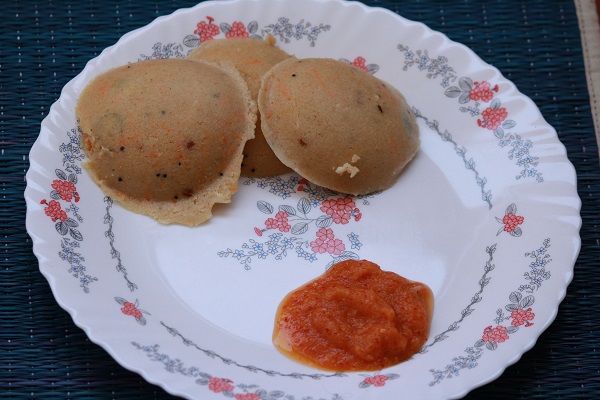 Ingredients required
oats  – 1 cup (I used instant oats)
rava / sooji  – 1/2 cup
curd / yogurt  – 1 cup
carrots (grated)  – 2 tablespoon
water  – 1/2 cup
baking soda  – 1/4 teaspoon
For tempering 
oil  – 1 teaspoon
mustard seeds – 1/4 teaspoon
urud dal  – 1/2 teaspoon
green chilies – 2(chopped)
coriander leaves (finely chopped)  – 2 tablespoon
salt  – to taste
Method
1.  Roast oats in a pan until it starts changing color and the raw smell goes off.   Let it cool and then powder it.  Keep it aside.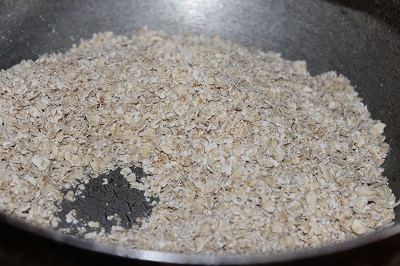 2.  Dry roast rava and transfer it to a bowl.  To this bowl, add oats powder.
3.  Now add curd and salt to this, mix well and keep it aside.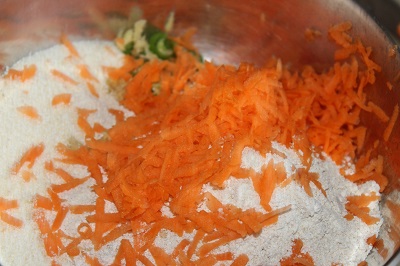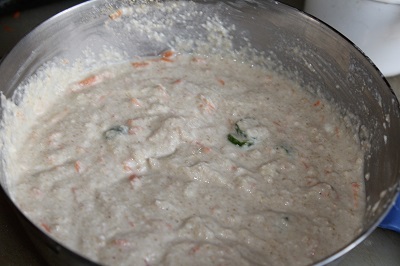 4.  In another pan, heat ghee or oil.  Add the items listed under "for tempering" one by one.  Add the tempered ingredients to the rava oats batter.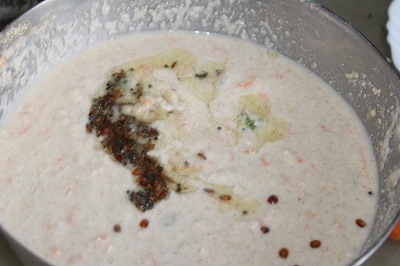 5.  Combine well.  Add around 1/2 a cup of water.  Mix well.  Keep it aside for 15 – 20 minutes.
6.  Add baking soda (or you can use fruit salt also) just before you start making idli's.  (Don't let the batter sit for too long after adding baking soda.  Mix well.
7.  Grease an idli plate and fill each hole upto 3/4.
8.  Steam cook the idli's for 10 – 12 minutes.
9.  Oats idli is ready.  This can be served with any chutney of your choice or with sambar.