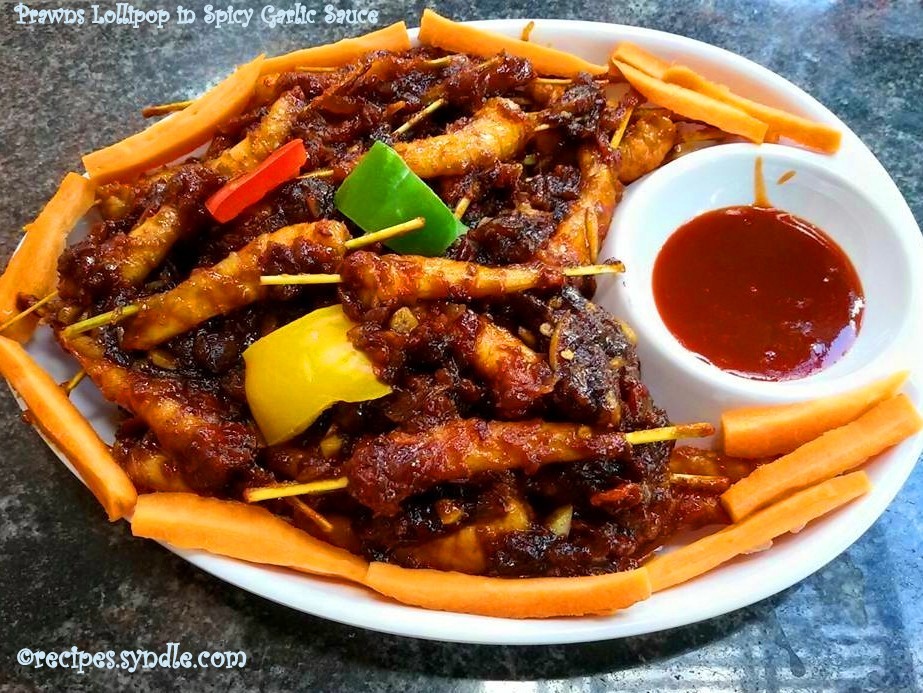 Hello Buddies, Its me Swapna with a fabulous recipe of Shrimp/Prawn.  Going out to have Chinese is something we do often, unless it can be created at home. Fried prawns cooked in spicy garlic sauce is delightful in taste and will make a great side dish with chinese fried rice, noodles or just plain steamed rice. This dish has actually been in my mind for quite a while as a feature on this blog as apart from being one of my favourite ways of serving prawns/shrimp. I thought the simplicity of preparing this impressive looking dish would get your attention, so here it is finally. As te prawns take such a short time to cook, I suggest that you cook this dish as the last food if you are cooking a chinese dinner that consists of a few dishes. This dish should be offcourse be served as a hot dish as an appetizer. This is a vibrantly colourful and delicious dish. I call it Ind0-Chinese prawn because this dish is made by marrinating the prawns in indian and chinese spices and cooking them in chinese sauces. The taste is bit hot and spicy, a perfect combo to have with fred rice or noodles. This is spicy but is flavorful and the  addition seasoning of veggies add a nice dimension to this dish. It  is sure to be a wonderful Indo- Chinese Prawns and let me how the dish turned out.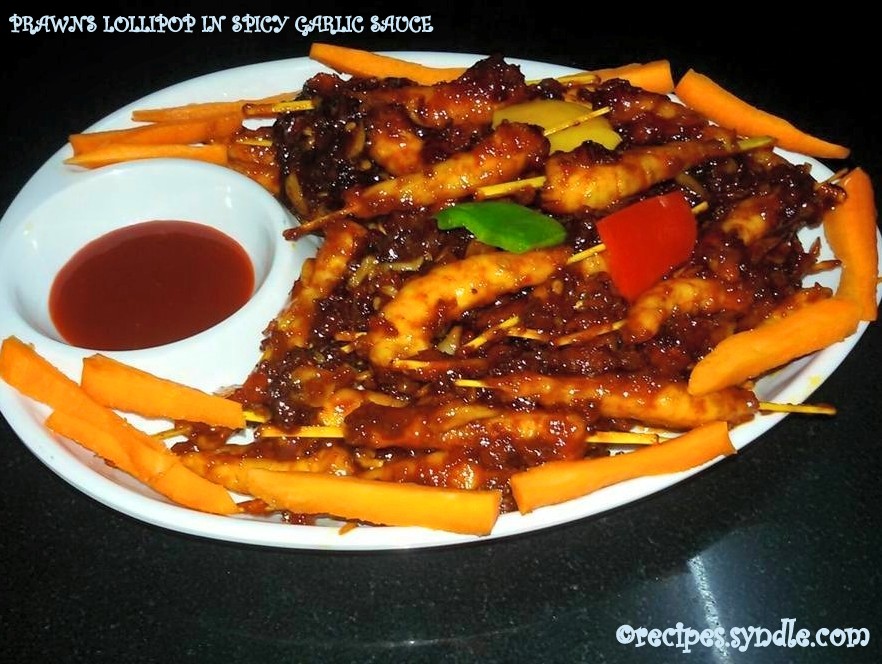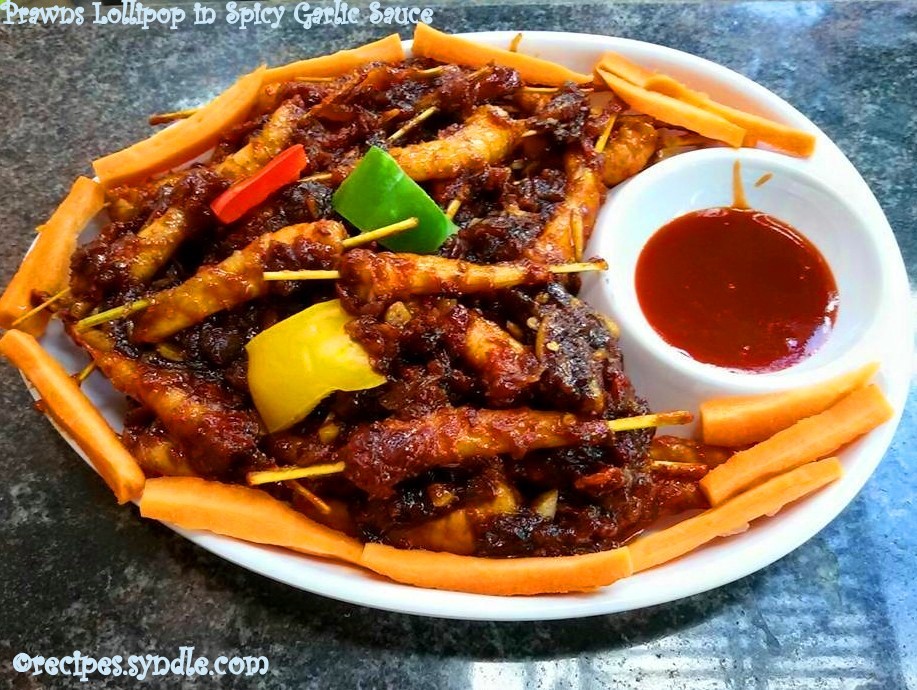 Prawns/Shrimp lollypop in Spicy Garlic Sauce Recipe
Ingredients
For marrination
Prawns-35- 40 Counts, medium size prawns
Egg- 1
Salt- to taste
Lemon juice- 2 tsp
Red chilly powder- 2 tsp
Garlic Paste- 2 tsp
Ginger paste- 1 tsp
For Sauce
Garlic- 10 – 15, medium finely chopped
Ginger paste- 1 tsp
White vinegar- 1 tsp
Red chilli paste- 5 tsp
Dark soy sauce- 2tsp
Tomato sauce- 2 tsp
Sugar- 1/2 tsp
Sesame oil- 2 tsp
Oil- for frying prawns
Salt- to taste
Carrot strips- for seasoning
Capsicum- for seasoning
Hot chilli sauce-  2 tsp
How to Make Prawns/Shrimp Lollipop in Spicy Garlic Sauce
Shell and de-vein prawns and wash well in water. Insert prawns with tooth pick or sharp stick of your choice, insert it from one end to the other and set it aside.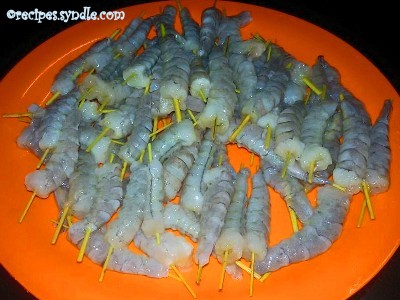 Marrinate the prawns with the ingredients listed under 'For Marrinating'  and keep it for 15- 20 minutes.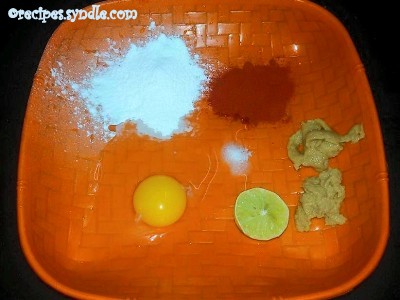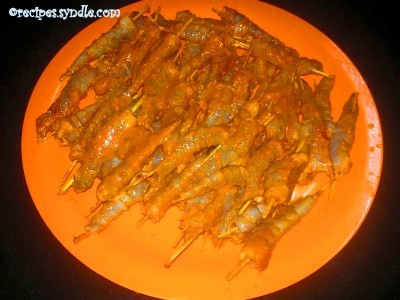 Heat a Frying pan/wok, pour oil for deep frying the prawns. Add the marrinated prawns to the hot oil and cook on both sides in medium heat till prawns turns golden in color. Once the prawn is cooked transfer to a plate draped with paper napkin to drain off excess oil. Fry all the marrinated prawns this way.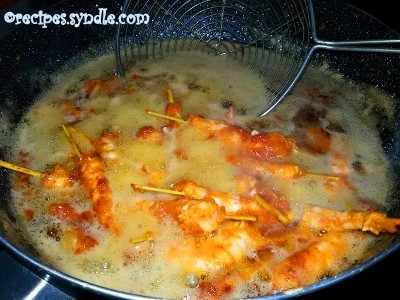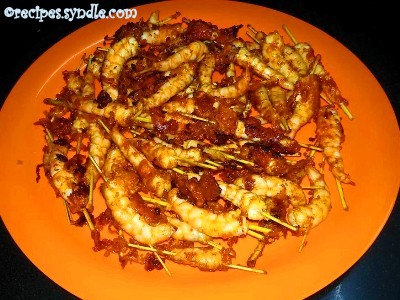 If the oil is excess in pan, remove it and keep 2 tsp oil for making sauce. Add chopped garlic and ginger paste, saute it for 1 minute.  Then add the onion and saute till translucent.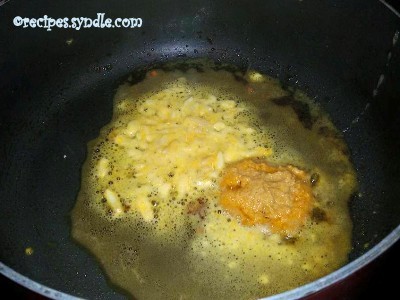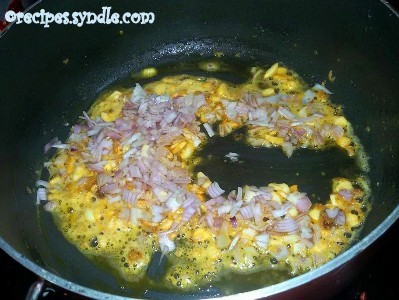 Then add the tomato sauce, soy sauce and hot chilli sauce to the frying pan and stir fry for a minute. Then add the red chilly paste to it and combine well. Adjust salt.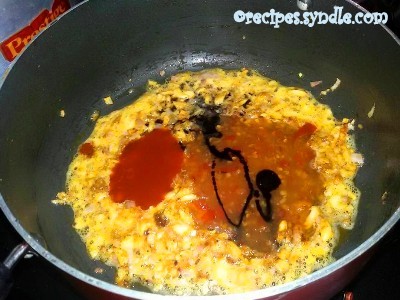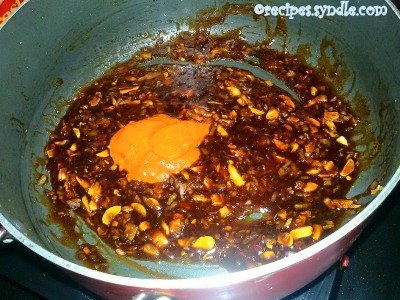 Now add the fried prawns and stir fry for a minute. Add 2 tsp water. Bring to boil and cook for few seconds.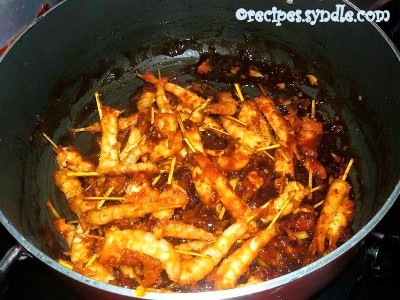 Turn off the stove, garnish with carrot strips and capsicum.