Masala Dosa is one of the best culinary creations from South India. The steaming hot rice-lentil crepe draping the hot and flavorful potato filling is a sight so delicious that you want to dig right in. Pair it with some sambar and chutney and you have the best breakfast recipe ever; not only tasty but also healthy.
The key to a good masala dosa is a well-made, balanced potato filling. This potato sabzi recipe for masala dosa is very easy to make. The step-by-step pictures will help you through it. The potato sabzi gets its spiciness from the green chilies while the white urad dal lends it a nice, occasional crunch. The fragrance from ginger and curry leaves will fill your senses as you savour the masala dosa on your plate hot from the tawa.
This potato sabzi recipe will suffice for 7-8 medium-sized masala dosas. For the purpose of measurement, 1 cup=250 ml. Let's begin with the recipe of Masala Dosa's Potato Filling. In the upcoming post, I will share the recipe of dosa batter and assembling the masala dosa.
Ingredients
Potatoes – 3 large, boiled and mashed
Onion – 2 medium, finely sliced
Curry leaves – 10 leaves
White urad dal – 3/4 tsp
Cumin seeds – 1/2 tsp
Mustard seeds – 1/2 tsp
Ginger – 1/2 tsp, finely crushed
Green chilies – 2, finely chopped
Turmeric powder – 3/4 tsp
Coriander leaves – a handful, finely chopped
Oil – 2 tbsp
Salt – To taste
How to Make Potato Sabzi for Masala Dosa
Heat oil in a pan and add in the urad dal and fry it, stirring constantly for a few seconds till it turns golden and aromatic.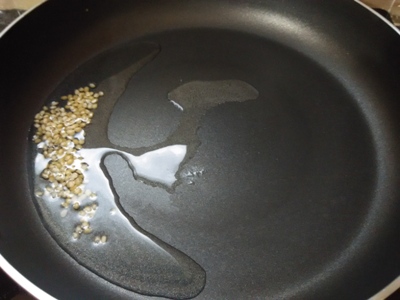 Add in the mustard seeds and allow it to splutter. Then add cumin seeds and let them sizzle.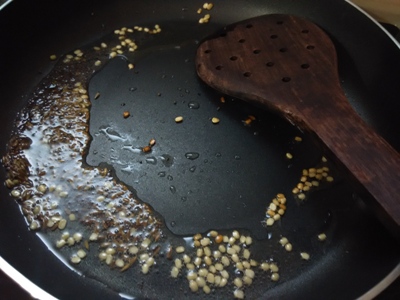 Add in the sliced onions leaves and saute them till they turn golden.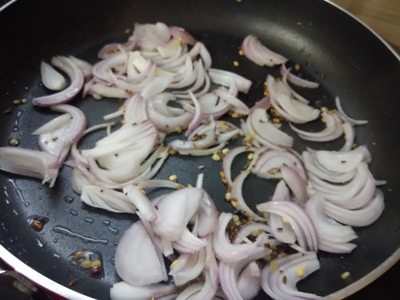 Add in the green chilies and ginger and saute till the raw smell disappears.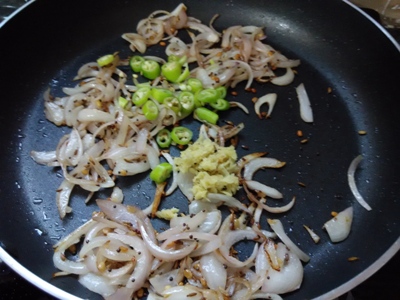 Add in the curry leaves and saute them for a few seconds.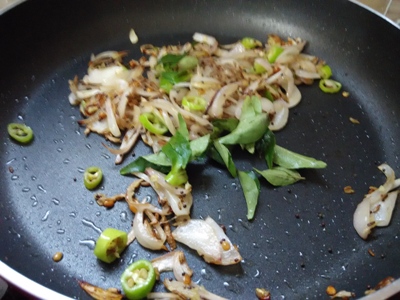 Add in the turmeric powder and mix well.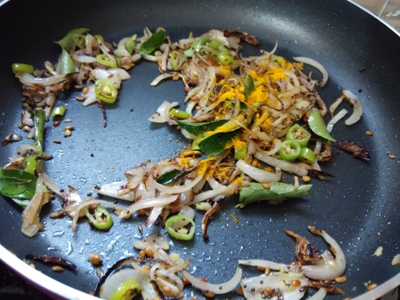 Add in the boiled mashed potatoes and salt. Mix everything well. Add in a little water if the mixture looks too dry.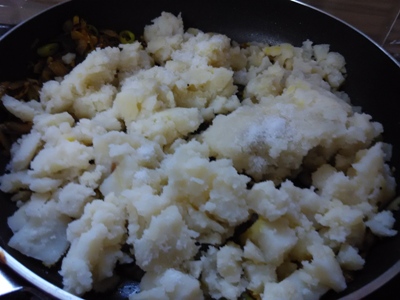 Add the coriander leaves and mix well. Cover the pan with the lid and let the potato get heated through on a low flame.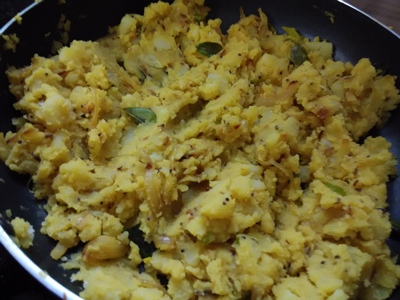 Switch the heat off after 2-3 minutes. Potato filling for masala dosa is ready.