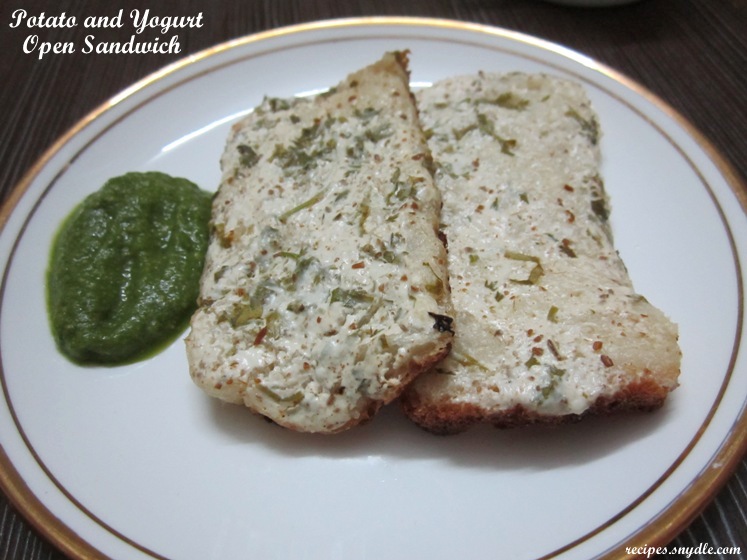 Potato and Yogurt Open Sandwich Recipe with Step by Step Pictures.
There is something about open sandwiches that make them so alluring to me. They look pretty because you can see all the stuffing, or rather toppings, I would say, which makes them so interesting. They are relatively lighter than the normal sandwiches because there is one bread slice less. The bread to topping ratio is much more satiating.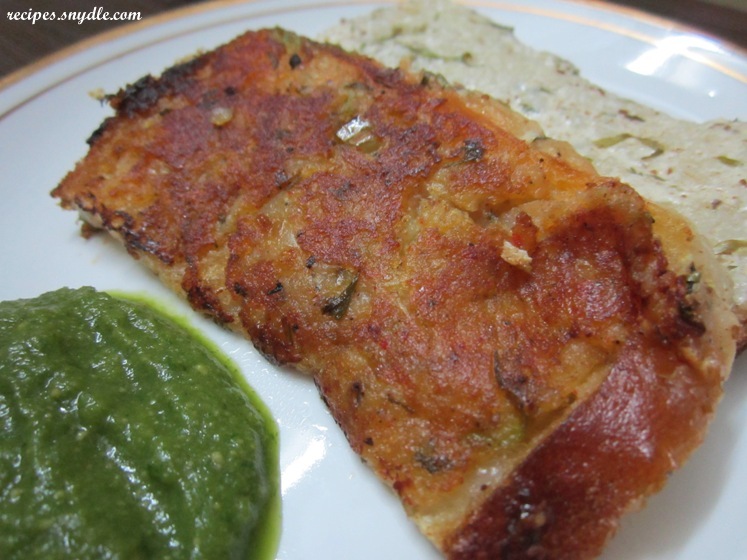 Potato is an all time favorite ingredient. It's warm, comforting and filling. I am addicted to potatoes! So I decided to make a potato sandwich today and wanted to add a twist to it. How would it be to bite into an open sandwich that's crispy on one side and soft on the other and has topping on both sides? Interesting, right? This is where my second favorite ingredient, yogurt comes into the picture! Lightly seasoned, thick yogurt that makes the sandwich met in your mouth.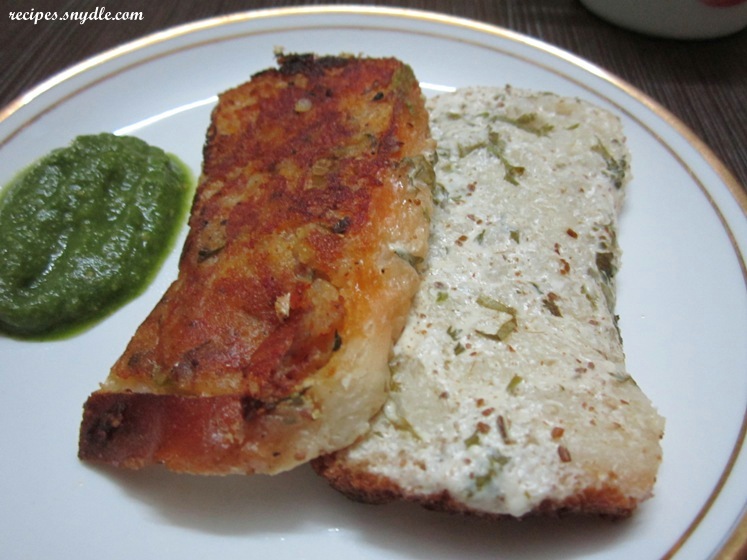 You can have these for breakfast and start your day with a dose of absolute yumminess. These make an excellent snacks when you have guests coming over. I had these for dinner today!
This sandwich recipe gets ready in like 10 minutes. All you need is slightly sour thick yogurt, boiled potatoes and some spices. And obviously, some bread and butter. Let's get started with the recipe of Potato and Yogurt Open Sandwich. This recipe yields 8 pieces.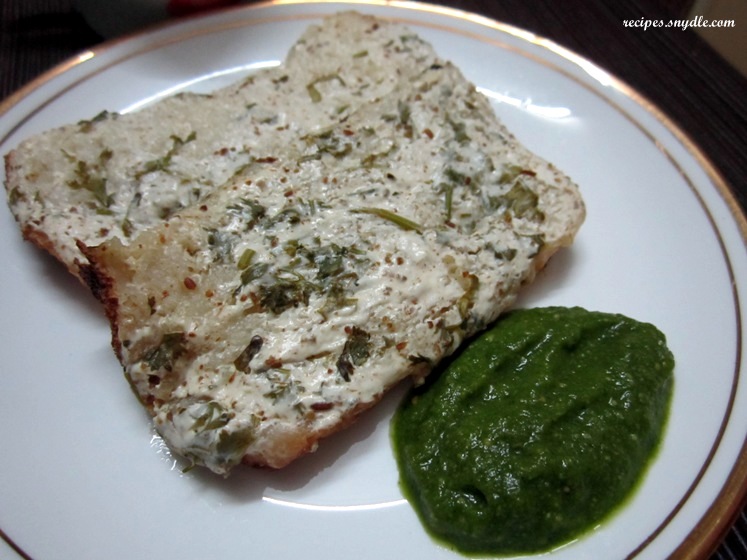 Ingredients
Bread – 4, cut into 2 pieces
Butter – to toast the sandwich
For the Yogurt Mixture
Thick yogurt – 8 tbsp, slightly sour
Salt – to taste
Jeera powder/Cumin powder – 3/4 tsp
Coriander leaves – 2 tbsp, finely chopped
For the Potato Mixture
Boiled potatoes – 2 medium, grated or mashed
Salt – to taste
Red chili powder – 1/2 tsp or to taste
Garam masala – 1/2 tsp
Green chili – 1, finely chopped
Coriander leaves – 1 tbsp, finely chopped
How to Make Potato and Yogurt Open Sandwich
In a bowl, take thick yogurt. Add salt, cumin powder and coriander leaves to it.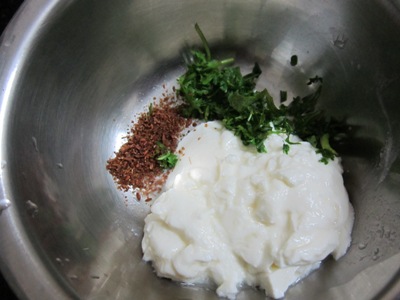 Whisk it well and keep it aside. There should be no lumps.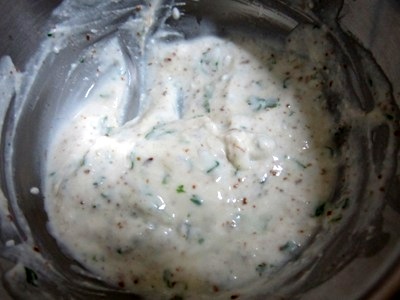 In another bowl, take grated or mashed boiled potato, salt, red chili powder, garam masala, green chili and coriander leaves.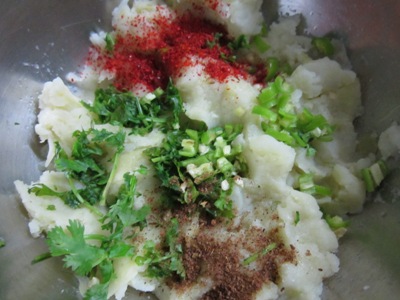 Mix everything well to make a smooth and spreadable mixture.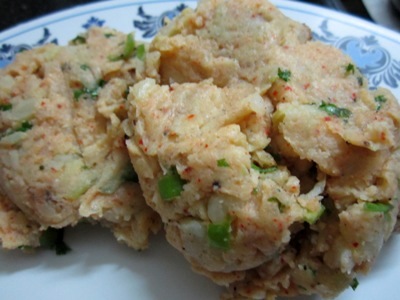 Apply the potato mixture generously over the bread pieces.
Heat a pan and add some butter to it. Place the bread slices into the pan, potato side down.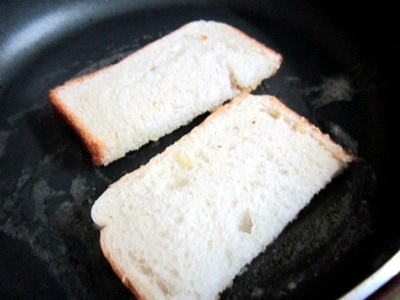 Apply the yogurt mixture on the top of these bread pieces.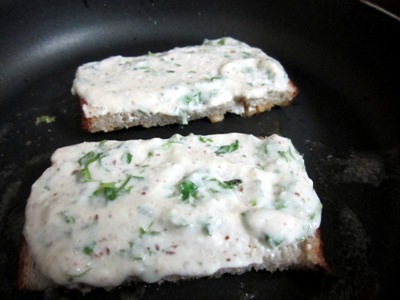 Cover the pan and turn the heat to the lowest. Let the sandwich toast till the potato turns golden brown and crispy on the underside. The layer of yogurt would look even thicker and absorbed into the bread. It will take about 3-4 minutes for the sandwich to get heated through on very low flame.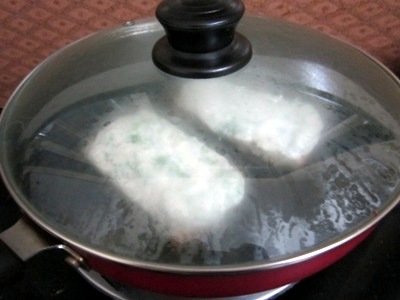 Potato and Yogurt Open Sandwich is ready. Serve hot with green chutney. Enjoy! This is how it looks on the underside.