Pori unda is a very tasty and easy to make snack. It is made with pori or puffed rice.  Pori or puffed rice is tasty when eaten alone.  It tastes great when mixed with jaggery.  This is a crispy and crunchy snack and can be made in minutes.  My kids love this sweet.  Moreover, it is very easy to prepare.  Not only as a snack, it is often made during karthigai deepam festival.  During this karthigai deepam festival, my mom was here and we made it as a snack.  My mom also makes pori unda with aval during karthiga deepam.
Pori Unda
My kids love it so much that they start eating as soon as the pori is mixed with jaggery.  But I like the balls. The addition of chukku podi and cardamom powder gives a lift to the dish.
For making this dish, you can make use of puffed flattened rice (aval pori) also instead of pori.  It is very easy to make this ladoo but the consistency of jaggery syrup is very important.  The jaggery syrup should have a soft ball consistency.  Add a drop of jaggery syrup into a plate of water.  The drops should not get dissolved in water.  After half a minute, take it out and try to roll it between your fingers.  If you are able to roll it into soft balls, then, the consistency is correct.
They can be stored in an air-tight container for weeks.
How to Make Pori Unda
Ingredients 
pori / puffed rice – 3 cups
jaggery – 1 cup
cardamom powder – 1/4 teaspoon
dry ginger powder – a pinch
water – 1/4 cup
ghee – 1/2 tablespoon
How to make pori unda 
1. Roast pori in a pan in medium heat.  This will make the pori crisp.  If your pori is very crisp, then you can avoid this step.
2.  Then grate or powder the jaggery.  Add jaggery and a little water in a pan.  Heat it for some time so that the jaggery get melted well.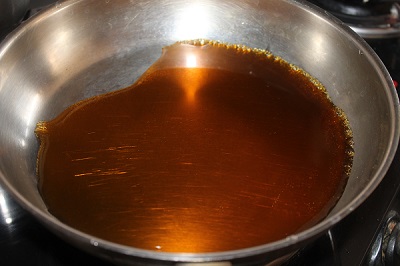 2.  Strain it to remove the impurities.  Clean the pan or add the strained jaggery syrup to another pan.
3.  To the jaggery syrup, add cardamom powder, dry ginger powder and mix well.  Heat it again.
4.  Check for consistency.  It should form a non-sticky ball when you roll it between your fingers.  Turn off the flame.
5.  Slowly, mix pori with this pori.  Mix it until the pori is well coated with jaggery.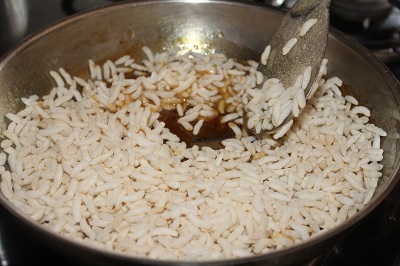 6.  Grease your hands with ghee.  When heat is bearable, make balls and store it in an airtight container.