Today's recipe is pazham pori / banana fritters.  This is a special Kerala dish made with banana. In Malayalam,  pazham means "banana".  Long sized bananas called as nendran pazham is made use of for making this dish.   Banana is cut into long size pieces and dipped in maida batter.  Then it is deep fried.  This is one of the favorite dish of all Keralites.  Pazham pori with a cup of chaya / tea makes a perfect snack.  Nadan banana or local banana gives this dish a unique taste.  Now to the recipe..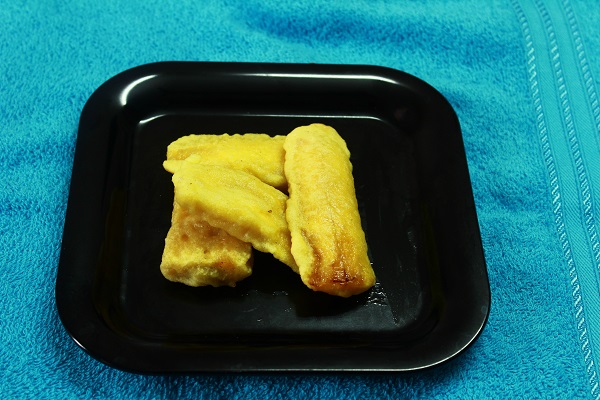 Ingredients required
ripe banana / nendran pazham  – 1 large
maida / all purpose flour – 3/4 cup
rice flour  – 3 tablespoon
sugar  – 1 – 1 1/2 teaspoon
turmeric powder – a pinch
water – as required to make the batter
oil – for deep frying
salt  – a pinch
Method
1.    Peel bananas, slice them into thin long pieces.

2.  In a bowl, mix maida, sugar, salt, turmeric powder, rice flour and mix well.  (You can also use a pinch of baking powder, but I don't use it in my day to day cooking)
3.  Add water little by little and mix it to form a semi thick batter.

4.  In a pan, heat oil.
5.  When oil is hot enough, dip each slice in batter, coat the batter evenly on each slice, and slowly, slide the banana pieces into hot oil.  Fry them on medium heat till they become golden brown.  Flip them in between.
6.  Remove from oil and transfer it to a kitchen towel to drain excess oil.
7.  Serve it hot.