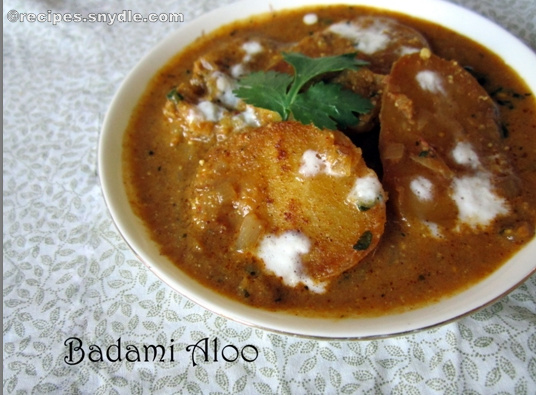 Are you bored of cooking cashew nut-based gravies? So, here is a recipe that calls for almonds instead. Almonds, like cashews are an excellent base for gravy. They have a distinct essence that imparts richness to the dish. You can make a good chicken curry using almonds. However, today we are in for a vegetarian treat. It is a dish consisting of roasted potatoes in almond sauce.
If you are a potato fan, you must give this recipe a try. It is mildly peppery and boasts tons of flavors. Easy to make and great to taste, this potato recipe could be the next addition to your list of easy dinner recipes. Let's see how to make Badami Aloo.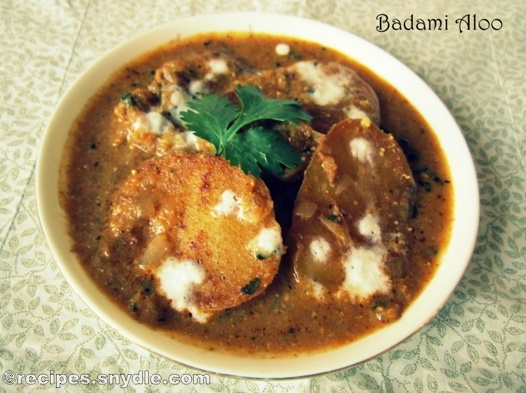 Ingredients
Onions- 3 medium, finely chopped
Tomatoes- 1 large, pureed
Turmeric Powder – 1/3 tsp
Coriander Powder – 1 tsp
Garam Masala – 1/2 tsp
Red Chili Powder – 2 tsp
Salt – To taste
Almonds- 20, finely ground
Milk – 200 ml
Boiling Water – 100 ml
Butter – 2 tbsp
Oil – 1 tsp
Dried fenugreek leaves / Kasoori Methi – 1 tsp
Cilantro – For garnishing
Honey – 1 tsp
To Temper
Cumin Seeds – 1 tsp
Cinnamon stick – 1 small
Mace – 1 piece
Cardamom – 3
Bay Leaf – 1
To Make a Paste
Ginger – 1 inch piece
Garlic – 8 cloves
Cilantro – A handful
Green chilies – 3, small
To Roast the Potatoes
Potatoes – 4 medium. Boiled, peeled and sliced
Red Chili Powder – To taste
Salt – To taste
Oil – As required
How to make Badami Aloo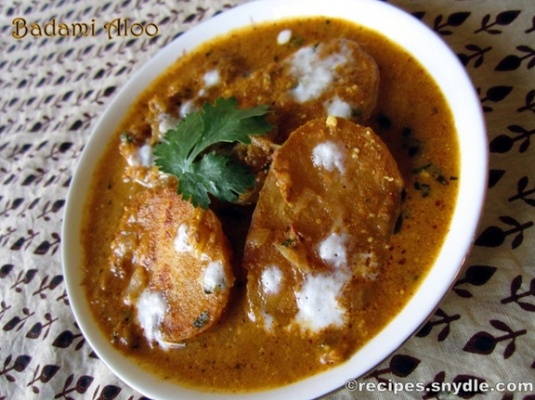 Make a fine paste of garlic, green chilies, cilantro and ginger. Use a spoonful of water if required.
Melt the butter in a pressure cooker. Add oil to it. The oil prevents the butter from burning.
Toss in the tempering ingredients, i.e., cumin seeds, cinanamon, cardamoms, bay laef and mace. Sauté for a few seconds till it becomes fragrant.
Add in the chopped onion and sauté them till they turn golden brown. Swirl in the ground paste and sauté it till the raw smell of ginger and garlic vanishes. It usually takes a minute or two.
Pour in the freshly pureed tomato and sauté till butter starts to separate.
It's time to add the dry spices, i.e., the turmeric powder, coriander powder, red chili powder and garam masala. Season it with some salt. Mix well and sauté for a minute.
Now toss in the finely ground almonds and milk and give it a good stir so that the almond meal doesn't form lumps.  Pour in the boiling water little by little as you stir. This will give you nice and smooth gravy.
You can alter the quantity of water here, to achieve the consistency as per your liking. The gravy should be thick enough, like a milkshake. Put the lid on and cook till it blows two whistles.
In the meantime, heat up a non-stick / grill pan. Drizzle it with some oil.
Roast the boiled potato slices. Season them with red chili powder and salt on both the sides.
Roast the potato slices till they have a golden crust. Take the potato slices out onto a kitchen towel to drain the excess oil.
After the pressure is released, unlock the lid of the pressure cooker. Swirl in the honey, dried fenugreek leaves (kasoori methi) and mix well. Garnish with chopped cilantro. Always lightly roast the dried fenugreek leaves (kasoori methi) on a griddle on low flame. Cool it and crush it between your palms. This will enhance its flavor.
Toss in the potato slices and allow them to soak the flavors of gravy for a couple of minutes.
Serve steaming hot and drizzle some cream for garnishing if you wish.