Today, I am sharing a snack recipe made with besan / gram flour and onion as the main ingredient.  It is a special Kerala recipe.  A snack which is available in all tea shops in Kerala.  It is an snack which you can have as a snack with a cup of tea.  Nowadays, it is raining in Bangalore, and I love to munch on these.  Just make some green chutney to go with it or enjoy it with tomato sauce.  In both the ways, it tastes great.  I always store green chutney in the refrigerator, so that I can use it for pakodas, bajjis or with bread.  The method of making this bajji is also very easy.  Just make the batter, heat oil and then deep fry.  Don't make the batter too watery, otherwise, it will disintegrate and you won't get the bajji properly.  Now to the recipe..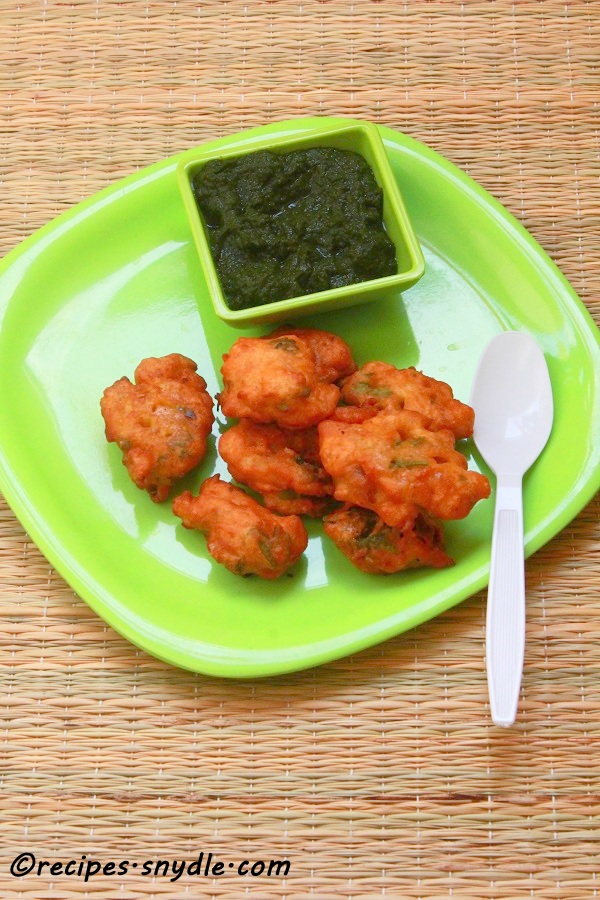 Ingredients 
gram flour / besan – 1 cup
rice flour  – 2 tablespoon
onion (medium) – 3 (finely chopped)
green chilies – 2 (chopped – optional)
chili powder  – 1/2 teaspoon
chicken masala powder – 1 teaspoon (optional)
coriander leaves – 2 tablespoons (finely chopped)
hing / asafoetida powder – a pinch
salt – to taste
baking soda – 1/2 teaspoon
oil – for deep frying
How to make onion pakoda 
1.  In a bowl, add gram flour and enough water to make a thick batter.  Now, add all the other ingredients, mix well, add water to make a smooth batter.

2.  Heat oil in a deep frying pan.  When hot enough, using a spoon, carefully drop spoonfuls of the batter into the hot oil and deep fry for about 3 – 4 minutes in medium flame or until golden brown.

3.  Remove with a slotted spoon and drain on a kitchen towel or absorbent paper.
4.  Serve it hot or warm.  This tastes great with green chutney.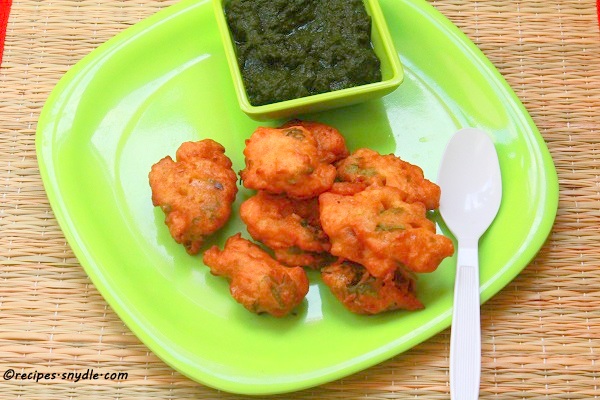 Hope this post was useful.  Do leave your comments in the section below.