The name itself tells that it is a dish from Kashmir.  It is a very popular Kashmiri dish made with fried paneer.  There are various versions of chaman recipe available:  one with paneer in tomato sauce, another one with paneer and  methi and so on.  But this recipe which I am sharing here is one of the easiest.  It will take less than 30 minutes for the entire preparation.  Moreover, paneer / cottage cheese is loved by most of the people and this will be a best accompaniment for flavoured rice, or with roti or chapati.  Serve it with some rice, dal and chaman – it would taste great. In my family,  everyone loves paneer, and I try to make some special dish on Sundays.  But being a holiday, I don't want to remain in the kitchen for a long time, instead, I prefer spending time with my family.  This dish is easy to make and tasty and perfect for lazy days or whenever you want to finish your work easily.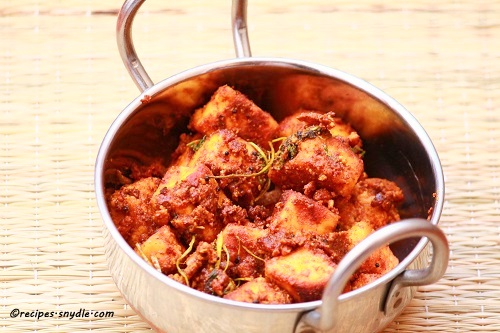 Ingredients:
paneer  – 500 gm (cut into 1 inch cubes)
chili powder  – 1 teaspoon
ginger paste – 1 teaspoon
garam masala powder – 2 teaspoons
cumin powder  – 1 teaspoon
asafoetida powder / hing  – a pinch
coriander powder  – 1 teaspoon
turmeric powder  – 1/2 teaspoon
coriander leaves – 1 tablespoon (finely chopped)
salt – to taste
oil – 3 – 4 tablespoon
How to make kashmiri paneer recipe
Heat half of the ghee or oil in a large, thick-bottomed frying pan or skillet over medium heat.
Add paneer and fry for about 5 minutes or until golden brown on all sides.
Remove them and drain on a kitchen towel.
In a bowl, add paneer, chili powder, ginger paste, garam masala, cumin powder, asafoetida powder, coriander powder, turmeric powder, and salt.  Mix gently with your hands or with a spoon.  Leave it aside for 10 minutes. 
Heat the remaining ghee or oil in another thick-bottomed pan over low heat.  Add the marinated paneer pieces, give it a quick stir and then add  1 and 1/2 cups of water.
Cook on low heat for about 10 minutes and then garnish with coriander leaves.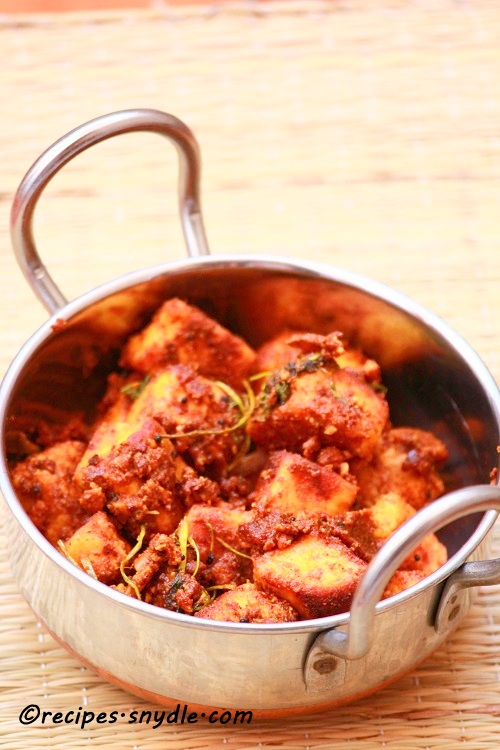 Tip:
Make sure that the oil is hot enough, before adding paneer pieces.  If oil is not hot enough, then paneer pieces may stick to the bottom of the frying pan.
Don't overcook the paneer as they may become rubbery and hard..
Hope this post was useful.  Do leave your comments and views in the box below.