Ginisang munggo is another filipino staple food. This dish is simple and inexpensive, great for budget conscious mom and dad. Ginisang munggo is a dish that I often cook three times a month, usually on a Friday. Cooking munggo every Friday is a norm in many filipino household, LOL.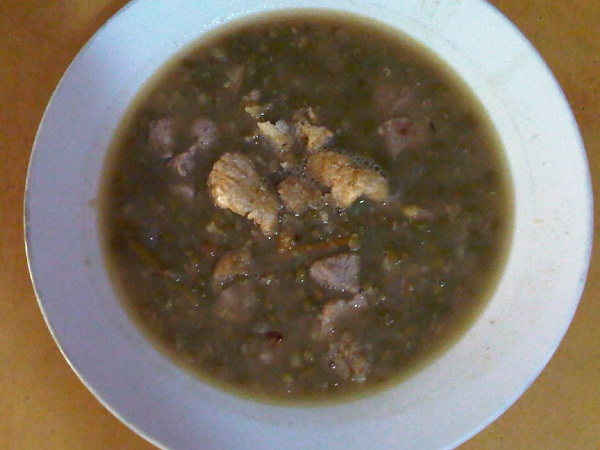 Mung bean or munggo comes from the seed of Vigna radiata, a plant that grows in Pakistan and India. Vigna radiate seed became a hit when it reached the Philippine soil because many dishes and desserts are made with mung bean. In fact, mung bean was used as filling for hopia and buchi and when sweetened, mung bean was also added to halo halo. But of course, the most popular dish made of munggo is the sautéed Mung bean or ginisang munggo.
Munggo is a very heathy and satisfying main dish that is also easy on the pocket. The mung beans are usually cooked with pork and chili or malunggay leaves. My mom also cooked munggo with coconut milk (gata) and dried fish. I love munggo with coconut milk and dried fish, the saltiness of the fish gives the dish added flavor.
When I don't have a coconut milk, I just cook ginisang munggo. By the way, I usually accompanied this dish with fritong isda (fried fish) like tilapia, galunggong or bangus (milkfish). How about you?
So, if you want a healthy dish that is also easy on the budget, try ginisang munggo. Here's my ginisang munggo recipe, happy cooking!
Ginisang Munggo
Ingredients:
1 cup Mung Beans
Pork, sliced thinly
1 tablespoon garlic
1 tomato, chopped
1 onion, chopped
2 tablespoon fish sauce
Ground black pepper
½ cup chicharon or pork rind, crushed
Malunggay leaves
Water for boiling
Directions:

In a pot, put in the water and mung bean. Cook the munggo for about 50 minutes or until soft. Once cooked, set aside to prepare the sauteed pork.
In another pan, saute the onion, garlic and tomato.
Add the pork and just let it cook for at least 5 mins or until the meat changed color.
Combine the sautéed pork with the soften mung bean. Stir and just simmer for about 10 minutes to reduced the liquid and the desired soup consistency have been achieved. Add the malunggay leaves.
Season with pepper, salt and fish sauce then add the pork rinds.
Topped with chicharon and serve hot. Enjoy!
See how easy it is to cook ginisang munggo. By the way, you can add malunggay leaves to the dish to make it healthier. I sometimes add malunggay leaves, but not this time. Anyway, don't forget to bookmark this page to save this recipe. In case you decided to try ginisang munggo, let me know what you think of this dish.
If you know of other dishes that made with mung bean, feel free to comment or leave a message as I love hearing from my readers. Check out also my other recipes. Thank you for dropping by and have a nice day!