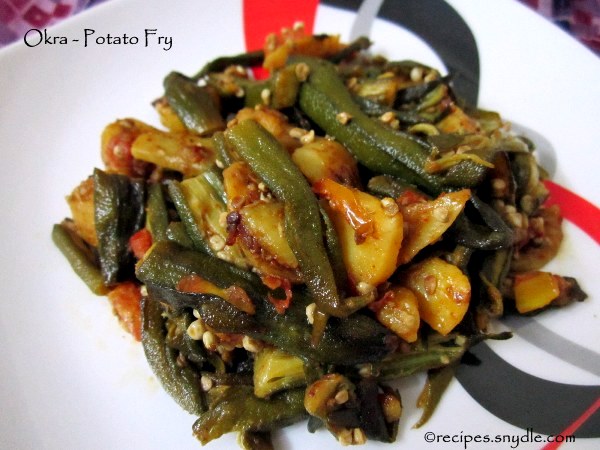 We Sindhis love to fry our side-dishes. Moreover, we love to add potatoes to most of the side-dishes. We love our dal and rice like no one else! And of course it is served with fried and spiced veggies on the side. Fried and spiced potatoes, brinjals, okras, yams and capsicums; we swear by all of these. Sometimes we just mix 2 or 3 veggies together to create variety. Today I am sharing the recipe of okra and potato fry. Don't get worried yet! I used minimal amount of oil and optimum amount of spices and this delicious side-dish turned out just perfect.
This is a recipe for 4. Let us see how to make okra-potato fry!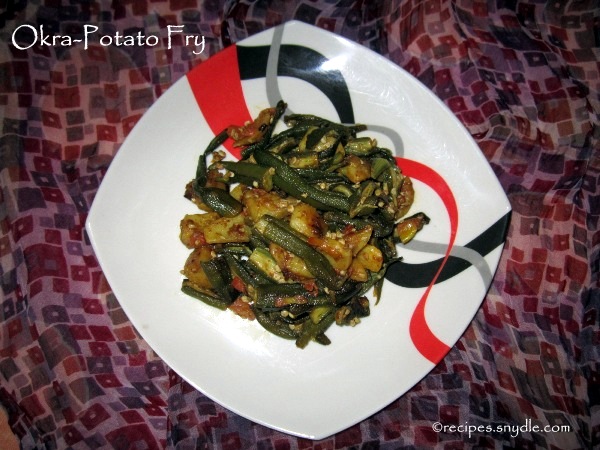 Ingredients
Okra / Bhindi – 30 to 35, split lengthwise
Potato – 2 medium, diced
Tomato – 1 medium, chopped
Green chilies – 4, split lengthwise
Turmeric powder – 1/2 tsp
Red Chili – 1 tsp
Coriander powder – 1/2 tsp
Dry mango powder / Amchur – 1 tsp or to taste
Salt – To taste
Oil – 3 tbsp
Water – About 5 tbsp
How to Make Okra – Potato Fry
Wash okra clean and pat it dry with a clean cloth. Split it lengthwise only on one side.
Heat some oil in a skillet or a pan. Toss in the diced potatoes and fry till they start turning golden.
Add in the green chilies, turmeric powder, red chili powder, coriander powder. Sauté it for a minute and then add in the okra, tomato and salt.
Fry the veggies for 2 to 3 minutes. Drizzle some water and add in the amchur / dried mango powder and give the veggies a nice toss. Cover the skillet with a lid and cook the veggies for 15 minutes until they are nicely cooked.
Give it an occasional stir between every 4-5 minutes. Sprinkle little water if need be.
Let the veggies cook like this till they are done. Take care not to overcook the veggies.
Okra – Potato Fry is ready! Serve hot with roti or chapati or as a side dish with dal-rice, or khichdi. Enjoy!