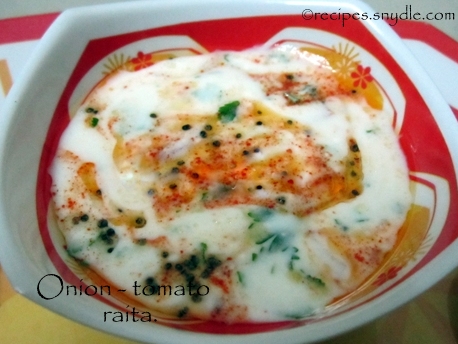 Raitas are a great accompaniment for khichdi, biryani and pulaos. They are so soothing to the taste buds and have a cooking effect as they cut the heat from spicy food. For those who are not familiar with raita, it is a yogurt preparation containing different veggies or fruits, seasoned with salt and sugar and sometimes tempered.
Today I'm sharing the recipe of onion and tomato raita. I tempered it with curry leaves and red chili. It was chilled, sweet and delicious.
This is a recipe for 4. Let us see how to make onion-tomato recipe. For the purpose of measurement 1 cup = 250 ml.
NOTE: Sprinkling red chili powder over the raita rather than directly adding to the hot oil ensures that the red chili powder won't burn.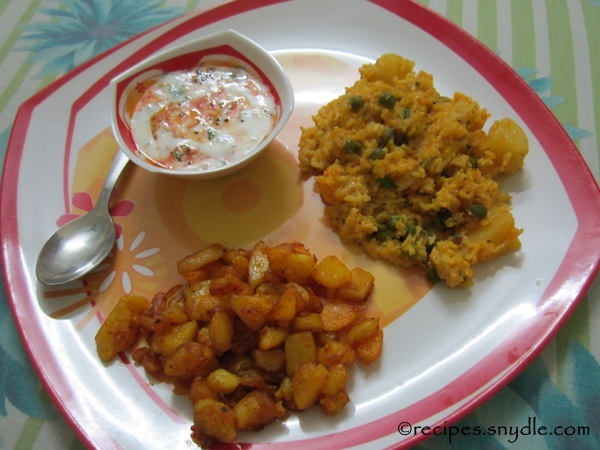 Ingredients
Thick Yogurt – 500 ml, chilled
Onion – 3 tbsp, finely chopped
Tomato – 1 small, finally chopped
Cilantro – A handful, finely chopped
Mint leaves – 2 tbsp, finely chopped
Rock salt – ½ tsp or to tatse
Sugar – 3 tbsp
For the Tempering
Oil – 1 tsp
Mustard seeds – 1/2 tsp
Curry leaves – 7 to 8 leaves
Red chili powder – 1/2 tsp
How to Make Onion-Tomato Raita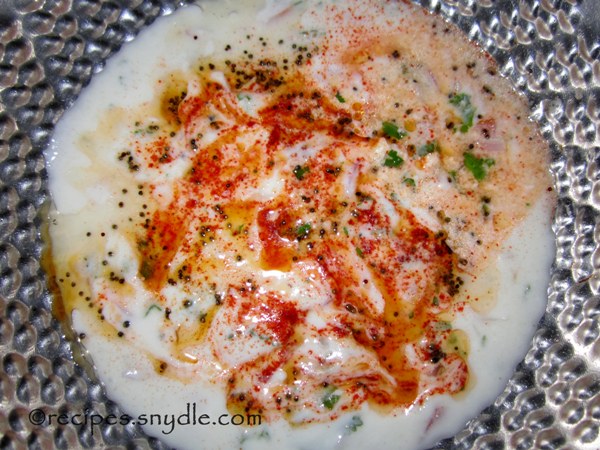 Whisk the thick yogurt in a bowl till it is smooth.
Add in the sugar and whisk the yogurt with a light hand till the sugar dissolves completely into it. Season it with rock salt.
Add in the chopped onion, tomato, cilantro and mint leaves. Mix well.
Now we would prepare the tempering for the raita. Heat some oil in a pan. Add in the curry leaves sauté for 10 to 15 seconds. Toss in the mustard seeds and allow them to splutter.
Sprinkle the red chili on the raita and pour over it the hot tempering of mustard seeds and curry leaves.
Give it a quick and light stir and we are done! Onion-Tomato Raita is ready. Serve with khichdi, pulao, biryani or with roti and side-dish of your choice.