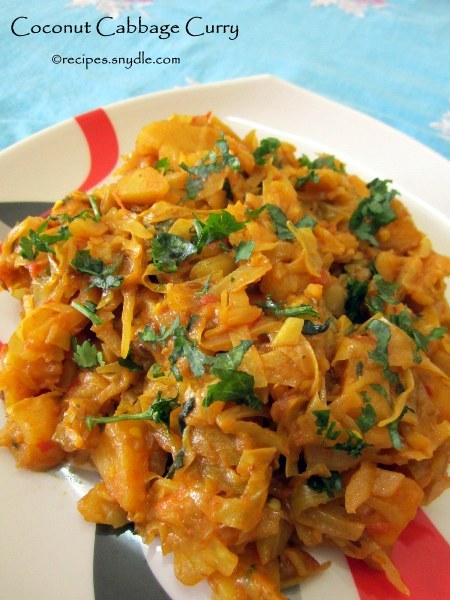 Hello folks. I am back with a side-dish recipe today. It is another recipe of how I make cabbage. Actually, I came up with this recipe after I tasted a similar cabbage dish in a restaurant. I tried to recognize as many ingredients as possible. It also had a prominent taste of coconut milk. I like the flavor of coconut milk and it paired up really well with cabbage and all the spices.
The flavors are really fresh. It goes well with roti, parathas and even dosas. This recipe serves 4. Let us see how to make this tangy, spicy and coconutty cabbage curry.
Ingredients
Cabbage – 400 grams, finely shredded
Potato – 1 medium, diced
Tomato – 1 large, finely chopped
Green chili -3, split lengthwise
Garlic – 6 flakes, finely crushed
Ginger – 1/2 inch piece, finely crushed
Cumin seeds – 1 tsp
Curry leaves – 8 to 10 leaves
Red chili flakes – 1 tsp
Turmeric powder – 1/2 tsp
Coriander powder – 1/2 tsp
Jeera powder – 1/2 tsp
Asafoetida / Hing- A pinch
Salt – To taste
Lemon juice – 1 tsp
Sugar – 1/2 tsp
Thick coconut milk – 150 ml
Oil – 2 tbsp
Cilantro – For garnish
How to Make Coconut Cabbage Curry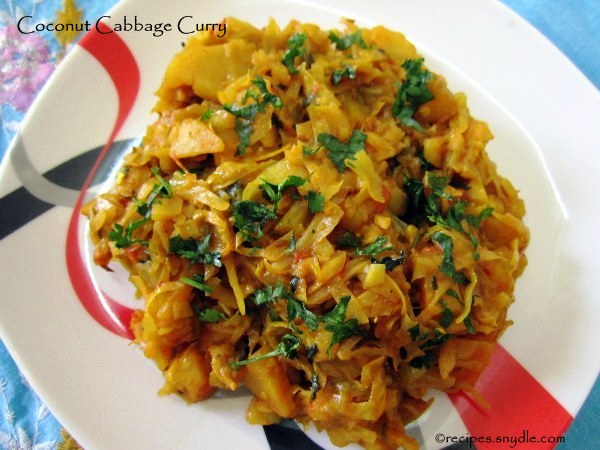 Heat oil in a pan and add cumin seeds and allow them to sizzle. Toss in the curry leaves and asafoetida and sauté for 2-3 seconds.
Add in the crushed ginger and garlic and sauté for a minute till the raw smell goes away.
Add in the chopped tomato, green chilies and some salt. Sauté for a minute till the oil begins to separate.
It's time to add the spices – red chili flakes, jeera powder, turmeric powder and coriander powder. Sauté for a minute.
Add in the dices of potato and shredded cabbage. Combine everything well till the spices coat the cabbage. Pour in the thick coconut milk and check the salt.
Cover the pan with the lid and allow it simmer for about 15 minutes till the veggies are well cooked.
Cabbage will reduce to half its volume and oil will begin to separate. Finish with lemon juice, sugar and chopped cilantro. Mix well. Coconut cabbage curry is ready! Serve hot with roti or dosai. Enjoy!