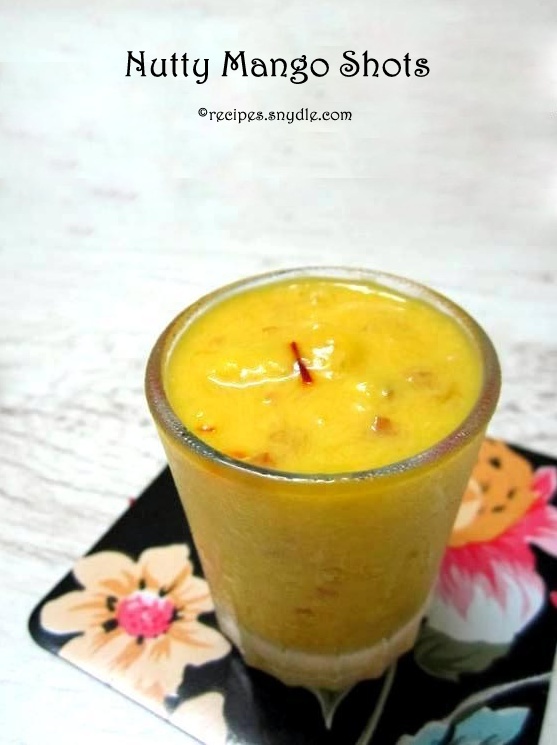 Hello foodies. Mangoes are the only reason for me to love summers and look forward to it every year. Today's recipe is a mango-based recipe. I had one mango left in my kitchen. It was far too less to make a cake using it. I didn't want to consume it as is either. So I made this simple and yummy recipe that I like to call Nutty Mango Shots.
Mango shots are served chilled. It uses quite a few ingredients and gets ready in a jiffy. It is a great dessert to make when you have unannounced guests.
I have already shared the recipes of Mango Milkshake and Mango Lassi. Do check them out too. Let's get started with the recipe of Nutty Mango Shots. I used a very sweet, ripe Kesar Mango. You can use any variety of your choice. Just that the mango should be pulpy and not fibrous. I used almonds. You can use any nuts of your preference. This recipe yields 3 shots. But the pictures show only 2 of them because I ate the other one as I was making them.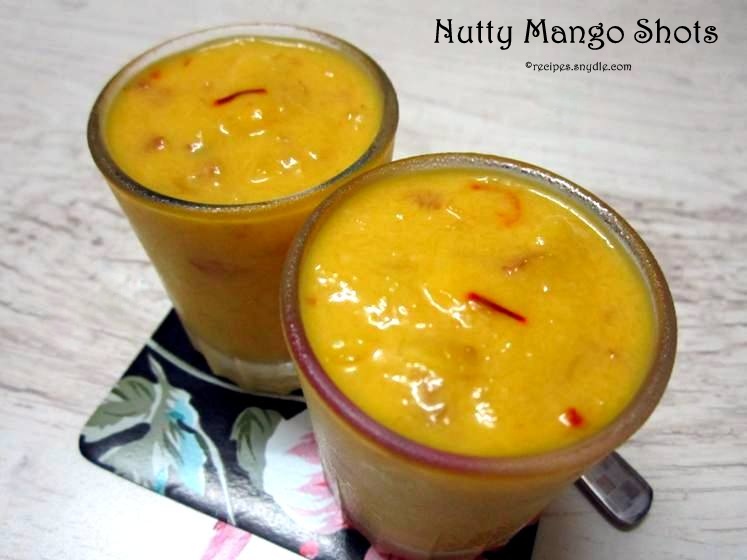 Ingredients
Kesar Mango – 1 medium, ripe and sweet
Condensed milk – 3 tbsp
Fresh cream – 5 tbsp
Softened butter – 2 tsp
Saffron – 10 strands
Almonds – 6, dry-roasted and coarsely ground
Salt – a pinch
How to Make Nutty Mango Shots
Take almonds in a pan. Dry-roast them lightly for about 5-6 minutes till they become aromatic on low heat. Allow them to cool and then ground them coarsely.
Wash and peel the mango. Chop its pulp and pulverize it lightly. You may make a puree if you like smooth texture. I like it chunky so I pulverized the mango pulp lightly.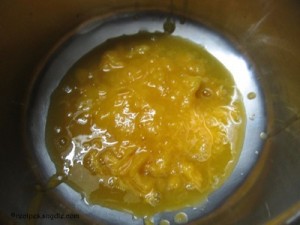 To the mango pulp add the fresh cream, condensed milk and butter.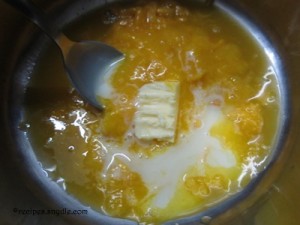 Give it a nice whisk to combine everything together. Keep it on low heat.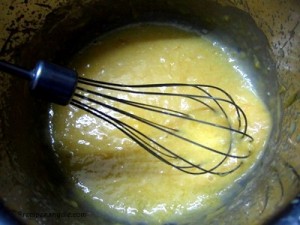 Add in the dry-roasted, coarsely ground almonds and whisk it gently.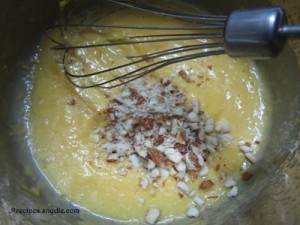 Cook the mango pulp on low heat till it begins to bubbles up. Add in the saffron strands and whisk again and continue to cook for 5 minutes till it becomes a little thick.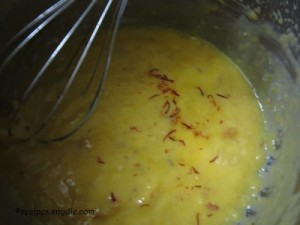 Turn the heat off and all the mango mixture to cool. While it has almost cooled off, just slightly warm, add in the salt and whisk again.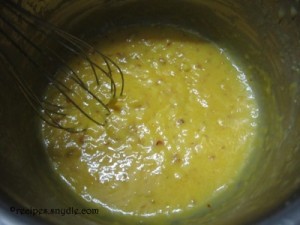 When the mango mixture has cooled off completely, fill it into the shot glasses and seal the glasses with aluminum foil (I forgot to take a pic with the foil on) . Keep it in the freezer for 8 -9 hours to set.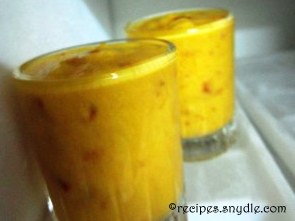 When nicely set, serve the Nutty Mango Shots as dessert. Enjoy!