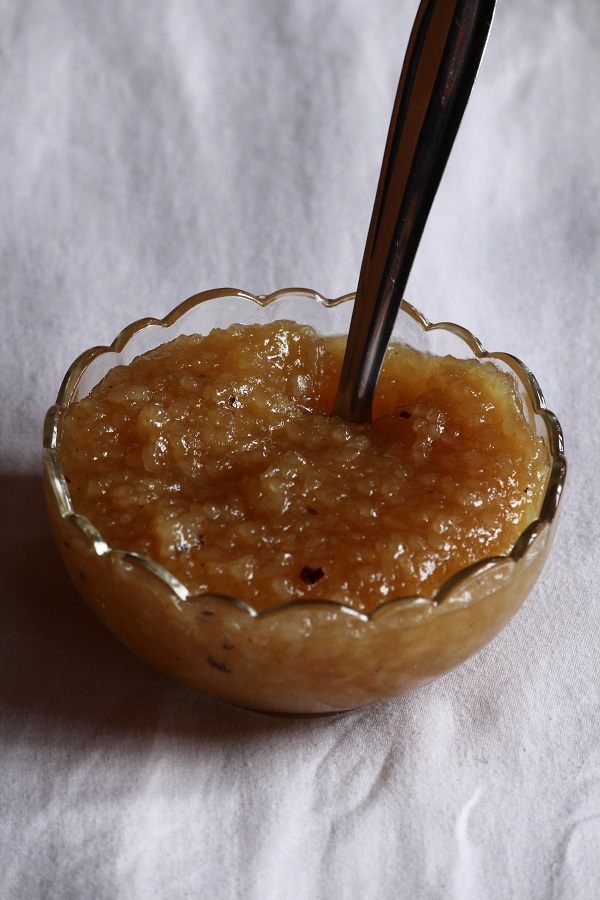 Nei payasam is a tasty payasam recipe.  It is a special sweet dish which is prepared as Neivedhyam in Kerala.  This payasam is very famous in temples of Kerala.  It is a tasty combination of rice, jaggery, ghee and grated coconut.  This payasam is a treat for all payasam lovers.  Moreover, it is very easy to prepare too.  I prepared this today for vishu sadya and thought of celebrating it here.  nei means ghee in Malayalam meaning, this payasam has a lot of ghee added to it.
I have followed an easy method for making this payasam by cooking rice in a pressure cooker.  But the payasam really tastes great when cooked in an urulli.  This payasam has a deep brown color which usually comes from jaggery.  The color of the payasam changes depending on the color of the jaggery.  '
unakkalari or short grain rice gives this payasam a nice taste but long grained rice like basmati rice will not give this payasam its authentic taste.
Nei payasam recipe 
Ingredients 
raw rice – 1/2 cup
jaggery syrup – 1/2 – 3/4 cup
grated coconut – 3/4 cup
ghee – 2 tablespoons
dry ginger powder – a pinch
water – 2 cups
cashew – 3 – 4
raisins – 3 – 4
cardamom powder – 1/4 teaspoon
how to make nei payasam 
1. Rinse the rice well in water.  Add 2 cups of water and pressure cook for 3 whistles.  Wait till the pressure subsides.  Mash the rice well with the back of a ladle.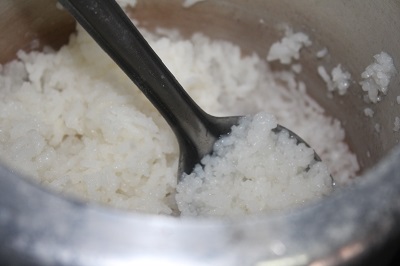 2.  In a heavy bottomed pan, add jaggery and 1/4 cup of water.  When the jaggery melts completely, strain it to remove the impurities.  Clean the vessel and pour te strained jaggery syrup back into the same vessel.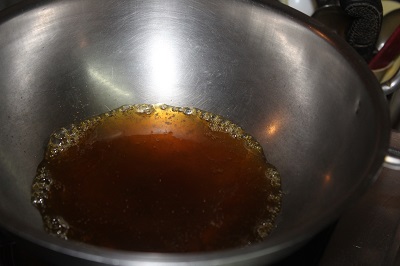 3.  Let this jaggery syrup boil for some time till it starts thickening.  Add the mashed rice to the jaggery syrup and mix well for a few minutes.  Add grated coconut and mix well.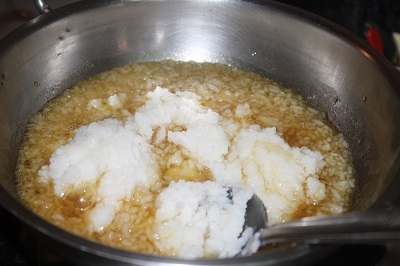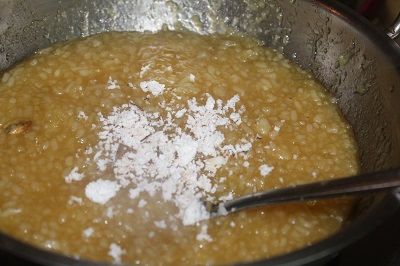 4.   Add 2 tablespoons of ghee, mix well.  Keep stirring until payasam starts thickening and starts leaving te sides of the pan.  Don't cook for a long time.  Turn off the flame.
5.  Add 1 tablespoon of ghee in a pan.  Add cashew, and fry till it starts changing color.  Transfer it to a plate.  Add raisins and fry till it puffs up.  Transfer it to a plate.  In the same pan, add coconut bits and fry till it becomes golden brown color. Transfer it to a plate along with cashew and raisins.
6.  Add the roasted ingredients to the payasam along with cardamom powder, and dry ginger powder.  Mix well.