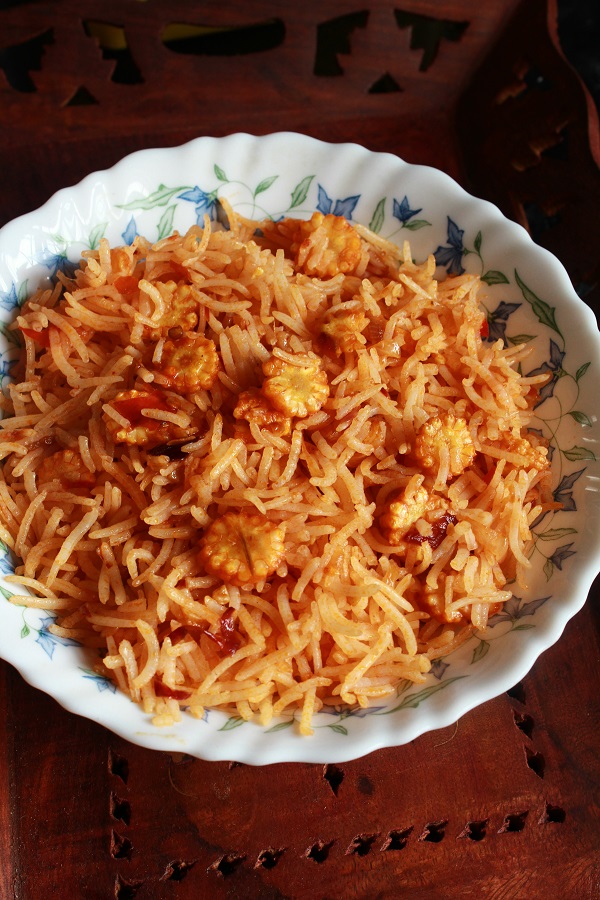 Schezwan fried rice is a very popular rice dish from Indo-Chinese cuisine.  This fried rice recipe makes use of schezwan sauce and hence the name schezwan fried rice.  It is a very popular dish which can be made in a jiffy.
In this recipe, I have used baby corn, but you can use any vegetable used while making fried rice.  You can use carrots, baby corn, bell peppers, cabbage, beans.  Here instead of onion, spring onion white and greens are used for making this fried rice. You can increase or decrease the spiciness according to your taste preference.
Usually, schezwan peppers are used for making schezwan sauce, but here, I have used dry red chilies.  You can increase or decrease the amount of chillies according to your requirement.
This rice dish can be served with hot Manchurian gravy or any other indo chinese gravy. Here's how to make schezwan fried rice recipe.  Do try it out and let me know your feedback.
baby corn schezwan fried rice recipe
Ingredients 
cooked basmati rice – 1 and 1/2 cups
chopped baby corn pieces – 1 cup
schezwan sauce – 4 tablespoons
soya sauce – 1/2 teaspoon
vinegar – 1/2 teaspoon
spring onion whites – 1/2 cup finely chopped
spring onion greens – 1/2 cup finely chopped
olive oil – 1 tablespoon
salt – to taste
for schezwan sauce 
sesame oil – 3 tablespoons
dry red chilli – 10 – 12
garlic – 2 cloves crushed
sugar – 1 teaspoon
lemon juice – 1/2 teaspoon
tomato puree – 2 teaspoon
salt – to taste
making schezwan sauce 
1. Soak dry red chilli in warm water for 10 – 15 minutes and then grind it to a smooth paste.
2.  Heat oil in a pan.  When the oil is hot enough, add all the ingredients one by one except lemon juice.  Cook until everything gets mixed well and oil starts separating.  Remove from heat, add lemon juice and mix well.
how to make baby corn schezwan fried rice 
1. Wash and soak basmati rice in water for 15 – 20 minutes.  Drain the excess water.
2.  Add the rice along with enough water in a bowl.  To this add 1/4 teaspoon of salt, and 1 teaspoon of oil.  Bring it to a boil. Reduce the flame and cook till the rice gets cooked well.  Pour the rice into a colander and spread the rice on a plate to cool.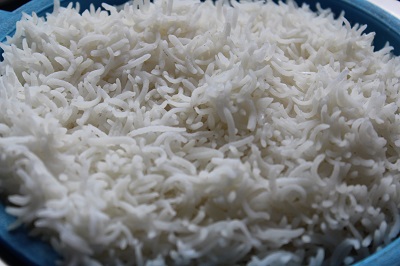 3.  Meanwhile, boil water in a pan.  When the water starts boiling, add the baby corn pieces and cook for 2 – 3 minutes.  Take the baby corn pieces out, let them cool.  Chop them into pieces and keep aside.
4.  Heat oil in a pan.  Add chopped garlic and saute till the raw smell of garlic goes off. Add chopped spring onion whites and saute well.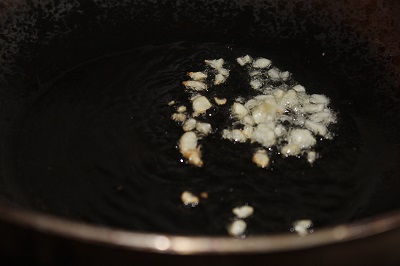 5.  Add the baby corn pieces and saute well till they get cooked well but they should be crunchy.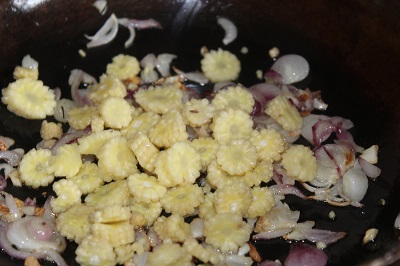 6.  Add schezwan sauce, soya sauce, vinegar, and mix well.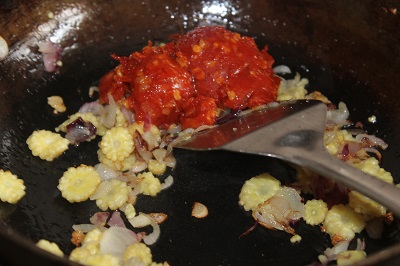 7.   Next add cooked rice, a few drops of oil, salt and cook for a few minutes in medium flame. Mix gently without breaking the rice. Garnish with spring onion greens and serve schezwan fried rice hot.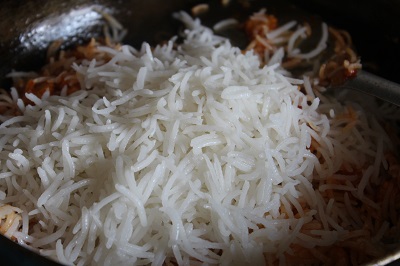 Tips
1.You can add vegetables like capsicum, carrot, and other veggies according to your choice.
2.  Make sure to saute the veggies in high flame so that they retain their crunchiness.