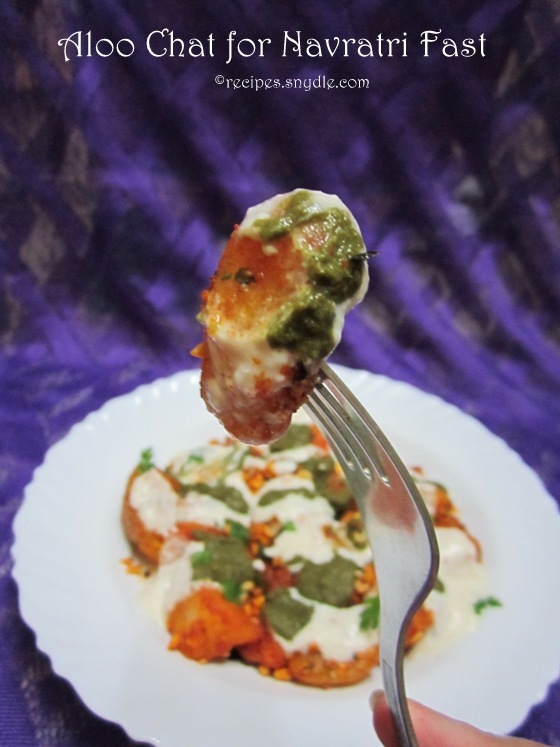 NOTE – The ingredients mentioned in this recipe are allowed during Navratri fast in our community. The ingredients allowed or forbidden during Navratri fast vary from one community to another. Kindly consult the elders in your family if you are not sure about any ingredient mentioned in this recipe.
Hello buddies. Today I am sharing with you one of the most interesting potato recipes ever! You can say that it is an Indianized version of the potato salad. If you are looking for some quick meals that would satiate your desire to eat something that will make your taste buds dance with joy, you are in for a treat. This is the recipe of aloo chaat.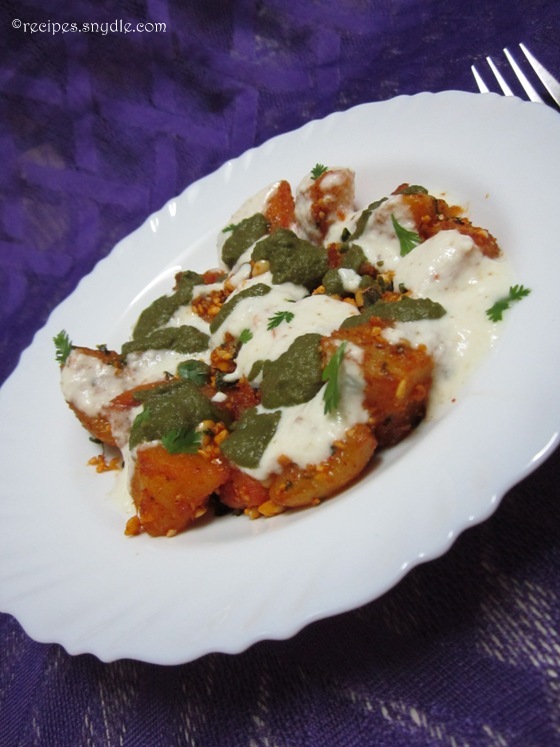 Aloo Chat is a popular street food in India. This variation of Aaloo Chat is ideal to be had during the Navratri fast. This recipe makes easy meals for two. It is piquant, zesty and tangy. It has the warmth of the spiced potatoes, sweet creaminess of the yogurt and the zest of mint chutney. You can make it ahead of time, store it in the fridge and have it anytime you want.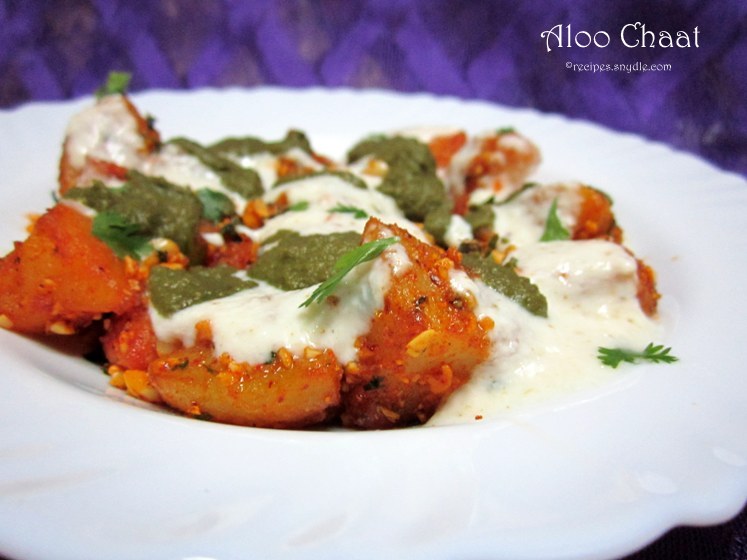 Since this is one of those Navratri fast recipes, I haven't used any onion, garlic or other foods that are not permissible for consumption during the festive season. When you are planning menu ideas for Navratri, don't forget to reserve a spot for this Aloo Chat recipe.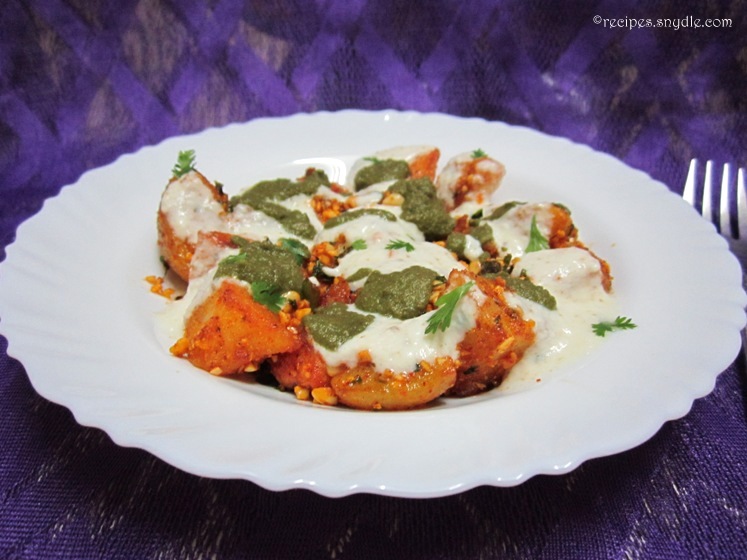 Let's begin with the recipe for aloo chaat. This recipe yields two servings. For the purpose of measurement, 1 cup = 250 ml.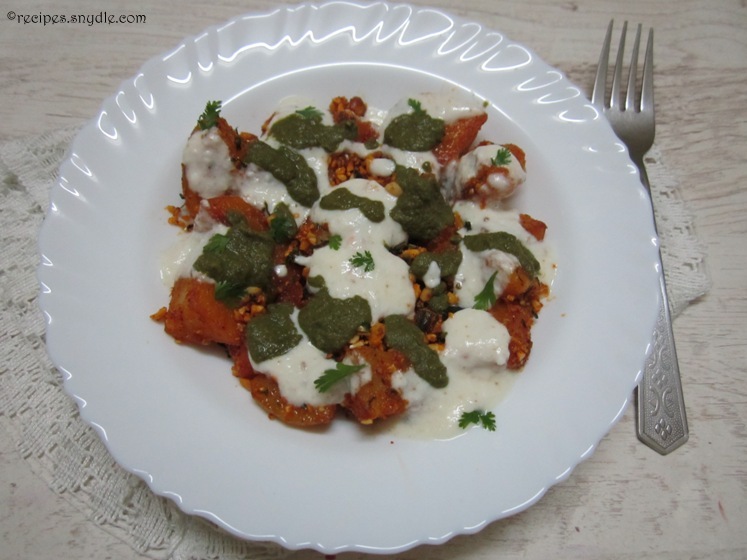 Ingredients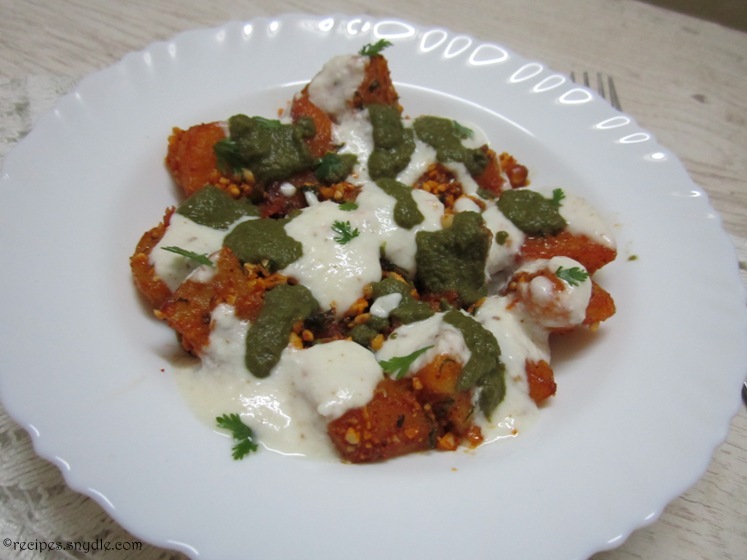 For the Spiced Potato
Potato – 4 medium, boiled and cut into 1-inch pieces
Oil – 1 cup, for deep-frying
Kashmiri red chili powder – 1 tsp
Red chili powder – 1/3 tsp or to taste
Rock salt – to taste
Curry leaves – 8 leaves, chopped
Coriander leaves – a handful, finely chopped
Green chilies – 3, split lengthwise
Sugar – 1 tsp
Lemon juice – 2 tsp
Groundnuts – 1/3 cup, roasted, peeled and coarsely ground
For the Yogurt
Chilled yogurt – 1/3 cup
Sugar – 5 tsp or to taste
Roasted cumin powder – 1/2 tsp
For the Mint Chutney
Recipe here
Kindly omit the garlic and onion from the said recipe. Instead, add 3 tbsp of shredded fresh coconut.
How to Make Aloo Chat
Heat oil in a skillet. When the oil is sufficiently hot, add in the diced potatoes and sprinkle some rock salt on them. Do not stir them around, else they might break. Let the potatoes get fried on high heat on the underside till golden and then flip the, and allow them to become golden on the other side. Remove them onto a plate.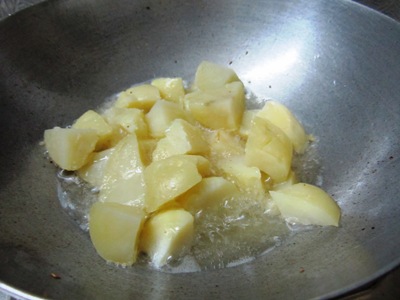 Remove all the oil from the skillet and just leave 1 tbsp of oil in it. Add the fried potatoes back into the skillet.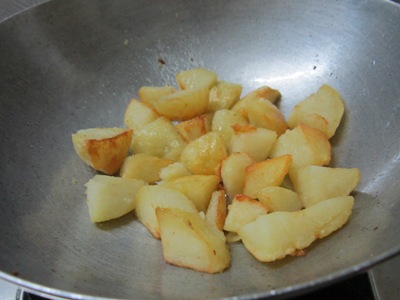 Add in the red chili powder, Kashmiri red chili powder, curry leaves, groundnuts, and green chilies. Stir fry on medium heat for a minute.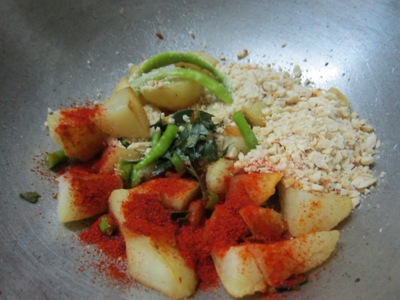 Add in the chopped cilantro, sugar, and lemon juice. Mix well.  check the salt. Add some more if needed. Stir fry for half a minute. Switch off the flame.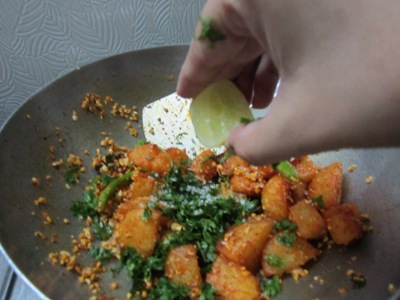 Spiced potatoes are ready.
Make the yogurt dressing by adding sugar to taste and some roasted cumin powder. Mix well till the sugar melts into the yogurt.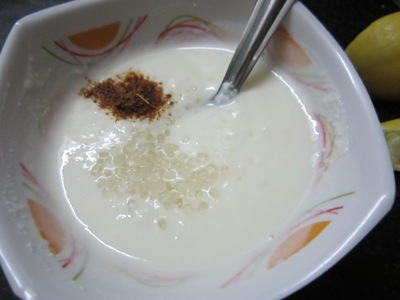 You can serve this chaat hot, warm or cold. To assemble, place the spiced potatoes onto a plate.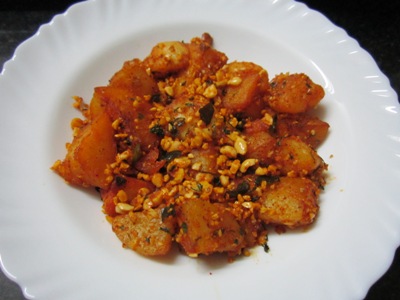 Pour some yogurt dressing over the potatoes, as much or as little as you like.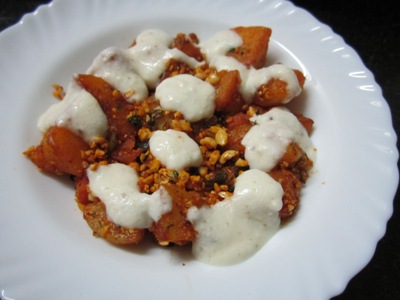 Add some mint chutney as per your liking.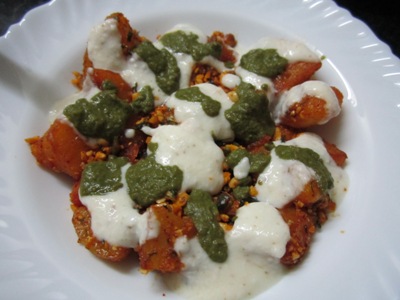 Garnish with some cilantro. Aloo Chaat is ready! Serve immediately once assembled. Enjoy!