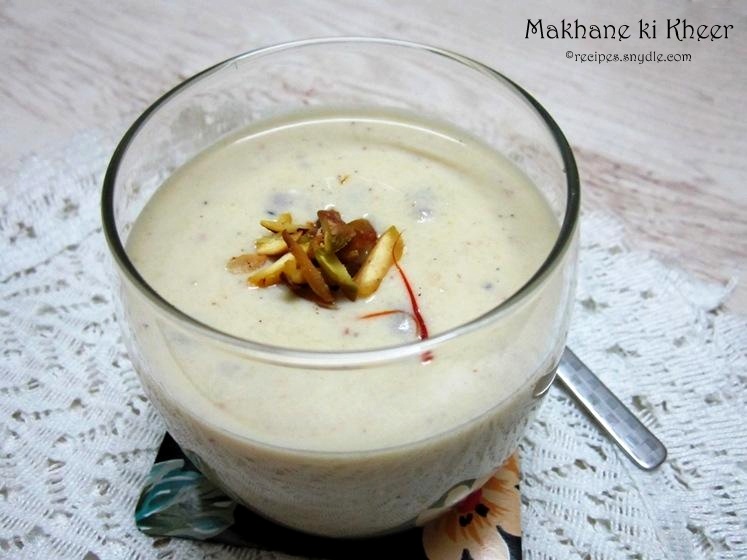 NOTE – The ingredients mentioned in this recipe are allowed during Navratri fast in our community. The ingredients allowed or forbidden during Navratri fast vary from one community to another. Kindly consult the elders in your family if you are not sure about any ingredient mentioned in this recipe.
Hello buddies. Today is the fourth day of Navratri festival and I have been whipping up a storm in my kitchen. I am going to share a dessert recipe. It's called Makhane ki Kheer. No festival is complete without Indian desserts. And desserts are the highlight of the festive times.
Makhana is the foxnut, that we also know as the lotus seeds. Makhana ki Kheer is a porridge-like dessert made with milk. The milk is boiled, reduced and thicken. Then in goes the roasted makhanna or foxnut and then it is finished off with generous amounts of nuts and some flavoring with either cardamom or nutmeg. I have used nutmeg today for a change.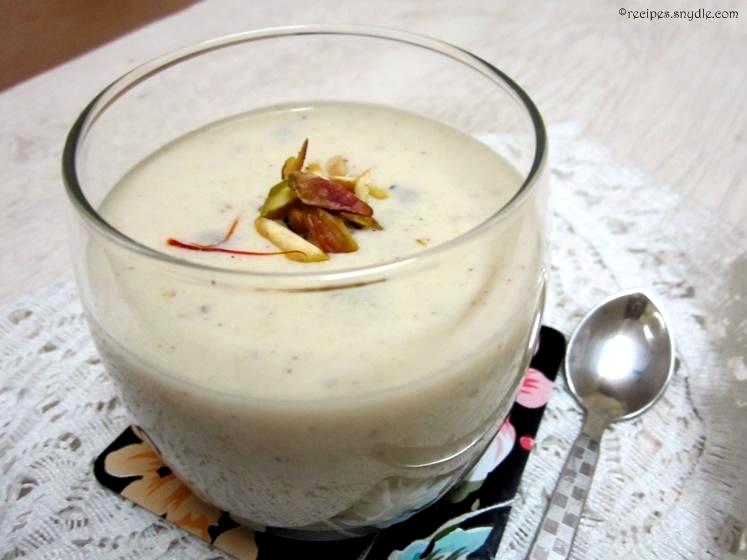 It is extremely easy to make makhana kheer. It won't take much longer once the milk is reduced to half. That's the only part during which you have to be a bit patient. The rest of it is a breeze. So let's get started with the Navratri fasting recipe of makhane ki kheer. This recipe yields 4 servings. For the purpose of measurement, 1 cup = 250 ml.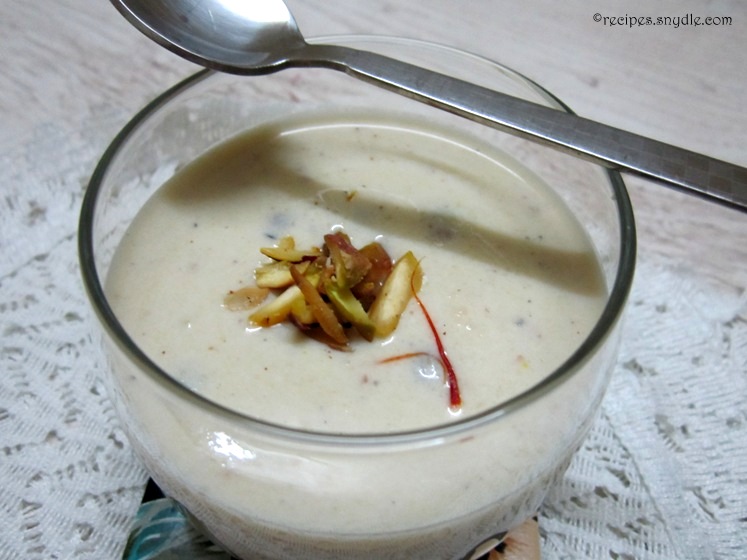 Ingredients
Milk – 4 cups
Makhana/Foxnuts – 1 and 1/4 cup
Pistachios – 15
Cashews – 15, broken into small bits
Raisins – 3 tbsp
Chironji/Charoli – 1 tbsp
Sugar – 1/3 cup or to taste
Ghee – 2 tsp
Kesar/Saffron – 10 strands
Nutmeg – 1/3 tsp, grated
How to Make Makhane ki Kheer
In a pan, heat 1 tsp ghee. Add in the makhana/foxnuts. Roast on low heat for 10-12 minutes till the makhana get some golden color. They will also lose their chewy texture and become crunchy.
Take them out on a plate and allow them to cool.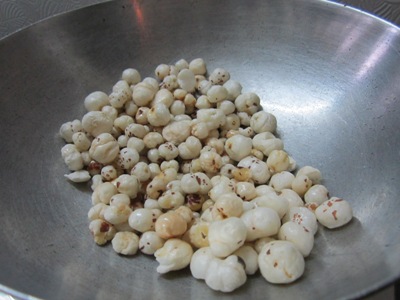 Add in another 1 tsp or two of ghee in the pan and fry the raisins till they become puffy. Take them out on a plate and set them aside. Fry the cashews, chironji and pistachios one by one the same way till they are golden, crunchy and fragrant. Take them out on a plate as well.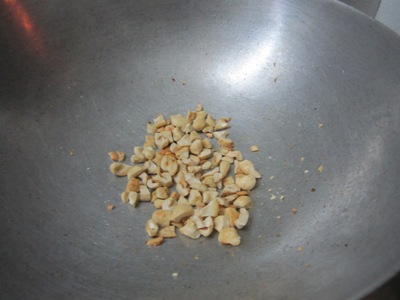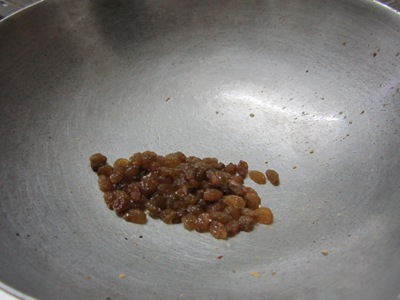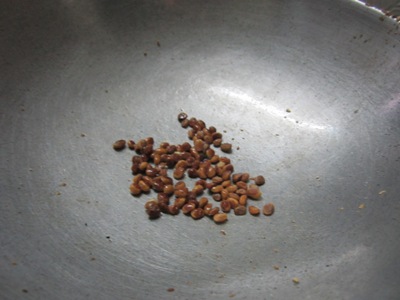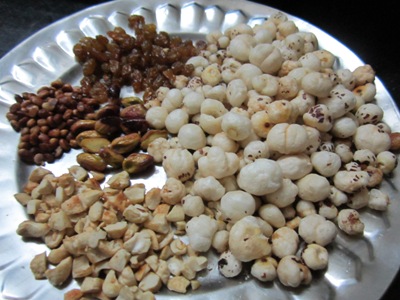 Grind 3/4 cup of makhana to a fine powder. Keep it aside.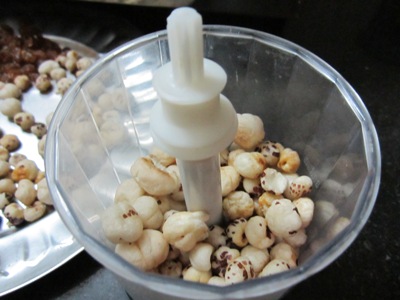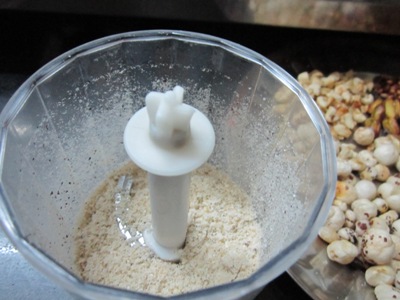 In another pan, heat milk. Bring it to a boil.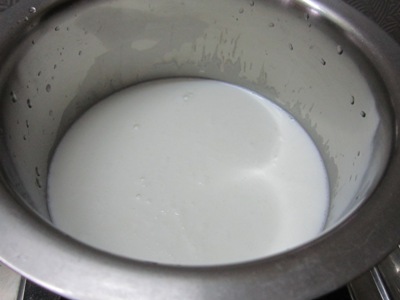 Then turn the flame between low to medium. Add in the makhana powder and whole makhana. Stir often and scrape the sides of the pan to retain the cream in the milk. This step will take about 10-12 minutes.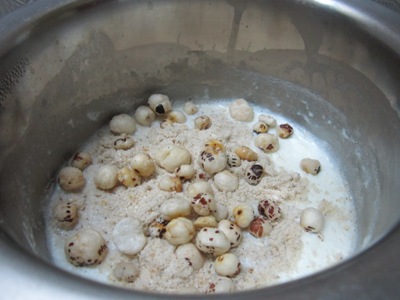 Add in the pistachios, cashews and chironji. Simmer for another 5 minutes. Stir constantly.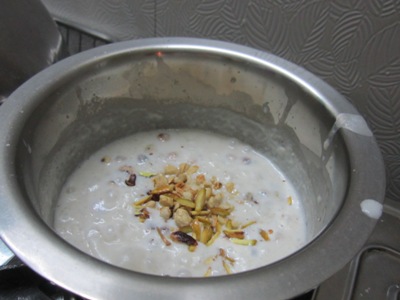 Add the saffron as well. Simmer for a couple of minutes more till the kheer thickens.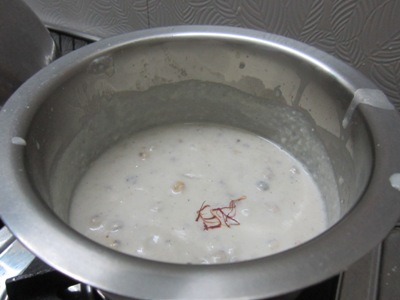 Add the nutmeg. Simmer for another 1 minute.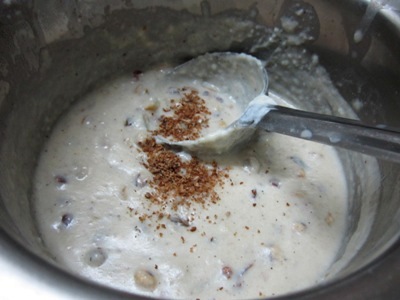 Makhana kheer is ready. Switch off the flame. Serve the kheer hot or chilled, whichever way you like. Serve them into bowls or cups. Decorate them with some slivered pistachios. Enjoy!