Longaniza or sausage is a favorite breakfast food of many Filipinos. Longaniza or longaniza is similar to chorizo and Portuguese linguica. It is available in many supermarkets and wet markets across the country. If you don't like buying premade sausage then this article will teach you how to make homemade sausage more popularly known in the Philippines as longanisa.
Making homemade sausage is tricky because a lot of things could go wrong from curing to filling the sausage casing. But one thing for sure, whether you make the longanisa or bought it from your favorite seller, cooking the sausage properly can prevent food poisoning.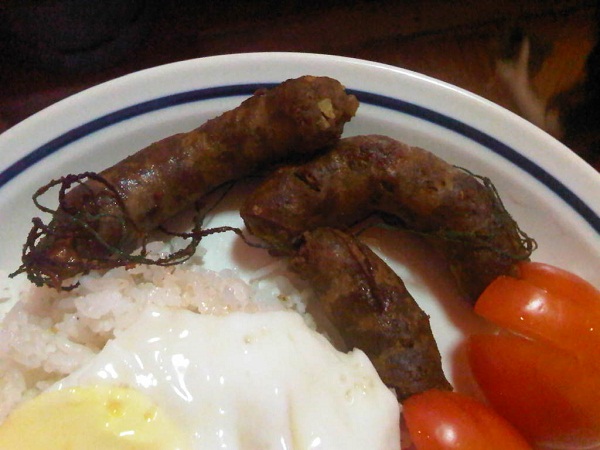 When it comes to sausage, I prefer garlicky sausage. In fact, my favorite is Vigan Longaniza. My husband and kids prefers sweet sausage or hamonado. Anyway, this article is about homemade sausage the garlicky and salty ones not the sweet type. Don't worry check out my incoming article, I'm going to feature next homemade sausage recipe for hamonado.
Homemade Sausage Recipe
Ingredients:
1 kilo ground pork
1 tbsp onions, minced
¼ cup garlic, minced
1 tsp black pepper
2 ½ tsp salt
1/3 cup soy sauce
2 ¼ vinegar
Sausage casing
Homemade Breakfast Sausage Recipe
Direction:
In a large bowl, combine all ingredients except the sausage casing and mix thoroughly until well blended.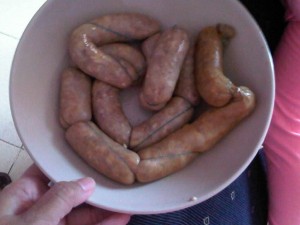 Get the sausage casing and stuff the ground pork mixture then tie every 2 inches using a string. Hang to dry the homemade sausage under direct sunlight for at least 4 hours.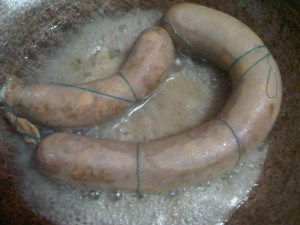 To cook sausage in a frying pan, pour ½ cup water and put in the longaniza. Cook over low heat till the liquid evaporates. Once all liquid evaporates prick sausage one by one with a fork to let out the remaining fat. If there is enough fat from the homemade sausage pan fry until brown. In case there is not enough fat, put in 1 to 2 tablespoon of oil.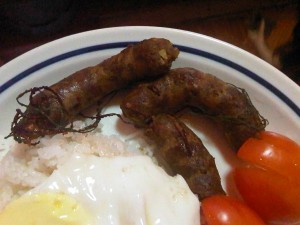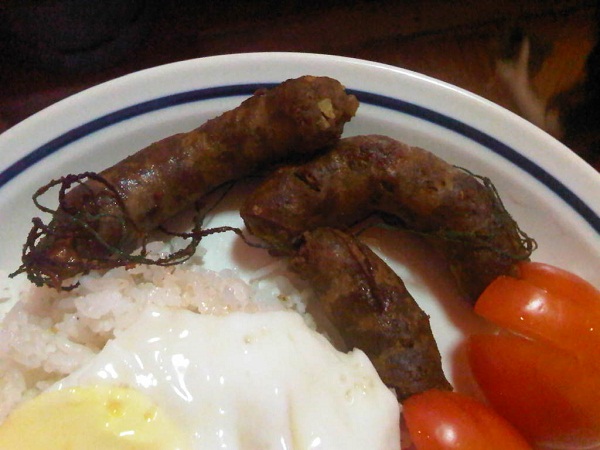 Serve with egg, fried rice, tomatoes and vinegar.
This pork sausage recipe is worth your time. If you don't eat longanisa once you try this recipe, it will be your favorite breakfast. In the Philippines, longsilog (longanisa and itlog) is a popular breakfast food of many Filipinos.
Ground Sausage Recipes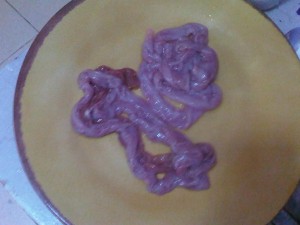 Cleaning sausage casing is very easy just put the end of the casing under running water. Soaked in salts for 5 minutes then washed. Repeat the process at least 3 times to get rid of the awful smell that comes from the intestine. Hang dry under direct sunlight for about 2 hour before stuffing it with ground sausage recipes.