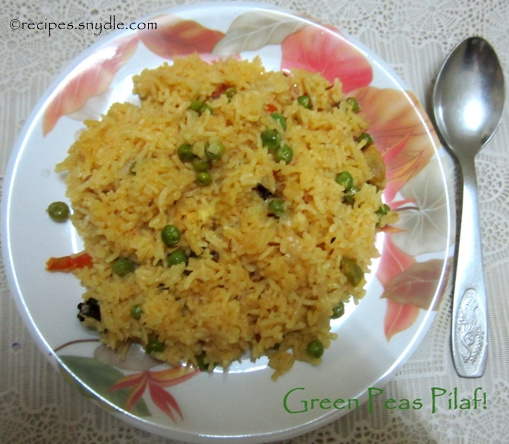 I am back with yet another rice recipe. Yes! Yet another one! Rice are just so versatile, you can cook them in hundred different ways and still not get enough of it. The magical white grains are just so delicious yet embracing the different flavors at the same time. I posted the moong dal khichdi recipe in my previous post. Now it's time for some pilao action!
Green peas pair up really well with rice. This pilaf is cooked by caramelizing the onions and using typical Indian spices, and of course green peas. This is a quick and easy recipe, just perfect for a lazy afternoon meal!
This recipe will yield 2 to 3 servings. For the purpose of measurement 1 cup = 250 ml. Let us see how to make Mutter Pulao or the Green Peas Pilaf.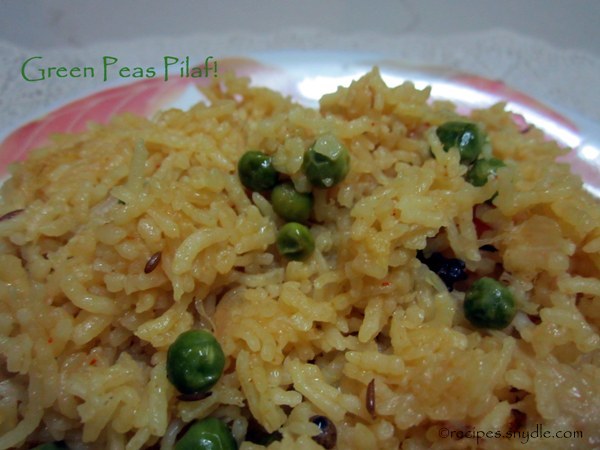 Ingredients
Rice – 1 cups, washed and soaked for 20 minutes
Onions- 1 medium, finely sliced
Tomato – 1 medium, chopped
Green chili – 4, chopped
Green peas – 1/3 cup
Hung curd – 4 tbsp
Salt – To taste
Oil – 1 tbsp
Clarified butter / Ghee – 2 tbsp
Chopped cilantro – For garnish
Hot water – 2.5 cups
Whole Spices
Cloves – 4
Black peppercorns – 4
Green cardamom – 2
Cinnamon – 1 stick, 1 inch
Bay leaf – 1
Cumin seeds – 1 tsp
Star anise – 1
To Grind into a Paste
Onion – 1 large, diced
Ginger – 1 inch piece
Garlic – 10 to 12 cloves
Red chili powder – 1 tsp
Turmeric powder – 1/2 tsp
Cilantro – 1/3 cup
How to Make Green Peas Pulao
Grind together the onion, ginger, garlic, red chili powder, turmeric powder and cilantro to a fine paste. Set it aside.
Heat oil and ghee together in a pan and toss in the cloves, cinnamon, black peppercorns, cardamom and bay leaf and sauté till it gets aromatic. Now add in the cumin seeds and allow them to sizzle.
Add in the sliced onions and sauté them till they turn brown, taking care not to burn them. Add in the ground paste and sauté it till it loses its raw smell. This may take about 10 minutes.
Add in the chopped tomato, green chili and green peas and some salt. Cook till the tomato gets soft. Add in the hung curd and sauté for a minute on low heat.
Now toss in the soaked rice and combine everything well, so that the spices coat the rice. Sauté the rice with the spices for about 5 minutes. Add a little water when you think the mixture looks too dry. Stir it occasionally with a light hand so that not to break the grains of rice.
Pour in the hot water and adjust the salt. Cook the rice with the lid on, till the rice is cooked well. This may take about 15 minutes.
When the rice is done, garnish the mutter pulao with cilantro.
Green peas pilaf is ready to be served. Enjoy with curd and salad.