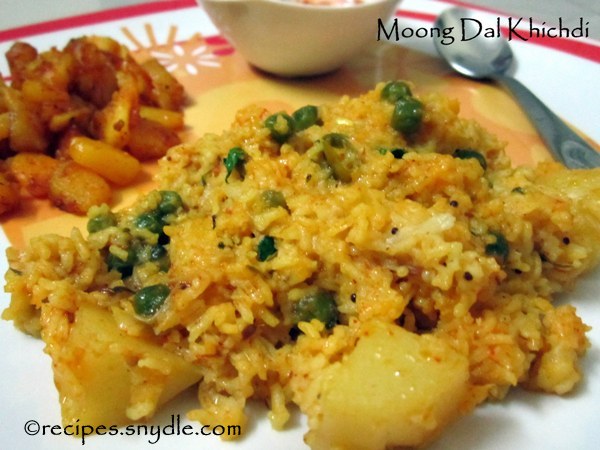 After dal and rice, khichdi is the next dish on my list of comfort food. Well some of you would wonder what the difference is, because khichdi is made from dal and rice. But what makes khichdi stand apart from the dal and rice is the fact that it consists of different set spices and the method of cooking also differs.
The dal and rice are combined together and pressure-cooked with onions, tomato and spices. I used yellow moong dal to make this khichdi because it is so light. You can use toor dal (yellow pigeon pea) instead of moong dal. It will turn out equally delicious.
This recipe will yield 3 to 4 servings. For the purpose of measurement 1 cup = 250 ml. Let us see how to make moong dal khichdi.
Note : You can replace Everest Meat Masala with the meat masala of your favorite brand. Or you can simply add garam masala, if you don't have meat masala at hand.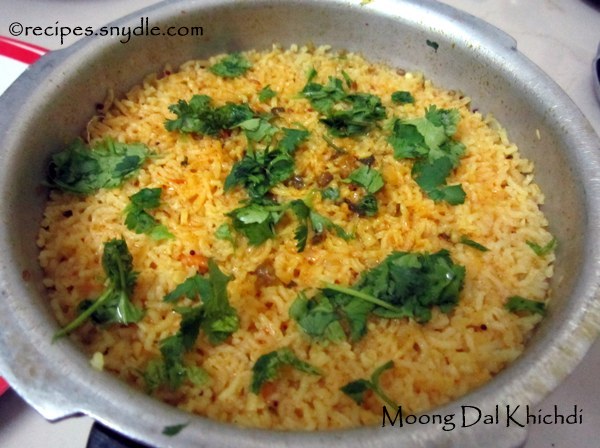 Ingredients
Rice – 1 cup
Yellow moong dal – 1 cup
Onion – 2 medium, chopped
Tomato – 1 large, chopped
Green Chili -3, chopped
Ginger – 1 inch piece, finely crushed
Garlic – 10 cloves, finely crushed
Potato – 1 medium, diced
Green peas – 1/2 cup
Red chili powder – 1 tsp
Turmeric powder – 3/4 tsp
Everest Meat Masala – 1 tsp
Salt – To taste
Cumin seeds- 1 tsp
Mustard seeds- 1 tsp
Water – 2 & 1/2 cups or as needed
Oil – 3 tbsp
Chopped cilantro – a handful
Lemon juice – 1 tsp or to taste
How to Make Moong Dal khichdi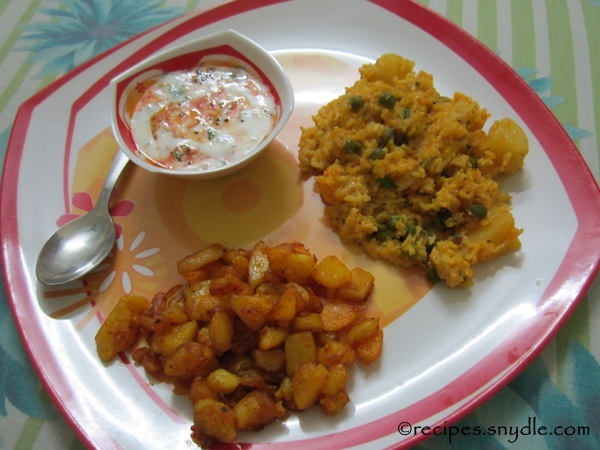 Heat some oil in a pressure cooker and toss in the mustard seeds and cumin seeds. Allow them to sizzle. Add in the chopped onion and sauté it till it turns golden brown.
Add in the crushed ginger and garlic, chopped green chilies and sauté them till they lose their raw smell.
It's time to toss in the chopped tomatoes, half of the cilantro and some salt. Cook till tomatoes get soft and oil begins to separate.
Add in the diced potato and green peas and sauté for 3-4 minutes.
Add in the turmeric powder, red chili powder and meat masala and combine everything well. Sauté it for 2 minutes.
Now we add in the rice and dal and mix nicely so that the grains get coated in the spices. Add some water and if it looks too dry. Sauté the dal and rice with the spices for  5 minutes, stirring them occasionally. If not sautéed properly at this stage, the khichdi won't taste good.
Pour in the water, adjust salt and pressure cook till 2 whistles. Khichdi is usually a little mushy. If you like the grains of rice separated, then add less amount of water and cook for 1 whistle and simmer for 2 minutes so as not to burn the khichdi.
When the pressure is released, drizzle some lemon juice over the khichdi. Garnish with some more cilantro and serve hot with raita or just plain yogurt! Enjoy!