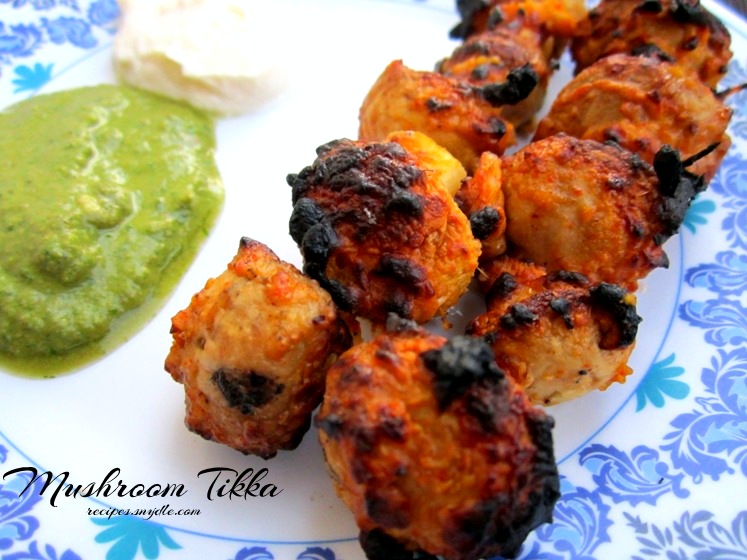 Mushroom Tikka Recipe / Tandoori Mushroom Recipe with Step by Step Pictures
Hey foodie buddies! Hope you had an awesome New Year celebration. I made some mushroom tikka for lunch as an appetizer today. Mushroom tikka or mushroom tandoori is a delicious and easy to make starters recipe. If you have a party or a small get together, you can prep this in advance and keep it in the fridge, until you are ready to grill them.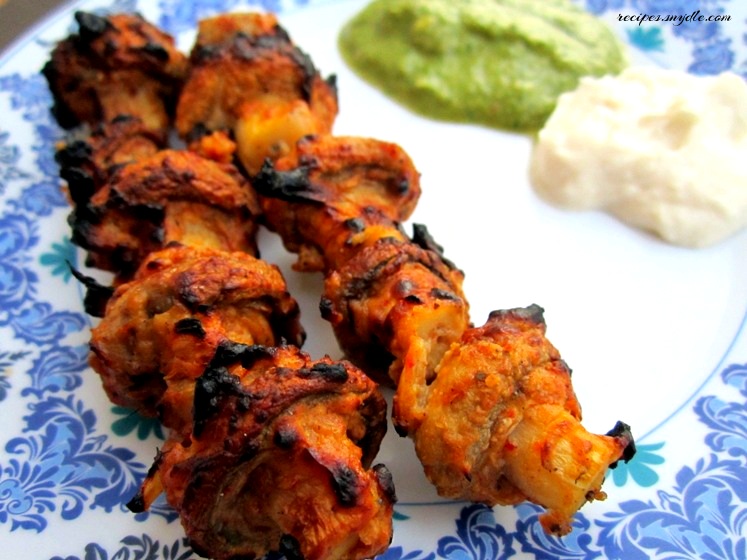 This recipe requires a tandoor or a charcoal grill. It is kind of incomplete without the smokey flavor. Undoubtedly, you could cook these mushroom tikkas on the stovetop or bake them in the oven. But let me tell you, the once grilled on a charcoal grill are the best! Recently, we bought a small charcoal grill. I have tried grilling potatoes, tomatoes, paneer and now mushrooms and the smokey flavor is just so delightful!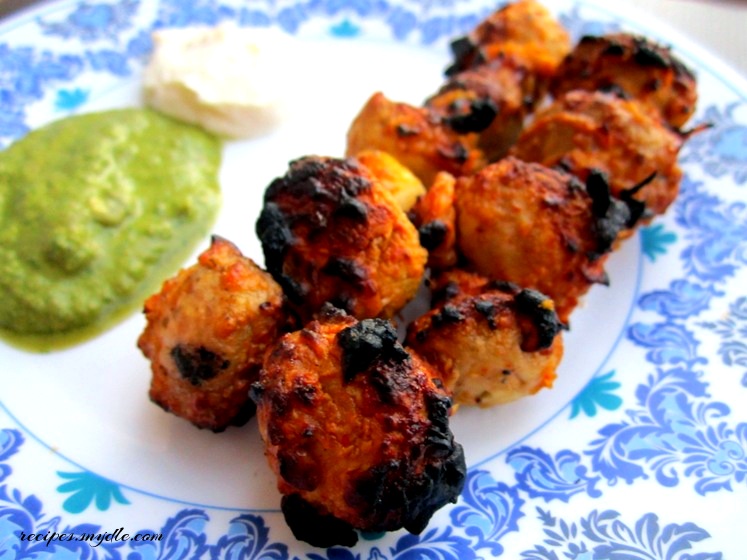 Now let's begin with the recipe of Mushroom Tikka. This recipe yields 2 servings.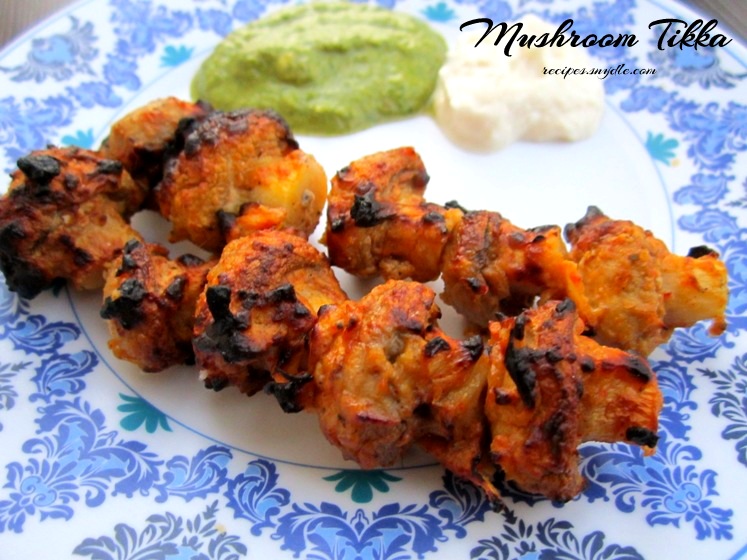 Ingredients
Button mushrooms – 200 grams, cleaned
Hung curd – 6 tbsp
Besan/Chickpea flour – 2 tbsp, roasted till golden
Chaat masala – 1 tsp
Garam masala – 1 tsp
Red chili powder – 1 and 1/2 tsp or to taste
Cumin powder / Jeera powder – 1 tsp
Coriander powder – 1 tsp
Black pepper – 1/2 tsp
Salt – to taste
Ginger – 2 tsp, finely crushed or grated
Garlic – 1 and 1/2 tsp, finely crushed or grated
Lemon juice – 2 tsp
Oil -2 tbsp
How to Make Mushroom Tikka
In a bowl take all the ingredients, except the mushrooms.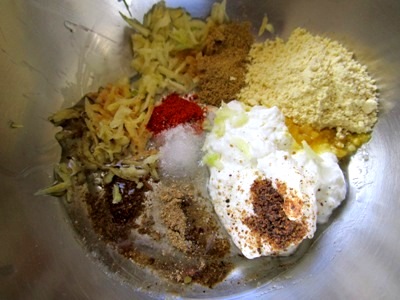 Mix well to make a smooth marinade. Make sure there are no lumps.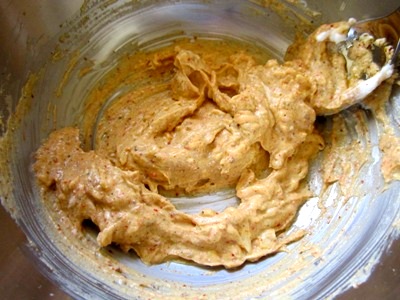 Add in the whole mushrooms.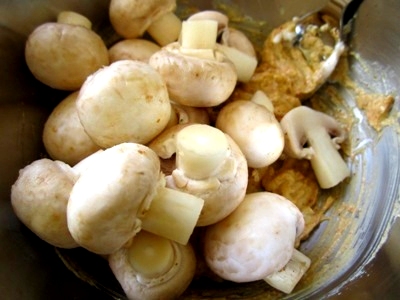 Mix gently so that the marinade evenly coats the mushrooms. Try to mix with hand instead of spoon. Cover the bowl and keep it in the fridge for about an hour.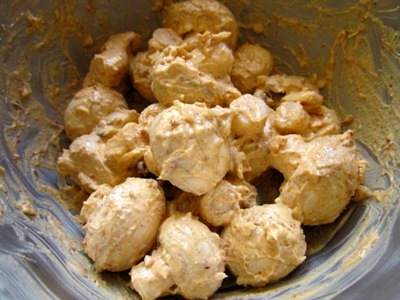 Prepare the charcoal grill. After the mushrooms have rested, give them a gentle mix once again. Put them onto the skewers and keep them on the grill.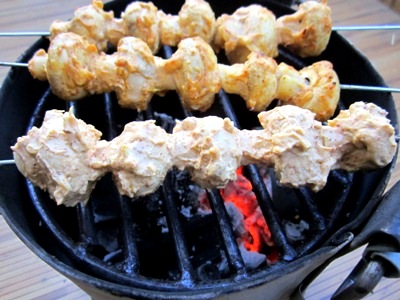 Mushrooms will release some moisture that will drip on the coals. Make sure the coals are burning robustly enough. Grill the mushrooms till they are well done and have some char. It took me about 12-14 minutes as I grilled the mushrooms turning them in between every few minutes.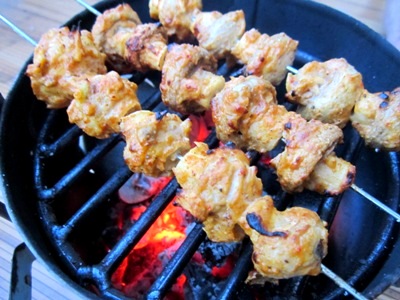 Mushrooms shrink in size a bit, that how you know they are well done. Remove the skewers off the grill and with the help of tongs, remove the grilled mushrooms onto a serving plate. Serve hot with green chutney and some Lebanese garlic sauce. Enjoy hot!