Moru kachiyathu is a favourite amoung most of the Malayalees.  There are certain dishes which are  simple but yet very close to the heart and this is one such dish.  It is very easy to make, simple and tasty.  Even bachelors can try making this dish.  My cousin who leaves abroad always makes this dish for lunch along with some potato fry or with an omelette.  He told me that it is very  comfortable.  I also make it at night when I am very tired or lazy to cook.
Moru kachiyathu tastes great with potato roast or with simple egg omelette.  I always feel that it is a perfect comfort food which can be had at all times, even when you are not feeling well.  I have seen my mother making kachiya moru whenever someone falls ill or has serve cold or fever.  She says that it is better than fresh curd.  This tastes great with hot steaming rice.  I make it very often on sundays when we go out and don't get time to prepare an elaborate lunch.  In that case, I make this moru kachiyathu with some potato roast or omelette.  But don't add too much of water while making this dish.  Usually buttermilk is used in the preparation of kachiya moru as it does not contain butter and is light, but if you don't have butter milk, then you can use curd, but add enough water to make it thin.
To get the best taste, use sour curd.  If you use fresh curd, then you won't get the desired taste.  This dish can be refrigerated and used for 3 days.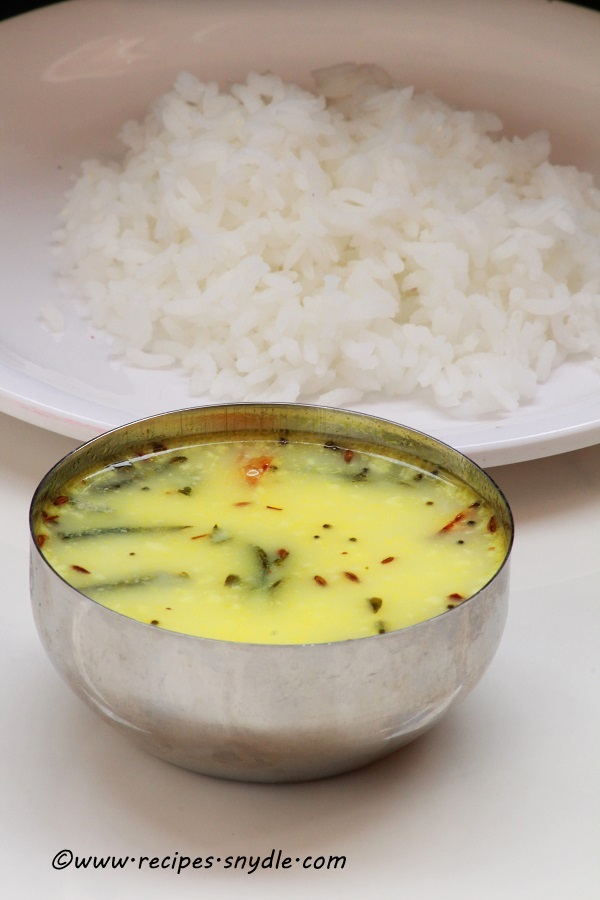 Ingredients 
Buttermilk / whisked curd – 1/2 litre
turmeric powder – 1/4 teaspoon
cumin powder – 1/2 teaspoon
salt – to taste
For tempering 
shallots – 2 (sliced)
ginger – 1 teaspoon (finely chopped)
garlic – 1 teaspoon (finely chopped) (optional )
fenugreek seeds – a pinch
dry red chili – 2 – 3
mustard seeds – 1/2 teaspoon
coconut oil – 2 tablespoon
curry leaves – few
How to make moru kachiyathu
1.  In a mixer jar, add buttermilk or curd along with salt and turmeric powder.  Add water if you are using curd.  Blend it well to make it smooth.  Transfer it to another bowl.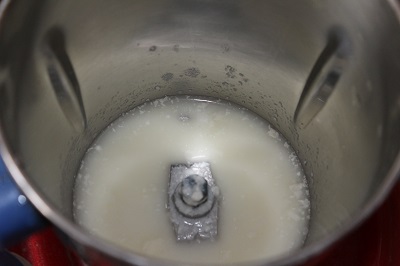 2.  In another pan, heat oil, splutter mustard seeds and fenugreek seeds.  Saute till fenugreek turns brownish in color and releases a nice aroma.  Then add curry leaves, dry red chili, ginger,  and saute for a minute.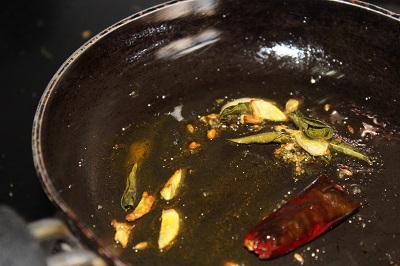 3.  Now add turmeric powder.
4.  Keep the flame low and add butter milk or sour curd.  Mix well in low flame, add salt, and then turn off the flame.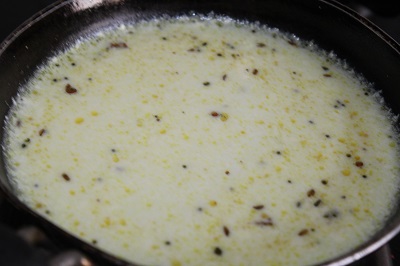 5.  Don't let it boil.
6.  Serve hot with rice and thoran or mezhukkupuratti.