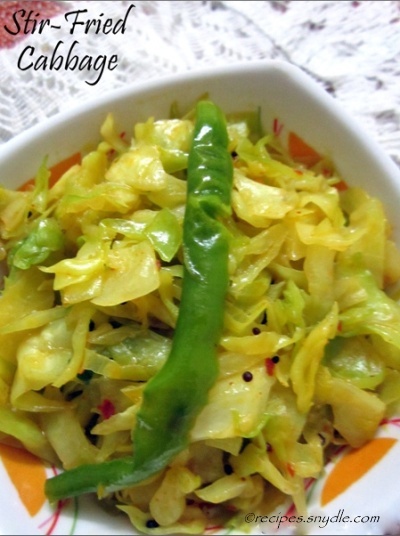 After hogging on all the fancy and rich food for several days, my soul craved for something simple. So today we made dal and rice with stir-fried cabbage on the side. Dal and rice is my ultimate comfort food. Any dry side-dish would taste fabulous. It just cannot go wrong.
Instead of the usual fried potatoes I made dry cabbage curry that gets ready within minutes. It is a humble dish that will tickle your taste-buds and comfort your mind. This is a good recipe when you cannot devote much time to cooking meals.
This recipe will serve 4. Let us see how to make stir-fried cabbage.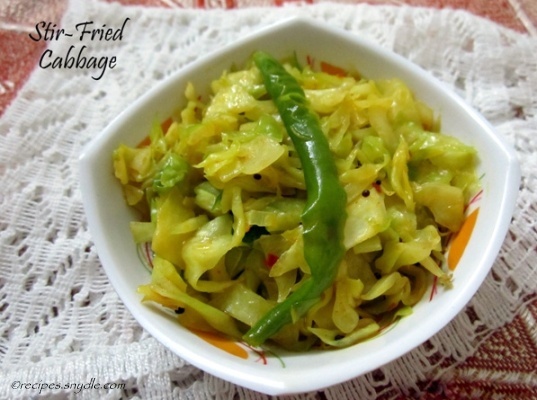 Ingredients
Cabbage – 400 grams, shredded
Garlic – 10 cloves, chopped
Green chilies – 3, split lengthwise.
Turmeric powder – 3/4 tsp
Red chili flakes – 1/2 tsp
Garam Masala – A pinch
Curry leaves – 10-15 leaves
Salt – To taste
Mustard seeds – 3/4 tsp
Lemon juice – 1 tsp
Oil – 2 tbsp
How to Make Stir Fried Cabbage
Heat oil in a skillet. Toss in the chopped garlic and sauté it till it turns golden. Add in the mustard seeds and allow it to sizzle.
Add in the green chilies and curry leaves, sauté further for a few seconds.
Now add the turmeric powder and red chili flakes. Sauté for a second taking care not to burn the spices. Quickly add in the shredded cabbage and mix well.
Season it with salt. Drizzle some lemon juice and sauté the cabbage on medium heat for 2 minutes constantly tossing it. Cook the cabbage till it is done. We want the cabbage to stay crisp and not become soggy.
Sprinkle a pinch of garam masala for some nice aroma. Give it a final toss.
Stir-fried cabbage is ready. Serve hot with dal and rice rotis.