Today's post is a healthy paratha, which is made with radish.  I used to make this paratha few years back (though not in the same way), but stopped making it when aloo paratha started taking preference over other parathas.  Recently, I got a request from a reader asking for recipes with radish.  Though I gave the suggestion as radish paratha, but she was worried about the raw smell of radish.  So here's the recipe for her..
Grown underground, radish is a white tuber packed with nutrients, vitamins and antioxidants that can not only add years to your life but can help you fight diseases like cancer and diabetes.   Radish has anti-hypertensive properties that help control hypertension or high blood pressure. Containing potassium, radish helps in countering the ill-effects of a diet high in sodium thus keeping your blood pressure in check.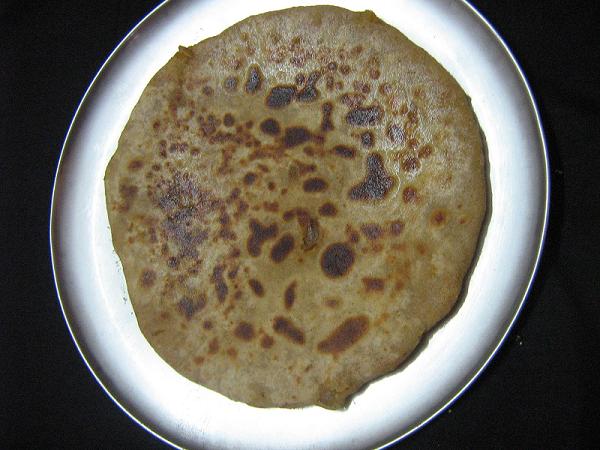 Ingredients required
for dough 
wheat flour/ atta   – 2 cups
salt   – 1/4 tsp
water     – as required
oil    – 1 teaspoon
for filling 
jeera   – 1/4 teaspoon
ajwain 1/4 teaspoon
onion – 2 tbsp
radish (grated)  – 2 cups
turmeric powder  – 1/4 tsp
chilli powder   –   1/2 tsp
coriander powder   – 1 1/2 tsp
garam masala   – 1/4 tsp
coriander leaves   – 1 tbsp
green chilli    – 1
salt   – to taste
oil/ghee  – as req
Technique
1.  In a bowl, add wheat flour and salt, mix it nicely.  Then slowly add water little by little, and knead it into a soft and firm dough.  Apply oil, cover it and keep it aside for 20 minutes.
2.  Mean while, peel the skin and grate the radish. Mix it with salt and keep it in a colander.  Press it slightly to drain the excess water.   Keep it aside.
3.  In a pan, heat oil, add jeera and ajwain,   when they splutter, add onion, chopped green chillies and saute it nicely.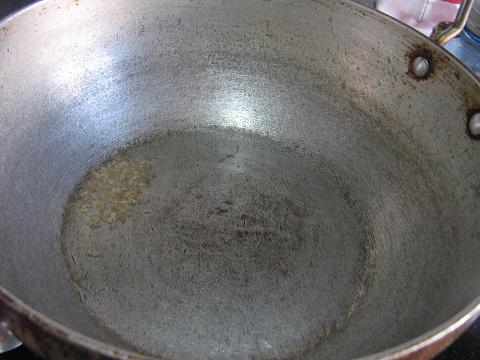 4.  Then add the grated radish, turmeric powder, coriander powder and chilly powder and saute it till it becomes dry.  Now add chopped coriander leaves.  Transfer it to a plate and keep it aside.
5.  After 20 minutes, take the dough, and make equal sized balls.  Same way, make equal sized balls with the stuffing also.
6.  Roll each ball into a thick circle, add each radish ball in the middle, and seal it nicely.
7.  Dust it with flour, roll it into parathas of desired thickness.
8.  Heat a tawa, cook the parathas on both sides till both sides get golden spots.
9.  Apply ghee / oil before serving.  This can be served with curd or boondi raita.