This is another healthy and tasty side dish prepared in Kerala as a side dish for rice.  It is a dry coconut based recipe where spinach is cooked and mixed with crushed coconuts, green chillies and shallots.  This is very easy to make except for the cleaning part.  Cleaning spinach takes a lot of time as it has a lot of mud which has to be removed completely.  The same recipe can be tried using green spinach also but here I have made use of red spinach.  Red spinach is also like normal spinach and has lots of health benefits.  Red spinach is high in fiber and helps in bowel movements.  It also helps to improve kidney function and also cleanses the blood after giving birth.  So isn't it useful for our body?  Now to the recipe..
Ingredients required
cheera / red spinach  – 1 bunch
mustard seeds    – 1/2 tsp
turmeric powder – 1/4 tsp
red chilli powder – 1/2 tsp
curry leaves   – few
salt   – to taste
oil  – 2 tsp
for crushing 
shallots   – 4 -5
green chilli – 3
scraped coconut   – 1 cup
garlic (optional)  – 2
Technique
1.   Clean the bunch of spinach twice or thrice under running water and chop it finely.
2.   In a pan heat oil, splutter mustard seeds.  Then add dry red chilly, curry leaves.
3.   Now add the chopped spinach to it, add turmeric powder, red chilly powder and salt.  Saute it well.
4.  Cover the kadai with a lid and allow it to cook.  Let it cook in low flame with closed lid for 5 minutes.
5.  Add the ground coconut mixture to this and saute it well until it gets the water gets absorbed completely.
6.  Serve it with rice.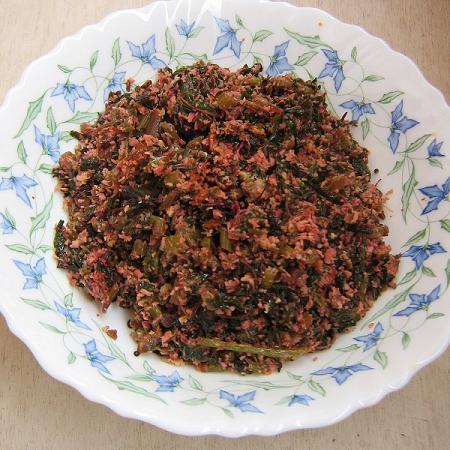 Note
1.  Take care not to overcook the spinach otherwise the colour will turn into green.
2.  Donot add water while grinding the coconut mixture.
3.  Donot add water while cooking the spinach leaves.