Meen mulakittathu is a tasty Kerala style fish curry also called as nadan fish curry which can be served with rice.  Meen is a general Malayalam word for all kinds of fish.  But it tastes great when served with kappa puzhungiyathu or Kerala style mashed tapioca.  It is also called as meen mulagu curry.  It is very easy to make and makes use of very few ingredients. Nowadays, cleaned and cut fish pieces make the job easier.
Kerala fish curry or meen mulakittathu tastes great when made with mathi / sardine.  But you can make use of mackerel, king fish or seer fish or any other fish to make this curry and it will be equally tasty.  I got some kilimeen or pink perch today with which I made this curry.  There is one more thing I missed.  This curry tastes great when you give it enough soaking time. The more you soak it, the more tasty it becomes.   Or I can say, prepare it a day before and use it the next day or the day after.  You will find that the taste becomes better and better.
This is a curry which is served in toddy shops in Kerala and hence it is also called as Kallu Shappile meen curry.  Serve this along with mashed tapioca or with steamed rice (matta ari choru with meen curry).  This fish curry has a reddish color and hence it is also called as red fish curry.  Now to the recipe..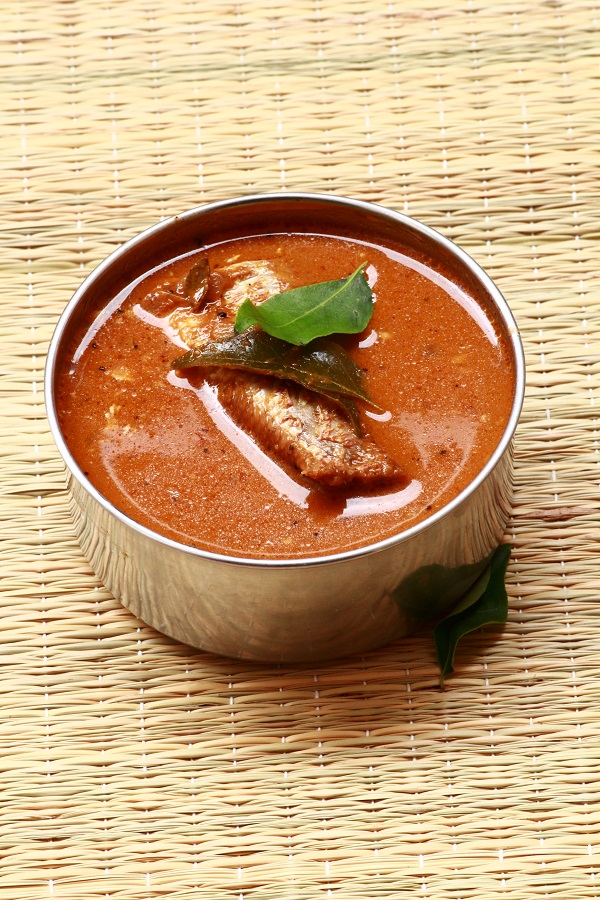 Meen mulakittathu
Ingredients
Fish – 1/2 kg
mustard seeds  – 1 teaspoon
fenugreek seeds / uluva  – 1/4 teaspoon
ginger garlic paste  – 1 1/2 tablespoon
small onion / shallots  – 10 – 12
green chili  – 2
fennel seeds   – 1/4 teaspoon
kashmiri chili powder  – 1  1/2 tablespoon
turmeric powder  – 1/2 teaspoon
coriander powder  – 1  1/2 – 2 tablespoon
pepper corns  – 6 – 7
hing / asafoetida powder – a pinch
kokum  / kodampuli  – 2 – 3 pieces
curry leaves – few
salt – to taste
coconut oil  – 2 tablespoon
How to Make Kerala style fish curry
Wash and soak kokum in 3 tablespoons of warm water for 10 – 15 minutes.
Grind together half of the shallots, fennel seeds, pepper corn, red chili powder, coriander powder and turmeric powder together by adding 1 tablespoon of water.  Grind it to a fine paste and keep it aside.
 Wash and cut each fish into two or three pieces.
 Chop the remaining shallots, keep aside.
 Heat oil in a pan.  When hot enough, splutter mustard seeds.  Once it splutters, add fenugreek seeds / uluva.  Let it become brownish in color.  (It should not get burnt.) . 
 Next add chopped shallots, slit green chili, curry leaves, and hing / asafoetida powder. Saute till shallots become transparent.
 Next add ground masala paste, salt, and fry till oil separates.
 Now add kokum pieces along with the soaked water, little more water and let it come to a boil.
 Then add the fish pieces.  Stir it gently.  Don't overmix it.  The fish pieces should not break.
 Let it come to a boil.  Then, reduce the flame, cover and cook till the fish pieces get cooked well and the curry reaches a desired consistency.  It should neither be too thick nor too thin. 
Fish curry is ready. 
Hope this post was useful.  Do leave your comments or view in the box below.