They say breakfast is the most important meal of the day. A good meal in the morning can fuel us and make us ready for the day. People who eat breakfast have more energy and do better at work or at school. This is true, when I don't eat breakfast or have only bread and chocolate milk for breakfast I easily get restless, irritable and tired. But when I have a heavy breakfast, I can work non-stop. I don't get hungry even when it's already past lunch time.
And because, it is important to have a big breakfast daily, I always prepare a delicious meal for my daughter who goes to school before 7am.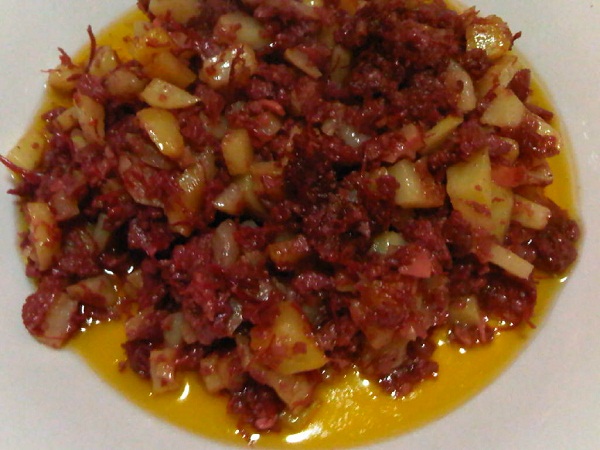 Breakfast at my home usually consists of bread (pandesal), fried rice, corned beef hash and egg. Corned beef hash are staple in our breakfast menu because it is great with rice and bread. This dish is great filling for pandesal, our national bread. Corned beef with potatoes are also easy and quick to prepare. If you are wondering about what to do with your corned beef then you have come to the right page.
Corned beef hash are great for breakfast, lunch, snack and even dinner. You can eat it with just fried eggs or bread for breakfast. Corned beef are one of my favorite breakfast foods just next to bacon. Anyway, if you have a different way of cooking corned beef, please let me know in the comments. I would love to hear your thoughts on this dish.
Here's my corned beef hash recipe, enjoy cooking!
Corned Beef Hash
Ingredients:
1 can Corned beef (any brand, its up to you)
1 small onion, cut thinly
1 cloves garlic, minced
1 large potatoes, diced
Directions: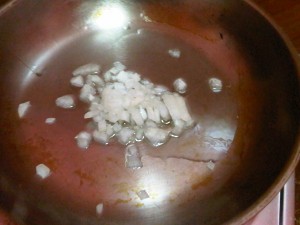 First, chopped the potatoes into diced about ¼ thick. Set aside.
In a skillet or wok, heat oil over medium high heat then sauté garlic and onion until translucent.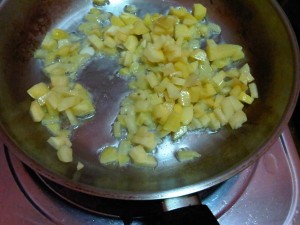 Add the potatoes and spread them out over the skillet using a spatula. Let them cook until slightly browning.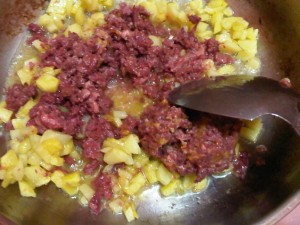 Add the corned beef into the skillet, cook for 3 minutes more.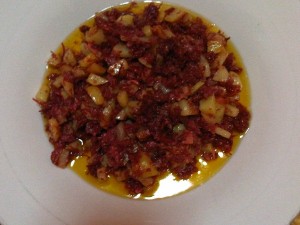 Remove from heat and transfer to a serving dish. Serve with rice or pandesal.
P.S: I don't add salt or pepper anymore, because most corned beef especially those in can already a bit salty. Aside from potatoes, you can also add chopped cabbage and green peas to your corned beef hash.
I hope you find my step by step procedure easy to follow. Corned beef hash is a wonderful for breakfast and you will never regret making it. Please don't' forget to bookmark this page to save the recipe and do check out my other recipes. Have a nice day!