Masala corn is a tasty snack which I usually make as a tea time snack.  It is not only easy to prepare, but healthy too.  It is a guilt free snack which can be served for people of any age group.  My kids like masala corn very much and they always ask me to get it from local street shops.  But considering the hygiene factors, I started preparing them at home, and till now I make it very often.  Corn being a very healthy ingredient, this can be had without any worries.  And usage of butter is also very less.  You can reduce the spice level according to your requirement.  My kids like butter corn, but I like this spicy version much better.  Now to the recipe..
sweet corn – 1 cup
butter – 1 teaspoon
pepper powder  – one pinch
chat masala powder – 1/2 teaspoon
red chili powder – 1/4 teaspoon
jeera powder – 1/2 teaspoon
salt – to taste
Method
1.   Remove corn kernels from the cob.  Boil the corn for 10 minutes, until the corn kernels turn soft.  (If you are pressure cooking, pressure cook for 4 whistles or until corn turns soft and then remove the kernels. )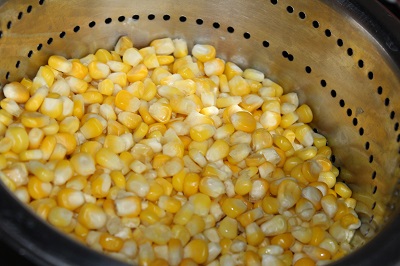 2.  Add all the other ingredients butter, pepper powder, chat masala powder, red chili powder and salt in a bowl.  Mix well.

3.  Now add the boiled corn kernels to this masala and mix well.
4.  Finally add lemon juice, mix well and serve hot.