Kerala is very famous for their prawns dishes.  This is a dry prawns roast recipe.  It is very easy to make and uses very few ingredients which are readily available in almost all houses.  When you are in a hurry and want to make some non vegetarian dish, then, this is the right one you can go for.  Apart from the marination process, it takes hardly 20 – 25 minutes for the entire preparation.  But always take care to remove the vein the prawns before using.  Otherwise, there may be some health problems.  I usually make this when I have guest at home and have to prepare a lot of dishes.  This can be served along for lunch along with rice, sambar, thoran, poriyal or mezhukkupuratti and pappadam.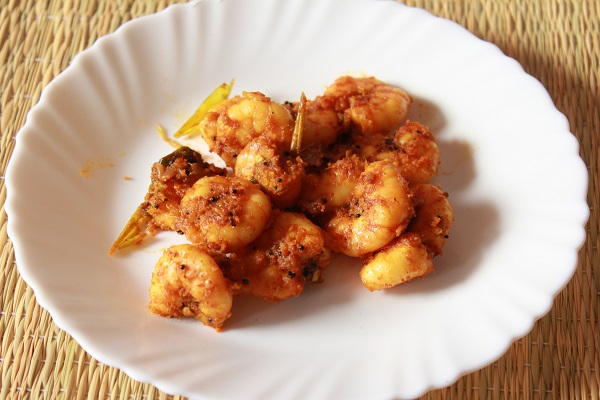 Ingredients required
prawns – 2 cup
shallots – 15 – 20
mustard seeds – 1/2 teaspoon
ginger (crushed) – 1 teaspoon
garlic (crushed)  – 1 teaspoon
green chilies – 2 (slit)
curry leaves – few
coconut pieces – 2 tablespoon
For marinating
turmeric powder – 1 teaspoon
chili powder – 1/2 teaspoon
coriander powder – 1 teaspoon
garam masala – 3/4 teaspoon
pepper powder – 1/2 teaspoon
salt – to taste
Method
1.  Clean the prawns and keep it aside.
2.  In a bowl, add all the ingredients given under the heading "for marination".  Mix well.  Now add cleaned prawns to this mixture and combine everything well.  Let it marinate for 30 minutes.

3.  In a pan heat oil, splutter mustard seeds.  Now add crushed ginger and garlic, shallots, green chilies and curry leaves.  Saute for a few minutes.  Now add coconut pieces.

4.  To this add marinated prawns, mix well.
5.  Simmer the stove, cover the pan and cook on medium low flame.  (Don't add water to this. )  Stir in between to prevent it from sticking to the bottom of the pan  Don't over cook the prawns.  It will make them hard.

6.  Once it is cooked, and the entire water is evaporated, then roast again by adding little coconut oil.

7.  Serve with steaming rice.