Mango pachadi is an easy to make side dish .We can make it differently. During summer, if  we don't have any vegetables to cook,this is the easiest dish to make.In Tamilnadu mango pachadi is the must for the new year celebration as i heard. If you don't like the raw taste of mango you can cook in a low flame for 2-3 minutes.If you cook more than that the taste will be different.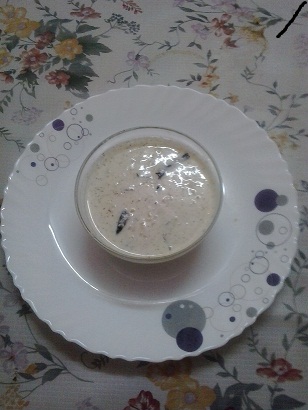 Ingredients
 sour less mango(chenacha manga)-1 big
 yogurt-1 small cup
 mustard seeds-1 tsp
 green chilly -2 nos.(finely chopped)
 red chilly-2 nos
 curry leaves-as  required
 grated coconut-1/4 cup
 coconut oil-1 tbsp
How to Make Mango Pachadi
Grate the mango or cut into very small pieces after peel off the skin.
Add salt and mix well.
Grind coconut and mustard seeds in yogurt .( second time add mustard seeds to avoid fine grinding of mustard seeds).
Add the coconut paste,green chilly and yogurt in the mix.
Splutter mustard seeds ,add red chilly and curry leaves. Add this to the pachadi.