Today, I am sharing an easy recipe with corn – corn fritters / corn pakoda.  I had a few corn cobs with me and I made use of fresh sweet corn to make this fritters.  You can also make use of regular corn for making pakodas.  Tea time snacks are very important part of our Indian culture and this would make a great evening snack.  This pakoda is filled with flavors from fennel seeds and garam masala and a little sweetness of corn.  Now to the recipe..
corn kernels  –  1 cup
onion  – 1 (small finely chopped)
ginger  – 1/2 inch piece (finely minced)
green chilly  – 1 (chopped)
gram flour  – 1/2 cup
rice flour  – 1 tablespoon
red chili powder – 1/2 teaspoon
fennel seeds – 1/4 teaspoon
garam masala – 1/4 teaspoon
asafoetida powder  – a pinch
salt  – to taste
coriander leaves few (chopped)
oil  – for deep-frying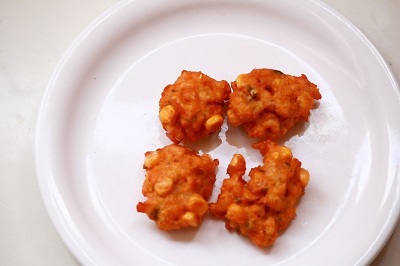 Technique
1.  Boil one medium corn cob in a pressure cooker or in a pot.  Once it is boiled, remove it from water and allow it to cool.

2.  With a knife, remove the corn kernels.
3.  Add all the ingredients listed above (except oil) into a bowl,  and mix well.  Add enough water.  Mix well.  (The batter should be of medium consistency.  )


4.  In a pan, heat oil.  When oil is hot enough, take one spoonful of batter and slowly drop it into the hot oil. Fry it on medium heat till it becomes golden brown color.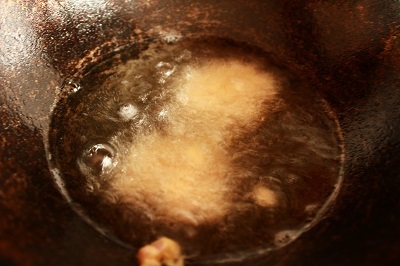 5.  Serve hot with green chutney or with tomato sauce.
Green chutney recipe:
Coriander leaves  – 2 cup (tightly packed)
Mint leaves – 1 cup (tightly packed)
Ginger – one small piece
Green chilies  – 2 -3
Lemon juice – juice of 1/2 lemon
salt – as required
sugar  – 1/4 teaspoon
Grind coriander leaves, mint leaves, ginger, green chilies, salt and sugar by adding very less water.
Squeeze lemon juice to it, mix well and serve.