In Malayalam muringakka means "drumstick" and manga means "mango".  This is a very easy Kerala style side dish for rice made with drumstick and raw mango.  The addition of mango gives a tangy taste to the dish.  There are various kinds of thenga aracha ozhichu curry.  Thenga aracha means cooked in coconut gravy and ozichu curry is one which can be poured and had with rice.  The addition of drumsticks to this gives a very unique flavor.  You can make use of tomato or tamarind as a souring agent. I make this curry whenever drumsticks and mangoes are in season. Try this tasty sidedish. Now to the recipe..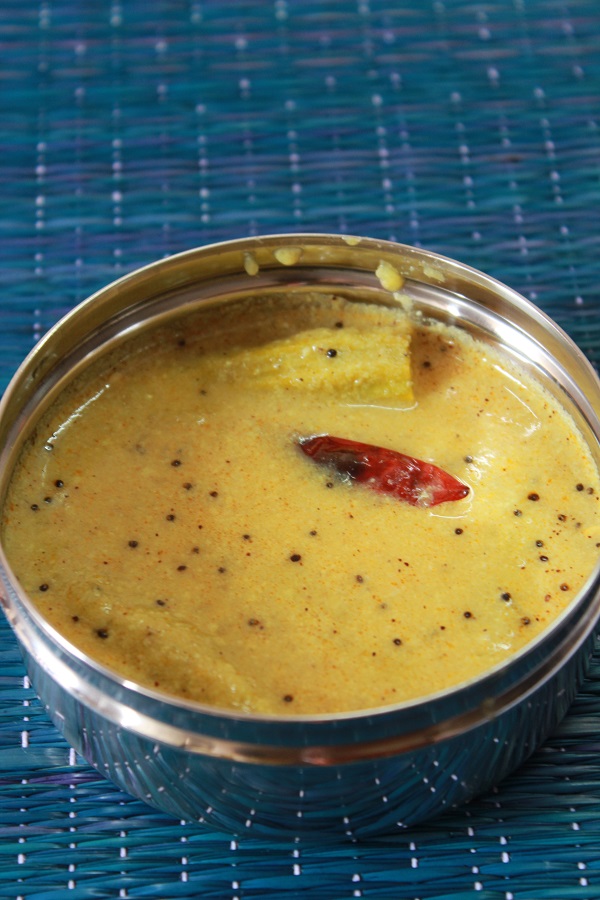 Ingredients required
Drumstick pieces – 1 cup (approx. 13 – 14 pieces)
mango – 1/4 cup
turmeric powder  – 1/4 teaspoon
For grinding 
coconut (scraped)  – 1/4 cup
cumin seeds  – 1/4 teaspoon
green chili  – 2
For seasoning
oil  – 1 tablespoon
mustard seeds  – 1/2 teaspoon
dry red chili – 2
curry leaves  – few
red chili powder  – 1/4 teaspoon
Method
1.  In a pan add drumstick pieces, mango pieces, salt, turmeric powder, green chili.  To this add 1 cup of water.
2.  Bring it to boil and then reduce the flame, cover the pan with a lid and let it cook till drumstick pieces become tender.

3.  Meanwhile, grind together, coconut, cumin seeds and green chilitill it becomes a smooth paste.

4.  Once the drumstick pieces are cooked, add the ground paste tothe curry, keep the flame low, and simmer for 2 minutes.

5.  Heat oil in a pan, splutter mustard seeds.  Add dry red chili, curry leaves, red chili powder.  Finally add the tempered ingredients to the curry.

6.  This curry goes well with rice and mezhukkupuratti.