I love chocolate cake but there are times when I just want to eat mocha cake especially if it's from Goldilocks. In the Philippines, Goldilocks is well known across the country for its mocha cake. This popular bakeshop has been around for many years. I still remember when I was 10 or 11 years old, my parents would often take us to Goldilocks to have lunch. Take note, they don't just sell birthday cakes but also delicious filipino foods such as dinuguan, caldereta, barbeque and fresh lumpia. Anyway, after eating we always have cakes for dessert.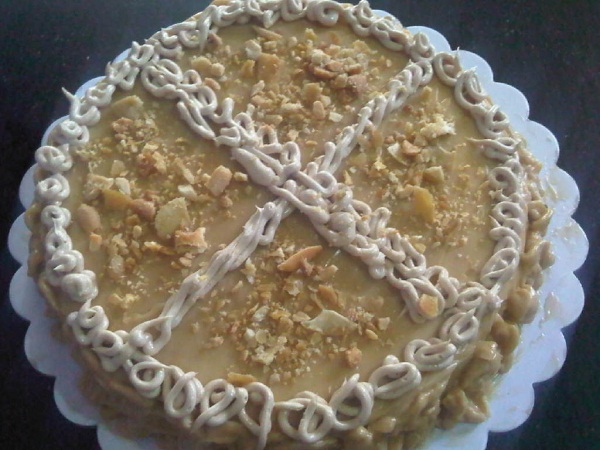 My favorite Goldilocks cake is mocha cake. I love their mocha cake for the frosting was good. Unfortunately, I can't say the same thing with their cakes nowadays. Their cakes have became a bit dry and the frosting is also greasy. It's been years since I had a mocha cake again as I now buy cakes from their rival (Red Ribbon). Of course, I still crave for mocha cake now and again.
So, now that I can bake a cake. I made my first mocha cake using Goldilocks mocha cake for inspiration. Actually, I browsed the internet to find mocha cake recipes and I did find one. At first, I wasn't sure if it's really Goldilocks recipe. Well, I still don't know if its the real deal. But since the cake turned out really good, I don't care anymore if it's really Goldilocks mocha cake recipe or not. When I took my first bite my cravings for mocha cake was satisfied.
The mocha chiffon cake turned out soft and fluffy. The frosting that I used for the cake was buttercream frosting with instant coffee granules. Enough of the chit chat, here's the mocha chiffon cake that I have found online and have tried and tested the recipe. My husband and kids love the cake that it was gone the minute I put the cake on the table.
Mocha Chiffon Cake
Ingredients:
A. Dry Mixture
1 cup 1 tablespoon cake flour (substitute for cake flour 1 cup all purpose flour remove 2 tablespoon replace with cornstarch and mix)
1 ½ teaspoon baking powder
½ teaspoon salt
6 tablespoon sugar
B. Wet Mixture
4 eggyolks
1 teaspoon vanilla
¼ cup vegetable oil
6 tablespoon water
2 tablespoon coffee granules
C. Meringue
4 eggwhites
6 tablespoon sugar
¼ cream of tartar
Direction:
Preheat oven to 350F/180C or rice cooker, whatever you will use for the cake. Prepare baking pan with parchment paper or greased with butter. Set aside.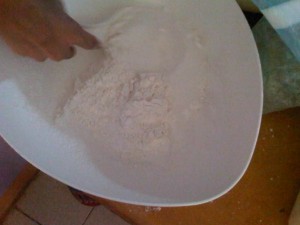 In a large bowl, sift flour, baking powder, sugar and salt. Mix well and set aside. Next, separate the egg yolks and egg whites.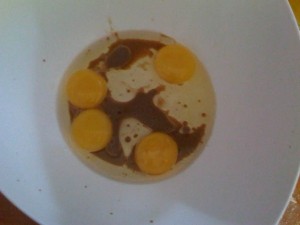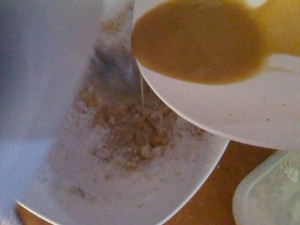 In another bowl, combine eggyolks, coffee and oil. Mix using a hand mixer or whisk and gradually add the dry ingredients. Continue mixing still batter is free of lump. Set aside.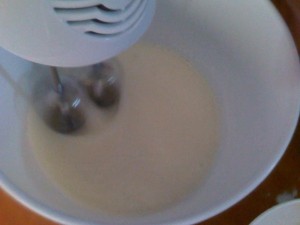 In mixing bowl, beat the eggwhites on high speed until frothy then add cream of tartar. Gradually add the sugar and continue beating till soft peak.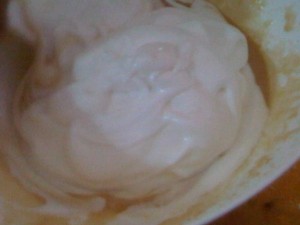 Using the cut and fold method, combine batter and meringue and make sure not to under mix or over mix it.
Once the meringue is well incorporated into the batter, transfer the mixture into the prepared baking pan. Steamed or bake for 45 minutes or till cake is done.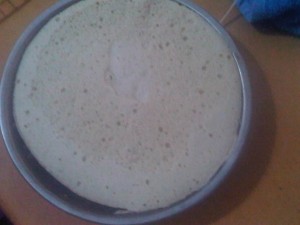 Do the toothpick test to check the cake doneness. Insert toothpick into the center of the cake and it comes out clean the cake is done. Let it cool for 5 minutes before removing from the baking pan.
Transfer to wire rack and let the cake cool completely before spreading the buttercream frosting.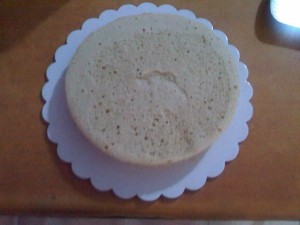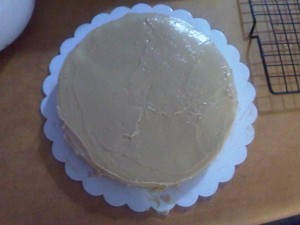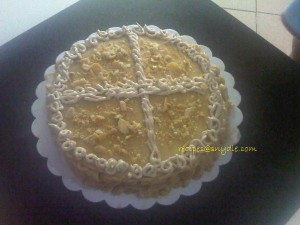 Refrigerate the cake after frosting or served immediately with coffee or softdrinks.
Mocha Buttercream Frosting
Ingredients:
1 cup butter
¾ cup evaporated milk
¾ cup sugar
1 teaspoon vanilla
1 teaspoon coffee granules
Direction:
In a cup, dissolve coffee in milk. Set aside. Beat butter and gradually pour the milk mixture. Continue beating until fluffy and add vanilla.
Spread the buttercream frosting onto the cake or set aside for later use.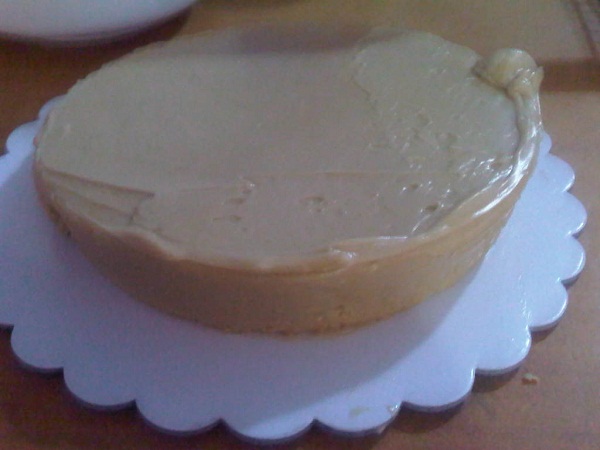 P.S: I used Instant Kopiko coffee but you can anytime brand you want for your cake. I also used the remaining frosting to decorate the cake as I hate wasting it, especially when its so darn good.
This is my first mocha cake and my third time to make chiffon cake. I don't have an oven so I baked the cake using an improvised oven while the small cake was steamed in rice cooker. Using the same batter but different method of cooking the cake, the result is the same. Both cakes are fluffy, soft and good.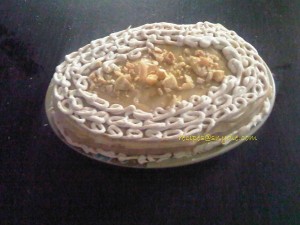 This cake recipe can be used for yema cake but instead of coffee, just used orange juice.
I hope you find this mocha chiffon cake recipe very helpful. Remember, you can steamed chiffon cake in a regular steamer or rice cooker.
Thank you for dropping by and please don't forget to bookmark this page. Have a nice day and enjoy baking or steaming cakes.