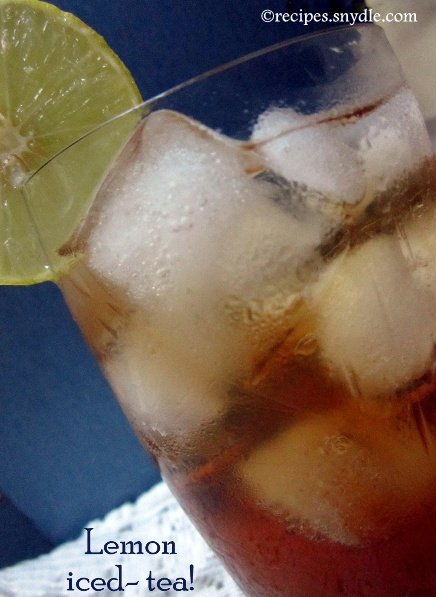 I love to have beverages with my meals, especially with snacks. Sandwiches, nachos, fries and sizzlers are incomplete without a tall glass of iced tea on the side. I like the lemon iced tea that I make from the store-bought iced tea powder. So I said to myself, why not make iced tea from scratch at home. I tried 5 to 6 different recipes of iced tea and this one came out the best. Hence, I decided to share this recipe with you guys.
This is the recipe for two. Now let us see how to make lemon flavored iced tea at home!
Ingredients
Water – 500 ml
Tea bags – 2, or you may adjust as per the desired strength
Sugar – 2 tbsp or to taste
Fresh lemon juice – 20 ml
How to Make Lemon Iced Tea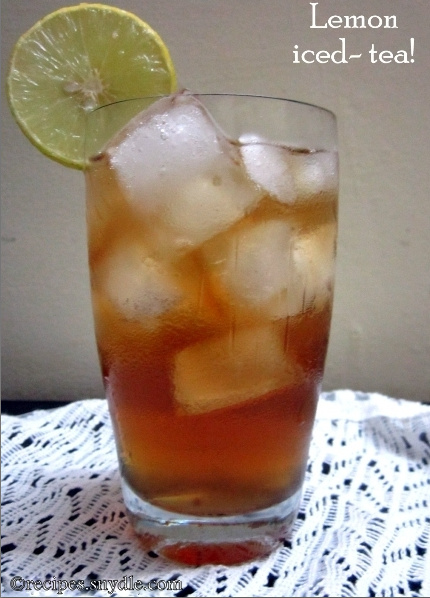 Take the water in a deep pan. Heat the water till it is just about to bubble. We don't have to bring the water to a rolling boil. Remove the pan off the heat.
Dip the tea bags in the pan of hot water and allow it to steep for half an hour. Take the tea bags out. Don't squeeze the tea bags. It will make the tea bitter.
Allow the tea to cool down. Add in the sugar and lemon juice. You can adjust the amount of both sugar and lemon juice to suit your taste buds.
Stir the tea till the sugar dissolves in it. Chill the tea in refrigerate for a couple of hours.
Lemon flavored iced tea is ready! Serve chilled in tall glasses. Add more ice if you wish to. Wedge a lemon slice on the brim of the glass to make it look pretty.
Place in a straw and serve immediately. Enjoy with your favorite snacks or just as it is.