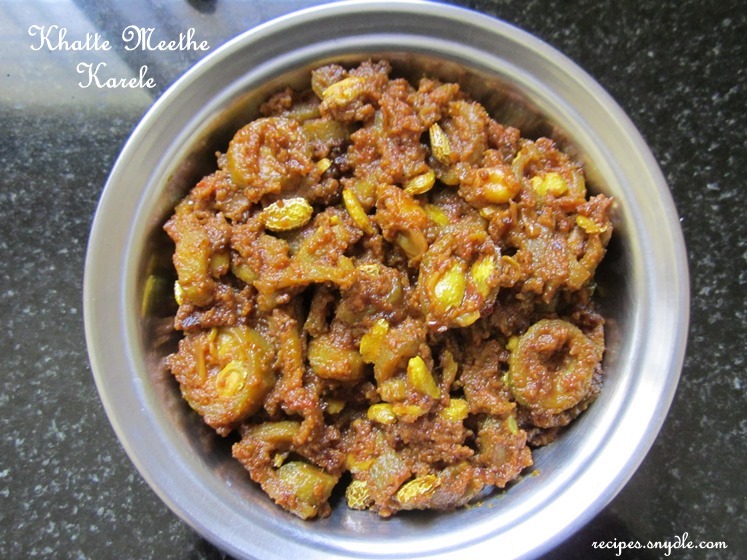 Khatta Meetha Karela Recipe with Step by Step Pictures
Hello foodies. Today I am sharing a vegetarian side dish recipe. It's the recipe of khatta meetha karela or the seet and sour bitter gourd. This goes nicely with rotis and dal-rice. I like to cook some extra karele ki sabzi when i am making this recipe because it tastes so much better the next day.
I was not a fan of bitter gourd until I tasted this karela recipe. This is one of the bitter gourd recipes that's a keeper. If you hate how bitter they are and the bitterness won't go away, try soaking the cut bitter gourds in salted water for a couple of hours. Drain them and then use them in your curry. The bitterness would have reduced substantially.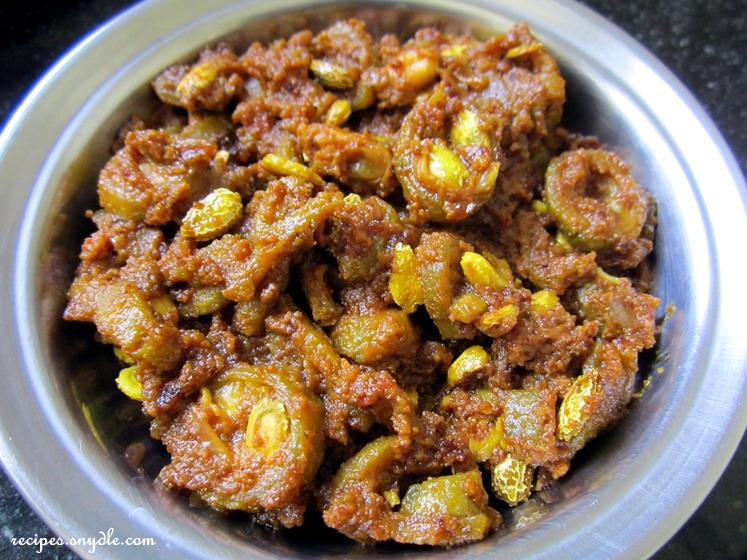 Now let's start with the recipe of khatta meetha karela. This recipe serves 2. For the purpose of measurement, 1 cup = 250 ml.
Ingredients
Bitter gourds – 6, small, peeled and sliced
Garlic – 6 cloves
Desiccated coconut – 2 tbsp
Salt – to taste
Turmeric – 1/2 tsp
Red chili powder – 1 tsp or to taste
Jaggery – 1 tbsp or to taste
Tamarind pulp – 1 tbsp or to taste, freshly extracted
Water – as needed
Groundnuts – 2 tbsp, roasted and ground to a fine powder (optional)
Onion – 1 small, finely chopped
Oil – 2 tbsp
Coriander leaves – a handful, finely chopped
How to Make Khatta Meetha Karela Sabzi
Take sufficient water in a bowl. Add 1 tbsp salt to it and stir. Toss in the sliced bitter gourd and let it soak for 2 hours. Drain the bitter gourd and they would be ready to use.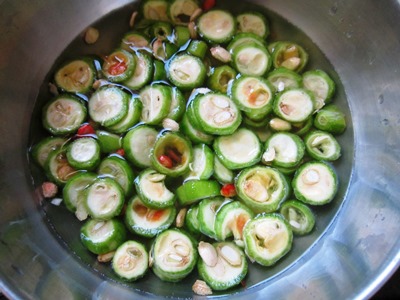 Soak some tamarind in hot water and them mash it with your fingers to extract the pulp. Set it aside.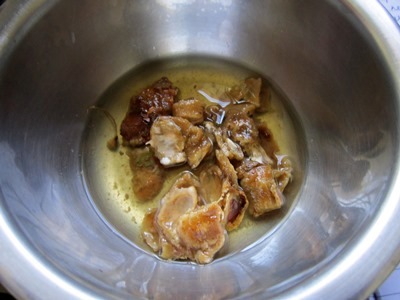 Take the desiccated coconut and garlic in a blender.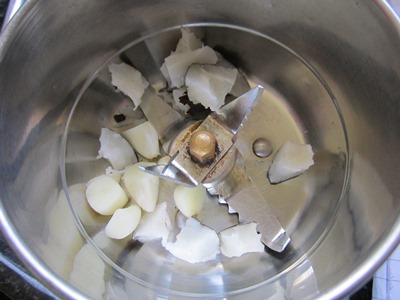 Grind them together really well.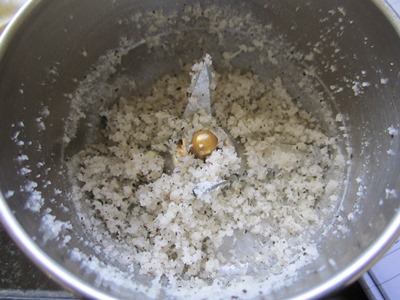 Heat oil in a skillet and toss in the onions. Saute it till they are golden.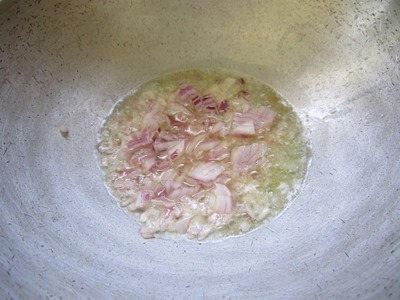 Add in the ground garlic and desiccated coconut. Saute on low flame for about 2-3 minutes stirring often till the raw smell of garlic goes away.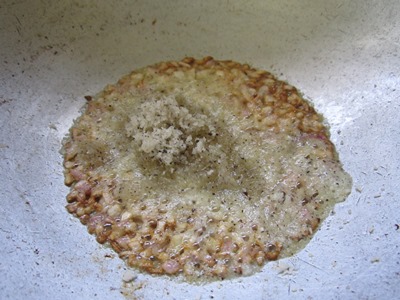 Add in the turmeric powder and red chili powder. Mix well.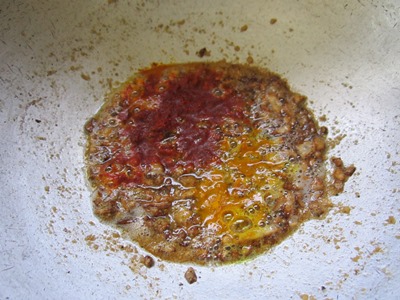 Add in the sliced bitter gourd and saute for 2 minutes. Do not add any salt just yet. The bitter gourds have absorbed salt from the water when they were soaked.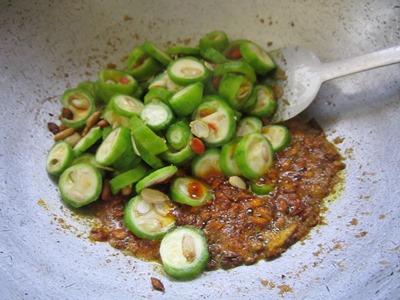 Add in the tamarind pulp and jaggery and mix well.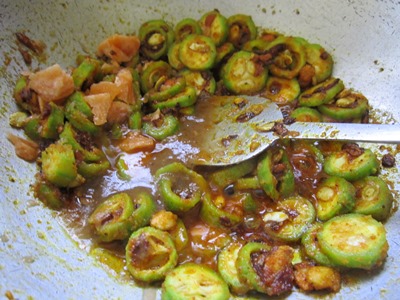 Add the roasted groundnut powder at this stage, if adding.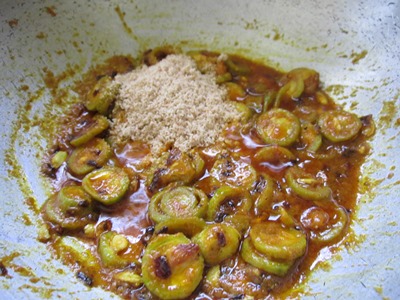 Cover the skillet with a plate-like lid and pour 1/2 cup water over it. Let the bitter gourd cook on very low heat till it gets done. It usually takes 15 minutes. Open the lid and stir the sabzi after every 6-7 minutes to prevent burning, Sprinkle some water and mix well if the sabzi sticks to the bottom of the skillet.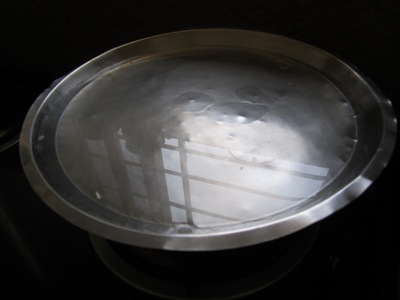 When the bitter gourd is done, check the salt now. Add some if it's less. Turn the heat to high.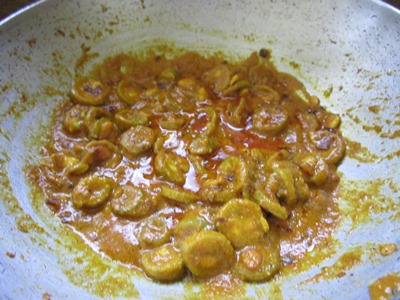 Stir-fry the bitter gourd to fry off the excess moisture. You can skip this if you want some gravy in your sabzi. I like it dry, so I dry it up. Add some chopped coriander leaves at this stage and mix.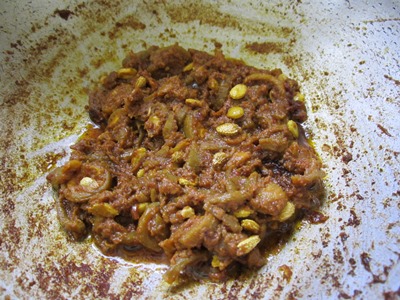 Khatte meethe karele ki sabzi is ready. Serve hot with rotis or as a side dish with dal rice. Enjoy!