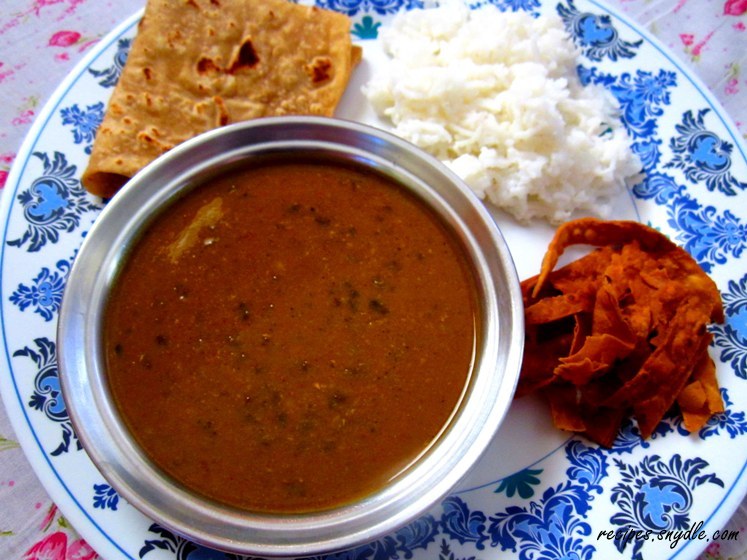 Hello buddies. Today I am sharing with you a lip-smacking recipe of Urad Dal, Khandeshi Style. This recipe is from Jalgaon. It is spicy, flavorful and very simple to make. You don't need any fancy ingredients or to go through a lengthy preparation procedure. The ingredients are simple and rustic. The main ingredient is the khandeshi garam masala. Each househild has their own recipe. You could also use kala masala that you usually have at home.
This urad dal recipe goes well with rice and rotis. I also had some fried chapati ribbons on the side. They taste great when dipped in dal.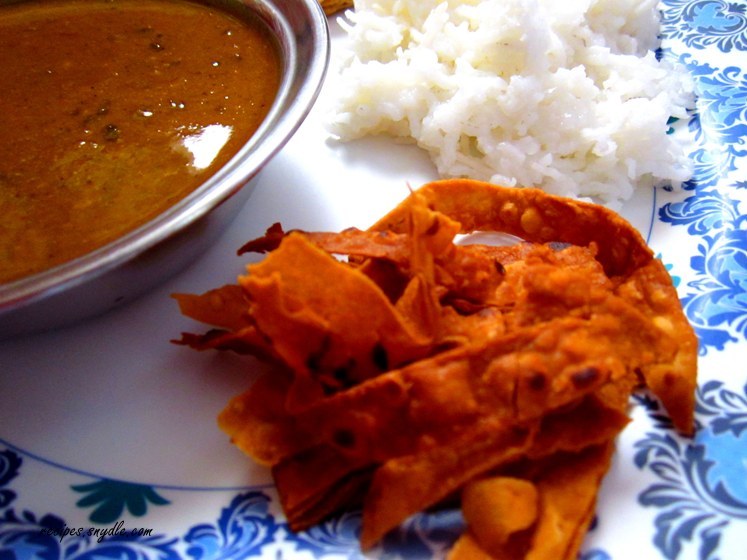 In this recipe, you need to use split black urad dal and not the whole one. There is some chana dal as well that lends the curry a smooth, thick texture. So let's get started now. This recipe yields 2 servings. For the purpose of measurement, 1 cup = 250 ml.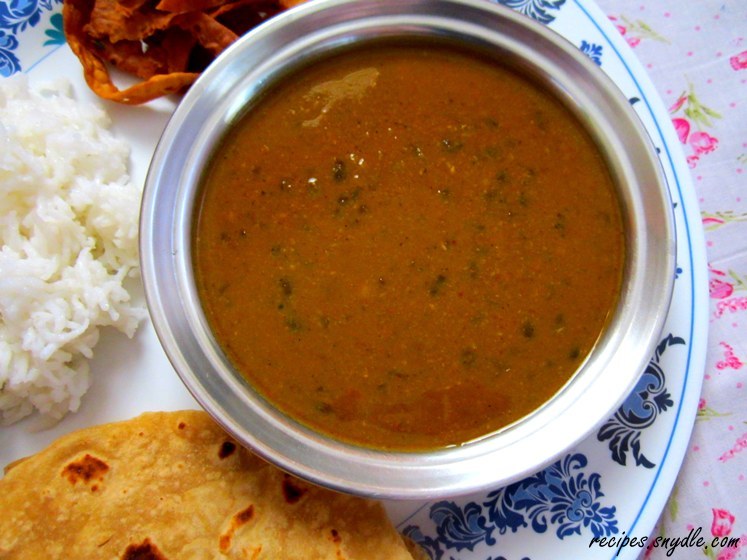 Ingredients
Split black urad dal – 1/2 cup, soaked for 30 minutes
Chana dal/Split bengal gram – 3 tbsp, soaked for 30 minutes
Salt – to taste
Water – 1.5 cups or as needed = 1 cup
Onion – 1 large, sliced
Desiccated coconut – 1/4 cup
Garlic – 5 cloves
Khandeshi garam masala – 3 tbsp
Turmeric – 1/3 tsp + 1/2 tsp
Oil – 2 tsp + 4 tbsp
Coriander leaves – a handful, finely chopped
How to Make Khandeshi Urad Dal
Pressure cook chana dal and split black urad dal with some salt and 1/2 tsp turmeric. Use 1.5 cups of water or as needed depending on your cooker. Mash the dal partially, gently. Set it aside.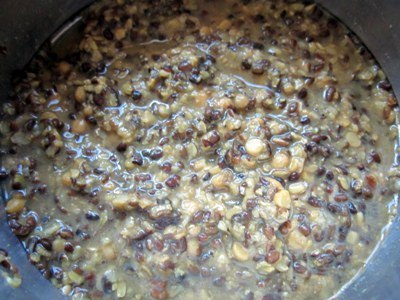 In a skillet, heat 2 tsp of oil. Add in the sliced onion.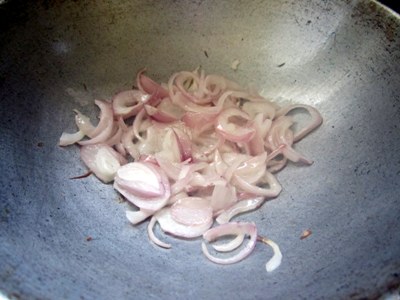 Saute it on medium to high heat for 3-4 minutes it browns. Stir constantly and do not burn the onion. Cool it and transfer it into a mixie jar with the desiccated coconut and garlic.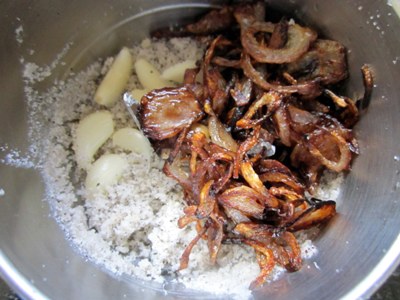 Grind the desiccated coconut, garlic and onion to a fine paste using 3-4 tbsp of water.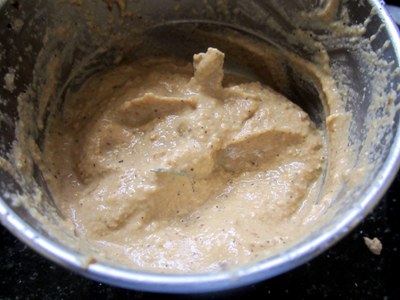 Add 4 tbsp oil in the skillet. Keep the flame low and just warm the oil.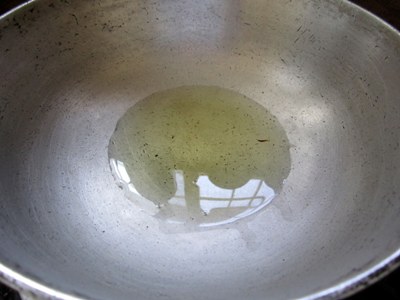 When the oil is warm enough, add in the khandeshi garam masala and turmeric.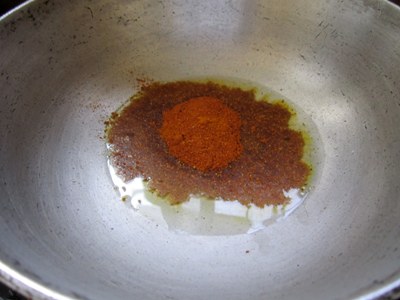 Fry the masala, stirring constantly on flame for 2 minutes. The masala will lose its raw small and become aromatic.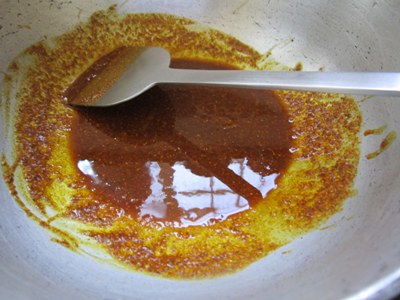 Add in the ground paste and saute for 4-5 minutes on medium low flame till the raw smell of garlic goes away. Stir constantly because the masala tends to stick to the skillet.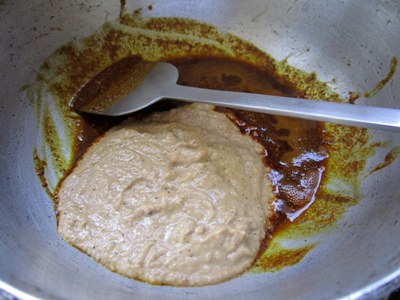 Add some salt and continue to saute for another 2 minutes till the masala begins to leave the sides of the skillet and oil begins to separate.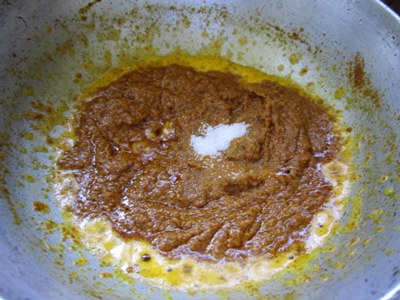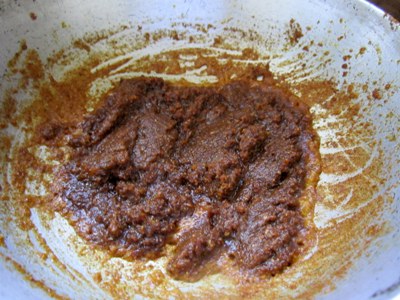 Add the boiled dal and saute it nicely for 2 minutes while stirring constantly.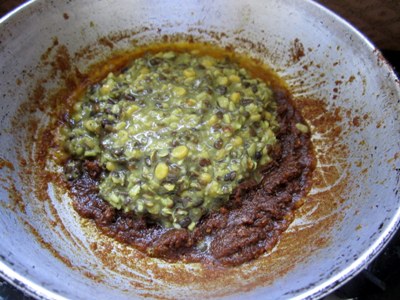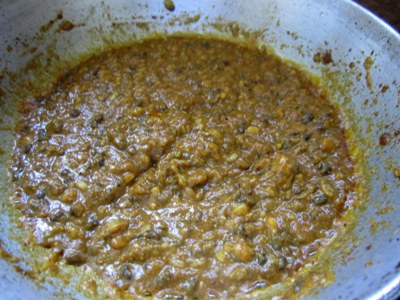 Add in 1 cup water and mix well.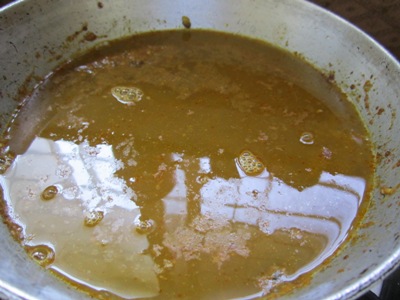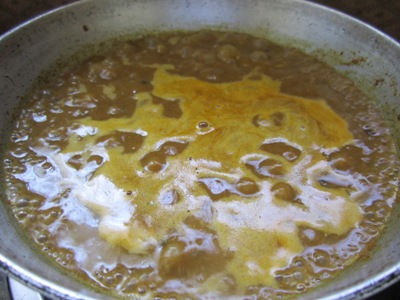 Cover the skillet partially and and let it simmer for 5 minutes and thicken a bit. Urad dal is ready. Add finely chopped coriander and mix well.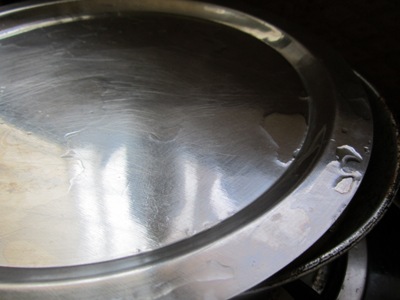 Serve hot with rotis and rice. Enjoy!