Carrot halwa is a very popular Indian dessert which is made on all special occasions.  It makes of very few ingredients for the preparation namely -carrots, milk, sugar and ghee.  With these few ingredients, it is a real wonder that you get tasty, yummy dessert.
Carrot halwa tastes great when made with Delhi carrots.  It has a natural sweetness.  But here, Delhi carrots are available only in a particular season and hence I have made use of regular carrots for the preparation.
I always make halwa with carrots, beetroots, lauki or some sundal dishes as a snack for kids.  So during daily preparations, I don't add khoya to it, but if you are preparing for special occasions, you can add khoya, it gives richness and enhances the taste.
Sauteing the grated carrots is an important step in making this halwa.  Otherwise, there will be a raw smell of carrots.  Adjust the sugar according to your taste preference.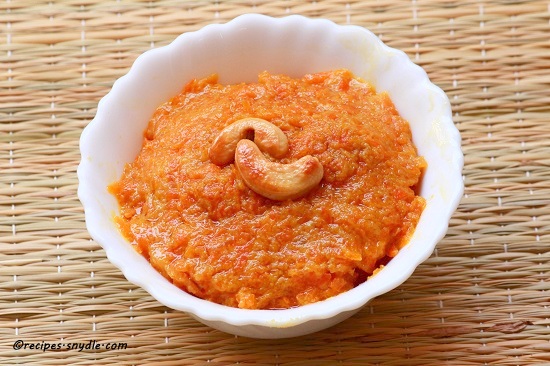 Ingredients 
carrots – 1/2 kg (grated)
milk  – 1/2 litre
sugar – 1/2 – 3/4  cup
ghee – 1/4 cup
cardamom powder – 1/4 teaspoon
almonds (blanched)  – 4 – 5
cashew nuts  – 4 – 5 (roasted)
How To Make Carrot Halwa
Wash carrots, peel off the skin.  Grate them using a grater and keep it aside.
Soak almonds in warm water for 15 – 20 minutes.  Peel off the skin and chop them into silvers and keep aside.
In a pan or kadai, heat 1 tablespoon ghee.  When hot enough, add cashew and fry over low flame till it becomes golden brown color.  Transfer it to another plate and keep it aside.
In the same pan, add grated carrots, and saute till the raw smell goes off.   
To this add boiled milk, and cook over medium heat, stirring constantly until the carrots are soft and most of the liquid has evaporated.
Add sugar and cook for few more minutes until it dissolves and the milk is completely absorbed.
When the entire milk gets evaporated, add the remaining ghee, cardamom powder and roasted cashew nuts. Stir fry for another 3 – 4 more minutes.  Mix well.  Turn off the flame.  
Transfer it to a serving plate and decorate with khoya, almonds, pistachio, nuts or raisins.
Serve carrot halwa hot or at room temperature.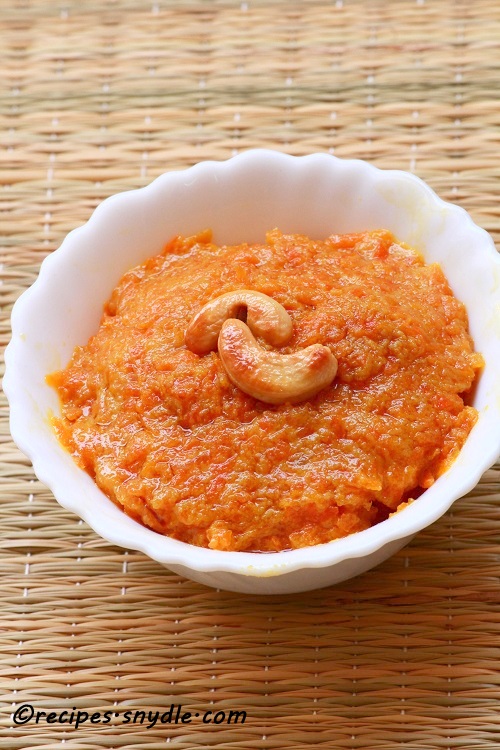 Hope this post was useful.  Do leave your comments or suggestions in the box below.