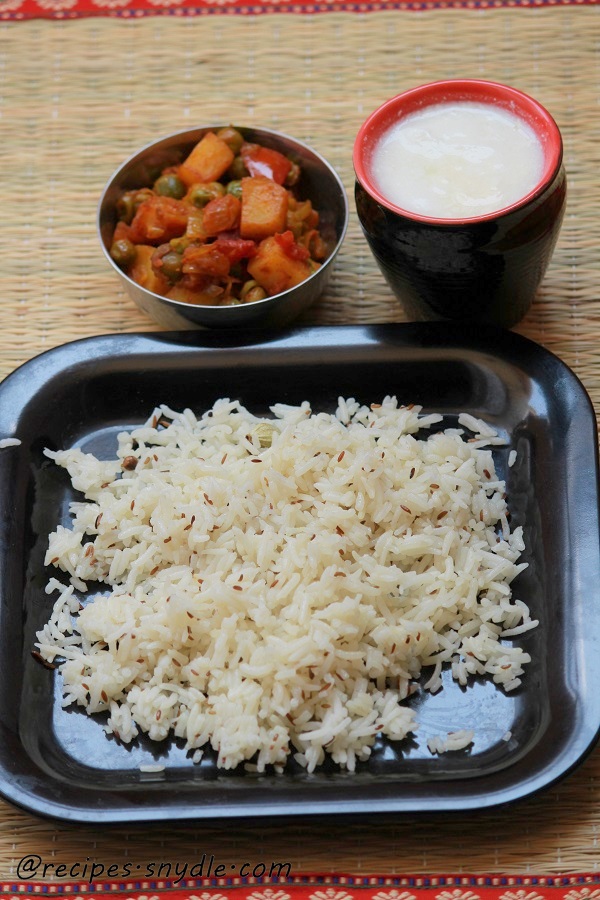 Today's recipe is an easy to make, tasty and healthy rice dish.  It is called as jeera rice as it is flavored with cumin.  Inspite of being an easy to make rice dish, it is very tasty and makes use of very few ingredients.  Just whole spices, cumin seeds and rice.  These are the only three ingredients needed to make this dish and this is a one pot dish.  I always love one pot dishes which are very easy to make.  You can serve it with panchmel dal or any simple dal curry.  I served it with some aloo matar curry.   Now to the recipe..
Ingredients required
basmati rice  –  1 1/2 cup
cumin / jeera  – 1 tablespoon
cinnamon  – 1 inch piece
cardamom  (big)  – 1
cardamom (small)  – 2
bay leaf  – 1
cloves – 2 – 3
black pepper corns  – 5 – 6
water  – 3 cups
oil  – 2 tablespoon
coriander leaves – 1 tablespoon
salt – to taste
Method
1.  Wash and soak basmati rice in water for 20 – 30 minutes.
2.  After 30 minutes, drain it and keep it aside.
3.  Heat oil in a pan.  When hot enough, keep the flame in low, and then add whole spices and cumin.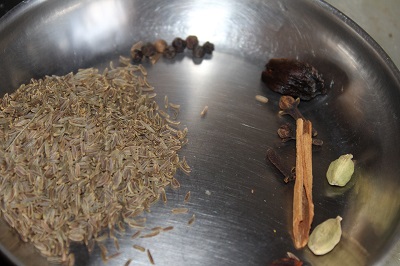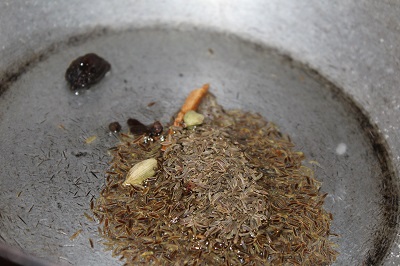 4.  Wait till cumin sizzles.
5.  Now add soaked rice, and mix well.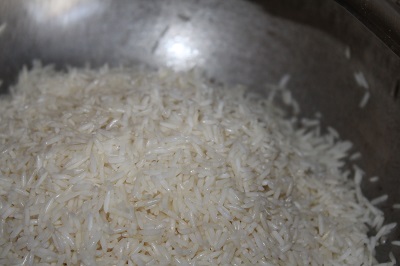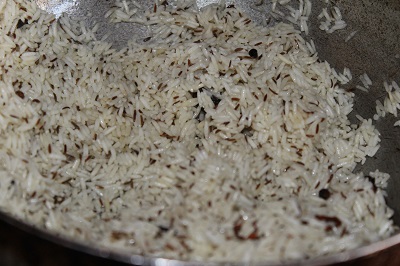 6.  Next add water and salt.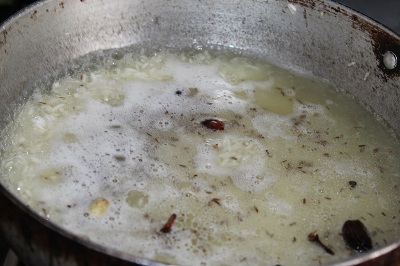 7.  Cover and cook till the rice gets cooked well.  (The rice should be cooked well but should not be mushy or sticky. )
8.  While cooking, stir in between to avoid sticking to the bottom and to ensure even cooking.
9.  Once done, fluff it up with a fork.  Finally garnish with coriander leaves.