Every morning is a new beginning for us thinking about what to make for breakfast, lunch or dinner.  A breakfast provides us with the energy required for the rest of the day.  So I always make it a point to make my daughter to eat enough before she leaves for her school.  But as I have told you before about her food habits, she wants something new every day and as a mother, I love to do that.  I have noticed that whenever we go to a restaurant, my daughter and husband always place an order for rawa dosa.  It used to taste good.  And I used to try it every time but couldn't get that taste.  Then I did some research on that and it really worked. So here is another recipe which I recently tried in my kitchen.  It is very easy to make, tasty and healthy.  It is called as rawa dosa.  It is a savoury crepe which is made from ingredients like semolina, maida (all purpose flour) , rice flour, cumin, green chilly, ginger and pepper.  You can make the rice flour easily at home or you can get it from the market. In the tips section I have given how to make rice flour easily at home.
Rawa dosa is a famous South Indian recipe and is very easy to prepare. There are various versions of rawa dosas.  It can also be prepared with addition of urud dal. Here you have to soak the urud dal, grind it allow it to ferment and then use it. But this is the most easiest and instant method.  It looks like thin crispy crepes.
So friends, always make it a point not to skip your breakfast.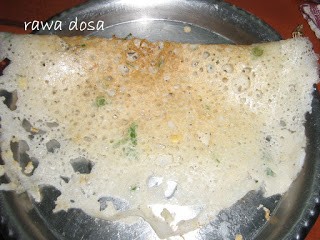 Ingredients required
Rawa (semolina)                –  1 cup
Rice flour                             –  1 cup
Maida                                   –  1 cup
Green chilly                         –  2   (depending on your taste buds)
Pepper corns                       –  1 tsp
Ginger                                   –  1 piece
Coriander leaves  (few)
Curry leaves  (few)
Cashewnuts                         –  10 (fry them in ghee, it tastes better)
Salt
Method
In a bowl, add semolina, rice flour and maida, mix it well
Now add ginger (grated), pepper corns, green chilly, cumin seeds, coriander leaves, curry leaves and fried cashews. Add salt.
Now add enough water to make the batter. The batter should be in watery consistency. You are not going to pour the batter with a ladle and make a circle as you do for normal dosa.  You are going to pour the batter and make it to flow and make a circle. So the consistency should not be too thick.  Check the salt once at this point.
Now grease the tawa and heat it well. Then sprinkle the batter on top of the tawa with your hands.  (If you want you can use a ladle, you have to pour the batter from little height so that it forms small holes in between.  Move the ladle in a circle from the outer region so that the batter moves towards the inner portion also. The circle which you make should be very thin. Now when you use a ladle, you have to pour the batter and slightly turn the tawa with your hands so that the batter spreads evenly to form a thin circle.)
Keep the flame in medium heat. Let it cook for some time. Drizzle some oil (use very little oil) and spread the oil on top of the batter.   This takes more time to get crispy than the normal dosa.  So wait till the dosa becomes crispy and the colour changes then take it out with the help of a spatula.  You don't have to flip it to the other side.
Transfer the dosa to a serving plate and serve it hot with any chutney of your choice.
Tips 
Soak 1 cup of raw rice in water for 30 min. Wash it well, drain it.  Spread it on a cloth and allow it to dry.  Now heat a pan and roast the rice for a little while so that all the moisture is gone.  Now grind it in a mixer.  Strain it once through a strainer and the remaining coarse rice can be grinded again to form powder.  This can be roasted again and can be stored in a tight container for a long time.
For the rawa dosa to become crispy, you have to cook it on medium heat. The more you cook it, the more crispy dosa you will get.
Some additions can also be done to this like you can add grated carrots. You can also add fried beans (should be sliced thin so that it gets cooked easily)