Since Vishu is very nearby, I thought I would share some of our authentic sadya recipes with you and this is one among them.  I have seen my mother and grandmother preparing olan at home, I have tasted it and I loved the taste but I never thought of doing it myself.  Then finally I decided to make it when my mother came home this time.  With her guidance I made and it came correctly.  We also made olan with papaya which my grandmother taught me.  I will share it in the next mail.  This is a tested healthy recipe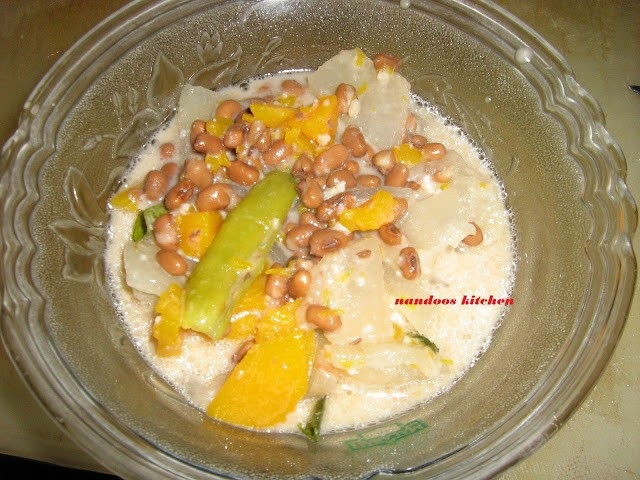 Ingredients required
black eyed beans(van payar)   –  1/2 cup
white gourd (elavan)               –   1 cup
pumpkin  (mathan)                  –   1 cup
chillies slit                               –  4
grated coconut                        –   21/2 cup
oil
salt to taste
Method
1.  Soak the beans in water for 8 hrs. wash and strain well
2.  Extract thick and thin milk from the grated coconut
Preparation
1.  In a cooker, add beans, white gourd, pumpkin,  chillies, few curry leaves and the thin coconut milk
2.  Pressure cook for 1 whistle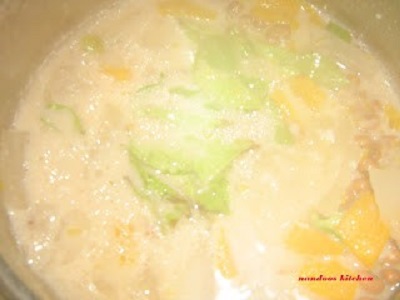 3.  After the pressure subsides, open the cooker and add the thick coconut milk and salt
4.  Simmer and cook for some time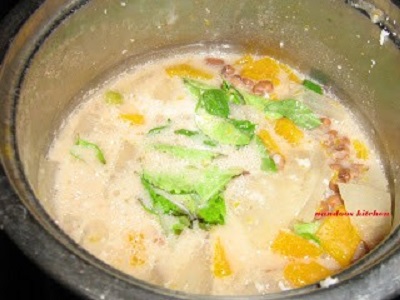 5.  Add coconut oil and few curry leaves.  Olan is ready to serve.  Serve hot with steamed rice
Tips
1.  If you don't have soaked beans you can pressure cook it directly.  Keep the gas in high flame till the first whistle and then turn to sim and wait for 7-8 whistles.  Switch off the stove and wait till the pressure goes off.  Then follow the same steps.
2.  You can make this using pumpkin(yellow) and black eyed beans
3.  This can also be made using pumpkin, white gourd and black eyed beans.  That also tastes good.
4.  This can be used only as a side accompaniment.
Notes:
To make fresh coconut milk at home follow the given steps:  coconut -1 (scraped)
1.  In the grated coconut, pour 2 cups of boiling water, squeeze it nicely to extract the juice.  Strain it using a strainer.  This will give you thick coconut milk.
2.  Add 2 more cups of water and squeeze out the remaining liquid.  This makes the semi thick coconut milk.
3.  Add enough water and in the same way, squeeze out the juice.  This will look watery.  This is the thin coconut milk. 
If you find this post useful, I would be happy if you can share it with your friends in google+, facebook or twitter.  All you have to do is click the corresponding button given.