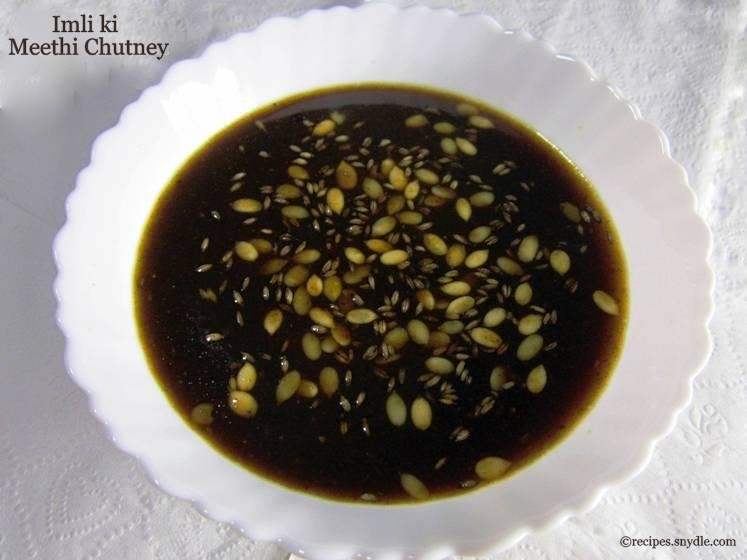 Hello foodie buddies. Today I am sharing one of the most demanded chutney recipes. I am sharing the recipe of Sweet Tamarind Chutney or Imli ki Methi Chutney with step by step pictures.
We Indians love our samosas. And having a samosa without imli chutney is a lost cause. The same goes for kachoris. You can use this chutney to make dahi vadas as well. The consistency of this tamarind chutney is not very thick. It pours well. Also, I haven't used any sugar. The sweetness comes from jaggery. The melange of spices lend a unique and wonderful flavor to the chutney. It will make your taste-buds tickle with tang of the tamarind and soothe it with the warmth of spices.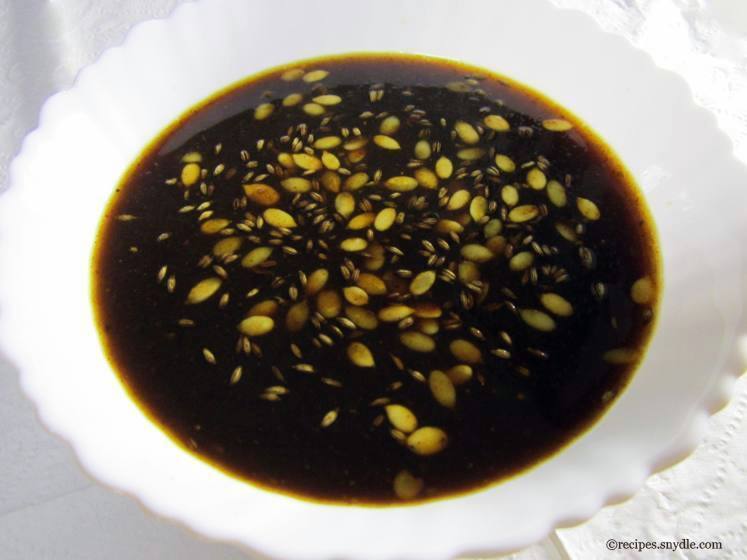 This chutney stores well for about 3 weeks. Pack it in a clean jar and keep it in the refrigerator. Mix it well with a spoon every time you want to use it so that the thicker pulp that had settled down gets incorporated back again.
Let's start with the recipe of sweet tamarind chutney now. For the purpose of measurement, 1 cup = 250 ml.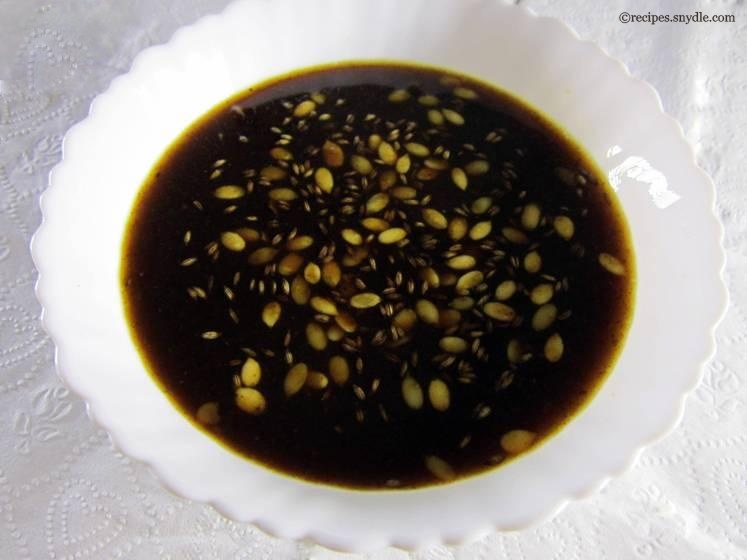 Ingredients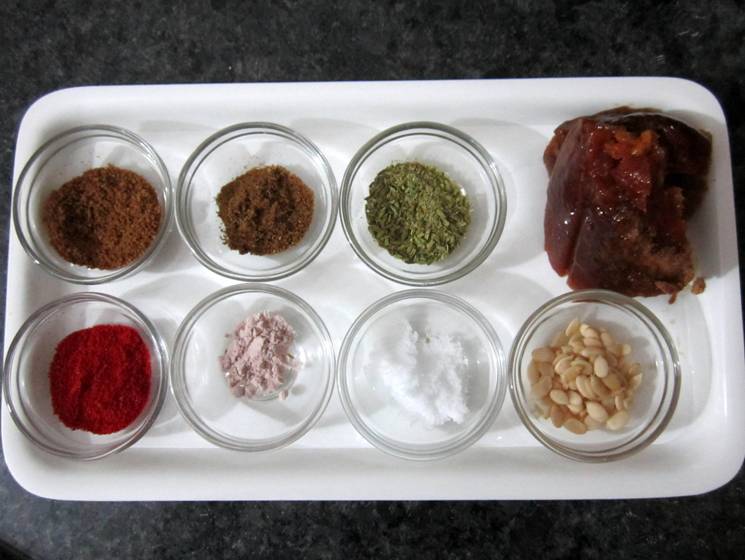 Tamarind – 1 cup, tightly packed
Jaggery – 3/4 cup or to taste
Water – 2 and 1/2 cups
Red chili powder – 1 and 1/2 tsp
Coarsely ground fennel seeds – 1 tsp
Black salt – 1/2 tsp
Salt – to taste
Jeera powder – 3/4 tsp
Dried ginger powder/Saunth – 1/2 tsp
Garam masala – 1/2 tsp
Melon seeds – 1 and 1/2 tsp
For Tempering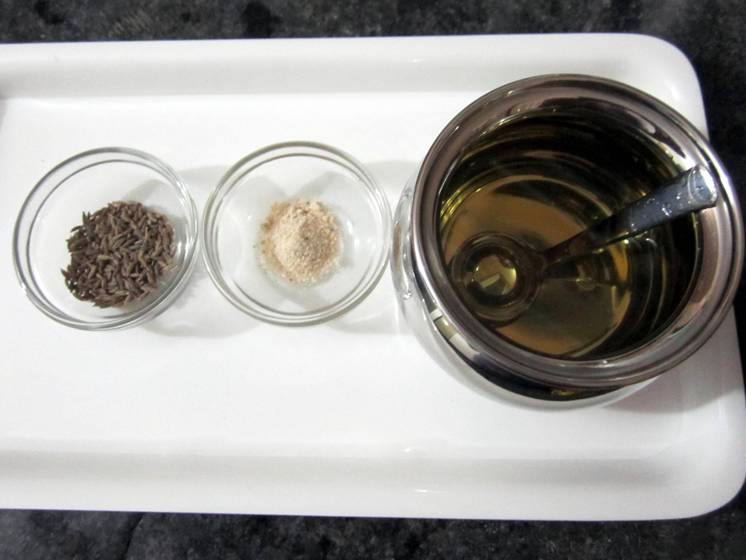 Oil – 1 tsp
Asafoetida – 1/3 tsp
Cumin seeds – 1/2 tsp
How to Make Imli ki Meethi Chutney Recipe / Sweet Tamarind Chutney
Heat 1/2 cup water and turn off the heat. Add in the washed tamarind and let it soak for 15 minutes.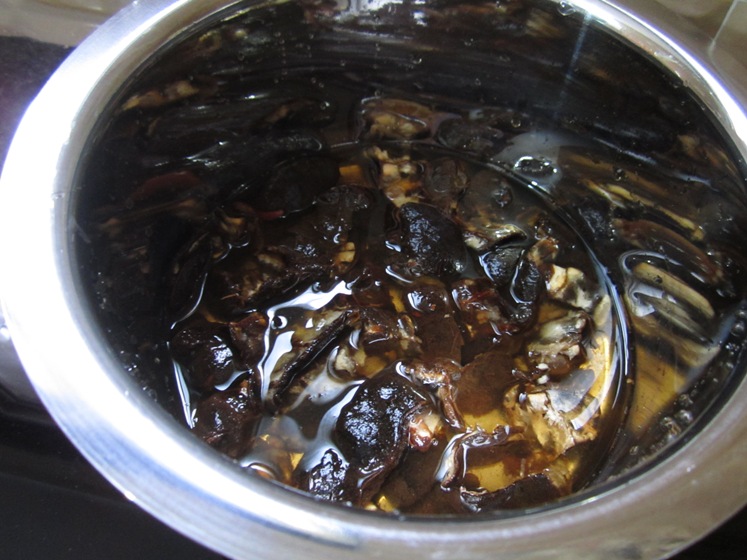 Mash it with your fingers to extract the pulp. Strain the pulp through the sieve to make it smooth. Use a little water if need be.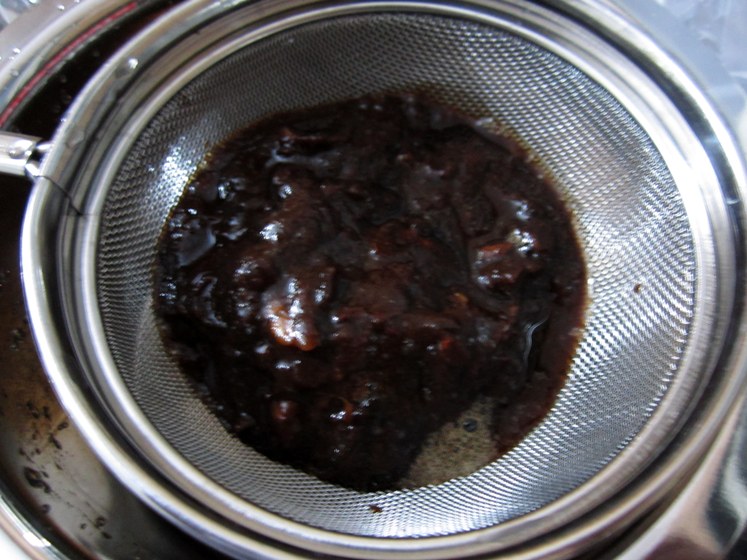 The pulp is ready. Discard what is left in the sieve.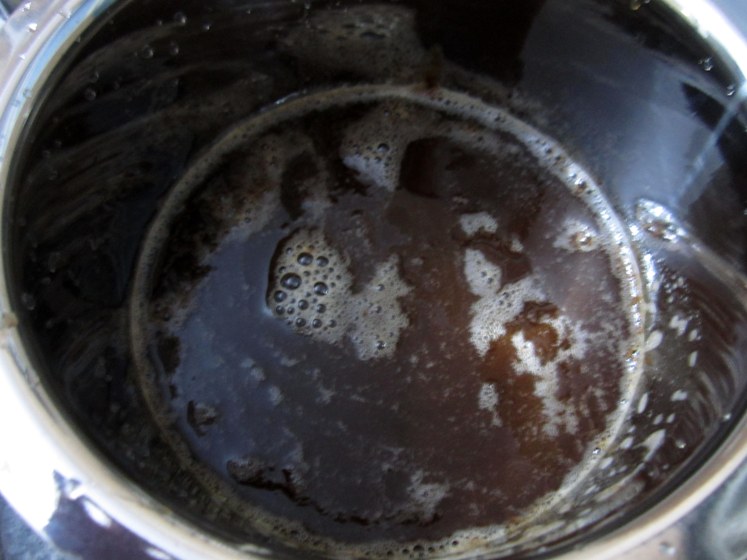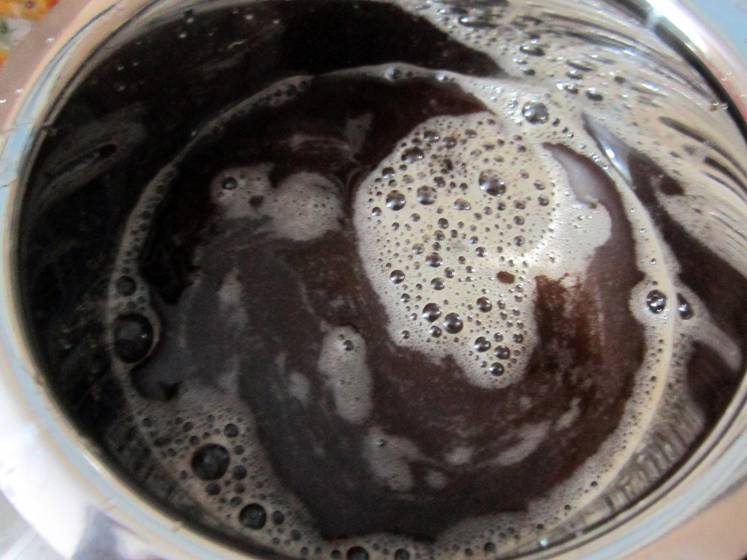 Bring the tamarind water to  a boil. Add jaggery so that it melts.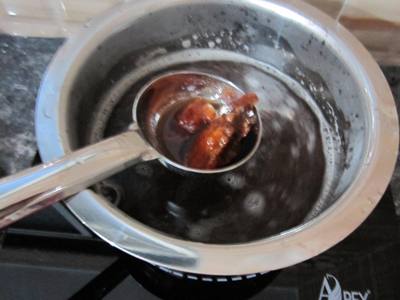 Add in all the salt, black salt, and dry spice powders. Stir occasionally.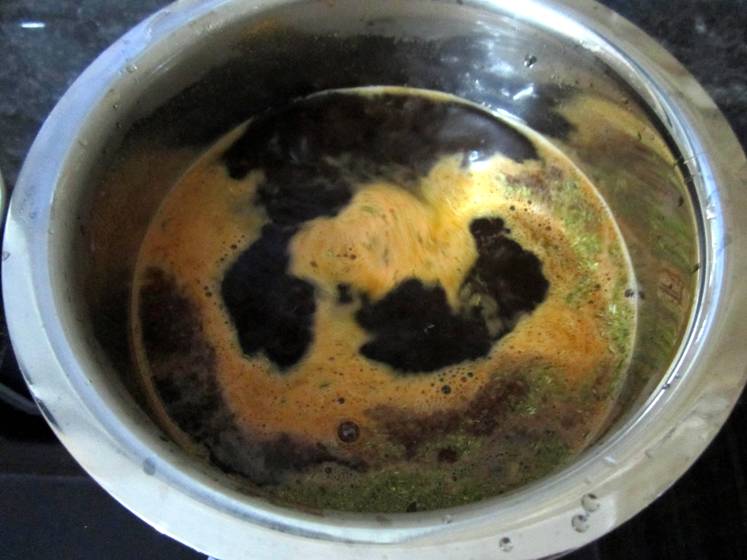 Allow the chutney to bubble on medium heat for 15-20 minutes till it gets thick enough. It should coat the back of the spoon and when you swipe your finger across it, the gap created should stay put. It means it's the right consistency. Add in the melon seeds and turn of the heat.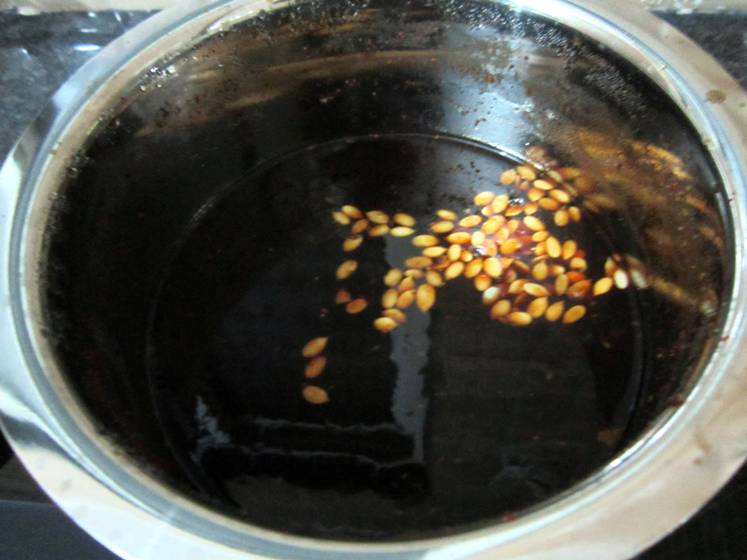 Heat some oil in a pan or skillet. Add in the cumin seeds and allow them to crackle. Add in the asafoetida and allow it to sizzle for 6-7 seconds.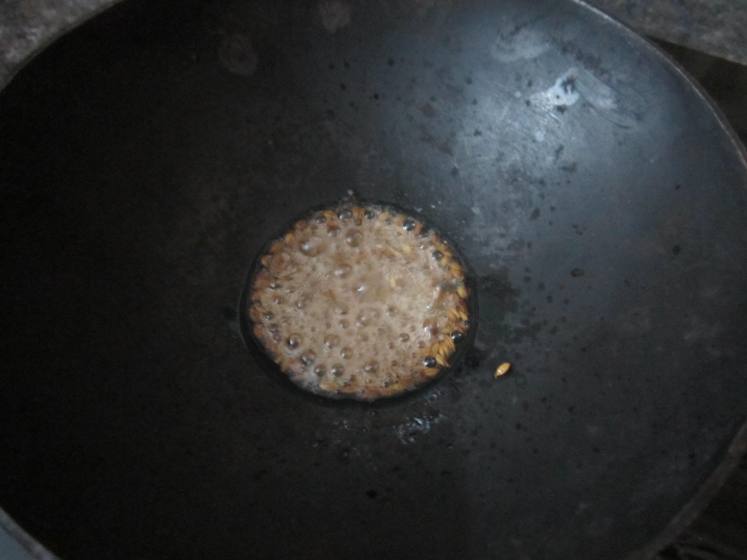 Pour the tempering over the chutney and mix well. Cover the chutney and allow it to cool.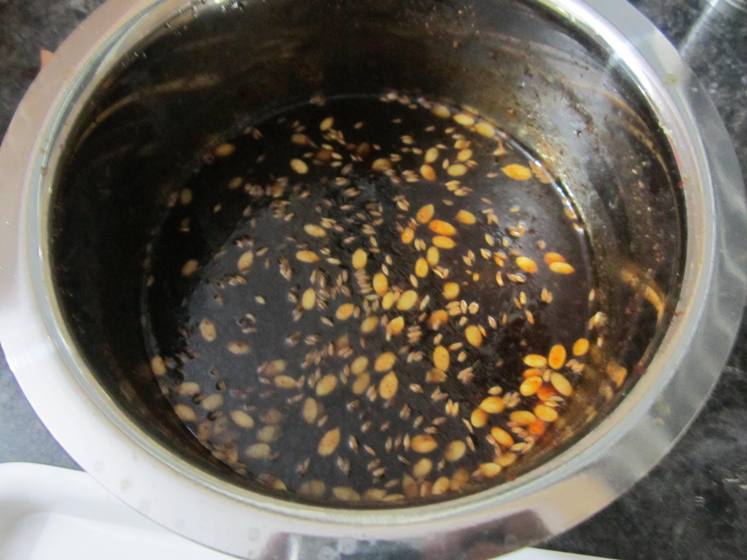 Sweet Tamarind Chutney is ready. Serve with samosas and kachoris and use it in making dahi vadas.